6 DIY Ways to Celebrate Your Love of Java
Get your caffeine buzz on.
Buckle up, friends, because you've got some caffeinated days ahead of you. Today, September 29, marks National Coffee Day, while Saturday, October 1, marks International Coffee Day. Whoever gave us two coffee holidays in one week, I applaud you.
You can celebrate your love of java (and save a couple of bucks) by heading to coffee chains like Dunkin' Donuts, Wawa and Krispy Kreme for a free, or discounted, cup of joe. (Check out more nationwide Coffee Day specials.)
If you would rather celebrate DIY style, then we've got you covered there, too. Check out these quick ways to dress up your coffee and your mug below.
3 Iced Coffee Hacks
00:57
Add a fun twist to your iced coffee with these easy ideas.
Latte Art Designs
00:14
Be your own barista with these inspirational latte art designs.
DIY Delicious Doughnut Mug
02:46
HGTV Handmade's Ann Le shows how to make your coffee break brighter with a hand-painted mug.
DIY Coffee Mug Sleeves
00:28
Add a little cheer to your coffee routine with these two DIY mug sleeves.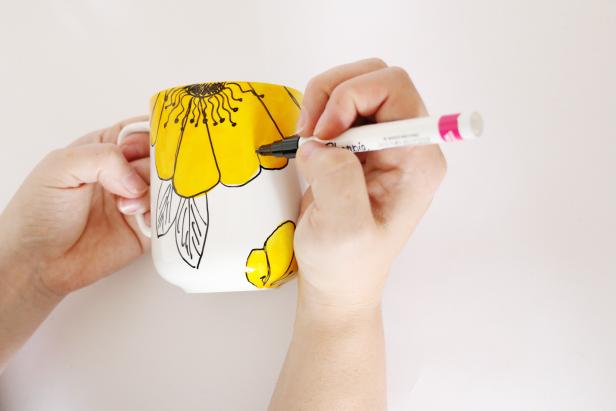 How to Update Basic White Mugs With Ceramic Paint
When the paint is dry, go back in with the paint marker and add an outline, leaves, stamen, and petals.