Make a Splash and Throw the Ultimate 'Finding Dory' Party
The fun shouldn't have to end when the credits roll! We've got tropical-inspired party ideas for both kids and adults.
After patiently waiting a little over 13 years, "Finding Dory," the anticipated sequel to "Finding Nemo," finally hit theaters and the kid in me could not be more excited. For the millennials and adults who have been waiting too, I've got some tropical-inspired party ideas to help celebrate the film's big release. Check out these party ideas below, and remember — just keep swimming!
Kid Version: Get the kiddos to the early movie matinee and you'll have some sun leftover to have a lawn water slide party. All you need is a tarp and a hose with water and you're good to go!
Adult Version: Throw a backyard luau complete with flower leis and citronella torches.
Kid Version: In honor of the film's favorite turtles, make a green ice-cream float. Summer is toasty, and this is a great way to cool the kids down.
Adult Version: Nothing celebrates aquatic life like a boozy fishbowl punch complete with fish gummies.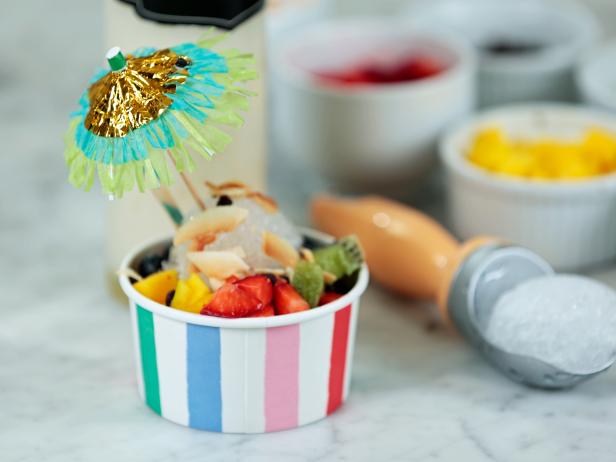 DIY Coconut Snow Cones
Make your own snow cones at home! Blend up ice cubes to make DIY shaved ice, then top with coconut-lime syrup and your favorite fruits.
Andrew McGary, © 2015 HGTV/Scripps Networks, LLC. All Rights Reserved
Kid Version: Fruity snow cones with an umbrella? Healthy, refreshing and tropical.
Adult Version: Comfort food meets tropical cuisine. Hello, spicy shrimp toast.
Kid Version: "My bubbles."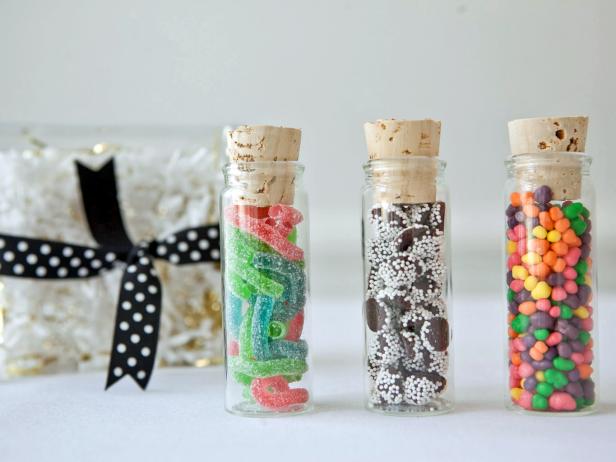 Holiday Favors: Candy Kit Bottles
Give a perfect amount of candy for guest to break into when a sweet craving hits. Fill three small, glass vials with three different kinds of candy. Here, we used Nerds, Sour Worms and Snowcaps to cover sweet, sour and chocolatey cravings.
Adult + Kid Version: Everyone loves candy. Fill bottles up with your favorite fish-shaped snacks, and send your guests off with a snack in a bottle.