Instagram Inspo: 15 Stylish Thanksgiving Centerpieces
So you have a pretty view while you cram your face with turkey.
If you're hosting a Thanksgiving or Friendsgiving get-together, it's time to start planning and prepping — unless you fall into the I've-already-been-planning-for-months category, in which case, I give you serious props. But, if you're anything like me, you're on the hunt for a stellar centerpiece that makes it look like you've been planning for months. Nothing says, "I've got this Thanksgiving shindig under control" like a fabulous centerpiece. I've rounded up some of the best Instagram inspiration out there. Take a look, and let your creativity flow.
Choose playful fall blooms and arrange them in a wooden box to create a fun, lively centerpiece for a long table. Here, kale, safflower, thistle and hypercium combine for a pretty autumn palette.
Layer white flowers and accents for a soft, dreamy feel. If you want to break up the all-white palette or evoke a sense of rusticity, add brown lotus seedpods and pinecones.
If you live on the coast, embrace your locale by incorporating driftwood into your Thanksgiving arrangement. Natural driftwood pieces look stunning paired with greenery and orange accents.
Create a runner with olive branches, fresh produce, white pumpkins and garden roses. Here, pomegranates and persimmons add gorgeous color to the tablescape.
Succulent-Filled Glassware
Save money by using glassware you already own to form an unexpected centerpiece. Here, stemless wineglasses hold succulents.
Don't pin yourself down to the classic autumn color palette. If you love vibrant hues, use them! Saturated corals and oranges work beautifully in the fall.
You have five minutes to come up with a centerpiece? Throw some gourds and air plants in a pretty wooden bowl, and call it a day.
The beautiful hue of these fall hydrangeas is an unexpected touch at the Thanksgiving table, making it a fabulous choice. The color looks stunning with muted pumpkins and metallic accents.
Citrus fruits pop in a mostly green and white centerpiece. Here, white antlers add height and texture to the arrangement.
Kale: The Star of the Show
We all know that a trendy menu calls for kale, but now it's a must-have in your floral arrangement, too.
A hot trend this fall, velvet pumpkins make for a beautiful Thanksgiving centerpiece. Arrange them on a cake stand to create some height.
The bigger the blooms you have, the fewer the flowers you need. Here, a large dahlia makes a major statement.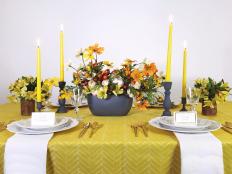 Use ordinary household items & natural elements to create a fun centerpiece for your next celebration.