9 Passover Table Essentials + How to Set It Up
Create a modern Passover at home with these simple tips.
Although I can't resist Cadbury eggs or an Easter egg hunt, my family and I celebrate Passover. The Passover meal is an important part of the holiday celebration, and it's filled with a number of traditions that honor this time in history.
Passover is a seven-day festival that falls in March or April. (The date shifts because it follows the Hebrew calendar and not the standard Western calendar.) It's the perfect opportunity to gather with friends and family around the table and share in this meaningful tradition. During the holiday, dinner is called the Seder, and if you're hosting one, there are a few important items you'll need.
While technically any plate can be used as a Seder plate, you can also find a number of beautiful, more traditional options that will help you set up the centerpiece of your Passover table. The Seder plate is one of the most symbolic pieces of the Passover celebration and holds a number of different items that are each meant to commemorate a particular piece of this time in history. There are five main ingredients to include:
Zeroa is a roasted shankbone meant to symbolize the lamb that the Jewish sacrificed as a special offering before leaving Egypt. (Vegetarians can substitute roasted beets to symbolize the blood of the offering.)
Maror are bitter herbs or horseradish meant to symbolize the bitterness that the Jewish experienced under slavery.
Karpas is a green vegetable (usually parsley) that represents the initial flourishing of the Israelites during their first years in Egypt.
Charoset is a sweet mixture of apples, wine, honey and nuts that symbolizes the mortar that the Jewish slaves used to create buildings for the Egyptian Pharaoh.
Beitzah is a hard-boiled egg which symbolizes the festival offering in the holy temple, as well as the cycle of life.
The Seder plate will be passed around the table during your dinner as you make your way through the Passover service using your Haggadah (a book that sets forth the order and details of your Seder). You will also need a small dish of salt water, which is used to dip the parsley in to remind us of the tears shed by our ancestors while they were under slavery. If you're using your own plate as a Seder plate, it would be best to choose a simple, large, white plate and place each of the items all around it.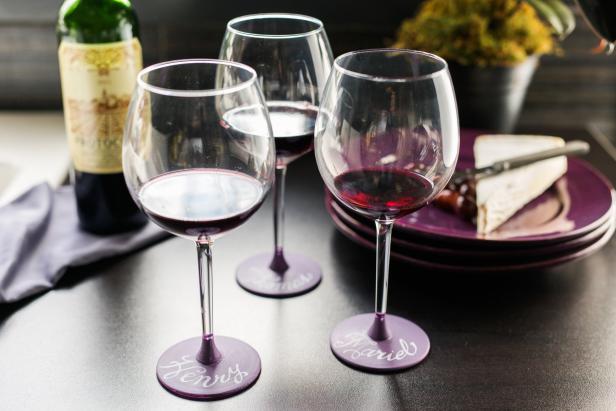 DIY Chalkboard Wine Glasses
Chalkboard paint adds a splash of color and will help guests keep track of their drinks. For this project, you'll need: wine glasses, chalkboard paint, bucket or small bowl for the paint, chalk sticks, rubbing alcohol and paper towels or a clean cloth.
Red wine is a very important part of the Seder. In fact, guests drink four glasses during the meal. Wine is considered to be a royal drink and one that symbolizes freedom. The four glasses represent the four terms that God used in the Bible to describe the redemption of the Jewish from slavery. Wine is also an important part of the Seder, as it's used to dip your pinky in to "spill wine" when remembering the 10 plagues that God brought upon the Egyptians in order to persuade the Pharaoh to free the Jewish from slavery. When choosing your glasses for the meal, make sure to choose the most beautiful red wine glasses you have to support the symbolism of Jewish being treated like royalty.
Kids can get wine glasses too (if they're old enough to be careful with them), which you can fill with grape juice or sparkling grape juice. This will allow them to feel like they're truly taking part in the meal and service.
Another tradition of Passover revolves around the eating of matzo or a cracker-like unleavened bread. Matzo symbolizes the swiftness with which the Jewish were required to flee from Egypt after they were freed from slavery. They did not have enough time to allow their bread to rise, and so they ended up with matzo. During the time of Passover holiday, you are only allowed to eat matzo. Matzo is another big part of the Passover service, and a special matzo plate is used during dinner and passed around to each guest at various points during the Seder. You can use any standard large plate for the matzo or a special silver tray.
Once you have your matzo plate, you should cover it with a linen napkin or use a more traditional cover like one of these. A fun tradition for the kids is during the Seder; we break a piece of matzo in half, wrap it up in a napkin, then hide it somewhere around the house for them to find. At a Seder that has multiple kids in attendance, we hide one piece for each child. After the meal when the kids find the matzo, they are rewarded with money or candy. This is also called the "afikomen," or that which comes after a meal.
Matzo ball soup is another Passover tradition. This is vegetable/chicken-style soup that includes matzo balls made with matzah meal. This soup, which is traditional during Passover but also loved by many all year long, is often called "Jewish penicillin," as it's believed to be helpful to anyone that is suffering from a cold. The soup is traditionally served at the start of the meal, and should be presented to your guests in beautiful soup bowls with traditional soup spoons. Many families like to bring out their best china and silver for these holiday meals, though that is not required.
Another Passover tradition is based on the Biblical prophet Elijah. We pour an extra cup of wine for Elijah and leave it on the Passover table. We also leave a door open in our home to welcome Elijah should he choose to join. This represents the idea that no matter how many guests we have at our Passover Seder, there is always room for one more. In fact, many Passover Seders include friends and extended family as well, as tradition encourages the Jewish to open up our homes to anyone who might not have a family of their own to celebrate with at this special time.
Another tradition of the Passover Seder is the washing of the hands before your meal. Many choose to have a pitcher of water and a bowl on the table for hand washing; however, you can also send guests to a nearby powder room to wash their hands if you're short on space. When reading through the service in your Haggadah, you will be directed to wash your hands at certain points in the ceremony.
Candles are lit on almost all Jewish holidays, and Passover is no exception. Traditionally, the mother or female head of the household will light the candles and say the blessings. However, more modern traditions allow for other members of the family to have this honor, as well. A beautiful pair of silver or brass candlesticks are a good choice for your Passover table, and you'll want to use simple, white candles.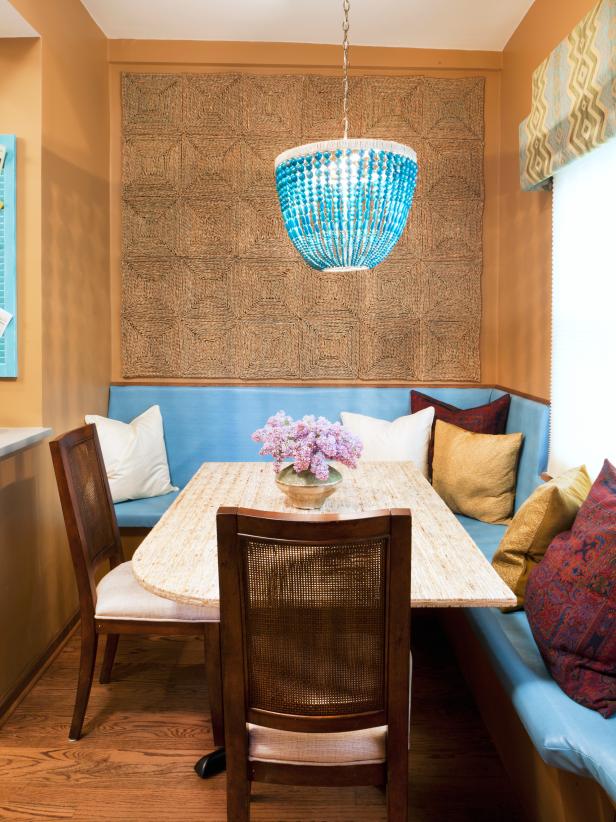 Tropical Breakfast Nook With Blue Banquette
In this dining nook featured on HGTV's Great Rooms, a blue and tan color palette create a tropical feel with the help of woven wall panels. The blue cushions on the wrap-around banquette coordinate with the beaded chandelier, while dark wood dining chairs help to ground the space.
Another interesting Passover tradition is the use of pillows on chairs for your guests to lean back on. In biblical times, the wealthy or noble classes would typically lean or recline during meals. So during the Passover celebration, the Jewish are encouraged to do the same to celebrate their release from slavery by acting like royalty. If you'd like to practice this tradition at your table, you can grab some throw pillows from your couch and put them on each guest's chair to lean back on.