A Bourbon Beginner's Guide
We've got a few tips to help you make the most of National Bourbon Heritage Month.
We love food holidays here at HGTV, but let's be honest — most are made up by clever marketing execs hoping to draw attention to their industry. (We're looking at you National Fluffernutter Day.)
National Bourbon Heritage Month is different, though. In 2007, Congress passed a resolution that officially made September the month to honor the history, tradition and taste of America's native spirit. Since then, the popularity of bourbon has exploded. Rare bottles can sell for thousands, and in 2015, the Kentucky Bourbon Trail set an all-time attendance record with just under one million visitors.
The month-long celebration is coming to an end but there's still time to partake in some of Kentucky's finest. To help navigate the somewhat complicated world of bourbon, check out our tips on what to look for when picking out a bottle and ways to enjoy at home.
What's the Difference Between Bourbon and Whiskey?
It's important to know that there is a difference between the two because you'll see signs for both at the liquor store. Just remember the old saying, "all bourbon is whiskey, but not all whiskey is bourbon."
Without getting too technical here, the main difference between the two is how they're made. According to federal regulations, for whiskey to be called bourbon it must be made in the United States from fermented mash containing at least 51-percent corn. The mash is then distilled at 160-proof or less and stored in a charred new oak container at 125-proof or less.
Things get tricky when you start talking about straight bourbon whiskey, which must be stored in a barrel for two years or more. Many believe bourbon can only be made in Kentucky, but that's not true. Kentucky-straight bourbon must be distilled in the Bluegrass State, but as long as you follow the federal guidelines bourbon can be made in any state. However, most of the notable distillers are located in Kentucky.
The length of time bourbon is stored, along with the type of oak barrel and climate, affect how it tastes when poured in your glass. Most bourbon you find in the store are actually blends, which means they're a combination of different barrels. This is typical of large brands to help maintain a similar taste throughout. Single-barrel bourbon is considered premium because the taste is unique to a specific barrel and it's difficult to mass-produce.
If you find an age statement on a bottle, it's important to know that it only refers to the length of time of the youngest whiskey used. So, if your bottle is aged 10 years, the bourbon is aged for that long, but you likely have older whiskey included as well.
The optimum age for bourbon differs depending on who you talk to. Some like to think the older the better, but that isn't always the case. Bourbon aged anywhere from six to 10 years is considered to be in the sweet spot, and typically, the older the bourbon the more expensive it is. For those just getting started, try not to worry so much about the age statement and stick to brands from well-respected distilleries.
Just pour in a glass and chug, right? Wrong. Bourbon is to be enjoyed slowly so that you can smell the notes and taste the complex flavors. Not only that, bourbon is best when served in certain types of glasses (like a tumbler or snifter). Then there's the whole ice or no ice debate. Here's what you should know:
There are recommended ways to enjoy bourbon, but it all depends on your palette and what kind of bourbon you have. If you opt for a pricier bottle, you may want to drink your bourbon "neat," which simply means in a glass with no ice or water. This can be overwhelming to bourbon novices, but it's the best way to taste the spirit the way the distiller intended without diluting the flavor.
If you're not a bourbon aficionado and you pick up a less expensive brand of bourbon (likely a blend), I would recommend drinking it "on the rocks," which means in a glass with ice cubes. You can also add water to your bourbon, but be careful not to dilute it too much. A very popular way to sip bourbon is to include it in a cocktail. Two of the most popular bourbon cocktails are the Old Fashioned and Mint Julep.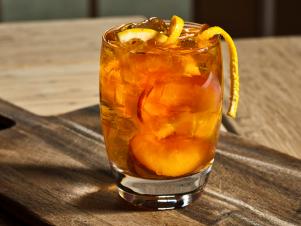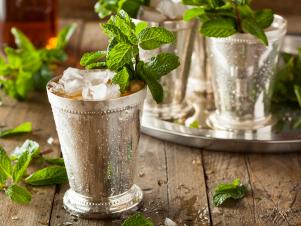 ©iStockphoto.com/bhofack2
Refreshing Cold Mint Julep
A Southern favorite, this fresh-tasting drink features mint, sugar and of course, Kentucky bourbon (although the first Mint Juleps used whiskey). Always served in a silver cup, Churchill Downs made the Mint Julep the official drink of the Kentucky Derby in 1938, serving them in souvenir cups, a tradition that lives on today.
Do your homework on recommended distillers so you know what brands to look for, and be wary of gimmicks and fancy packaging. Armed with this basic knowledge, you're now ready to head down the bourbon aisle at your local liquor store with confidence. Cheers!