HGTV's Ultimate Cookie Party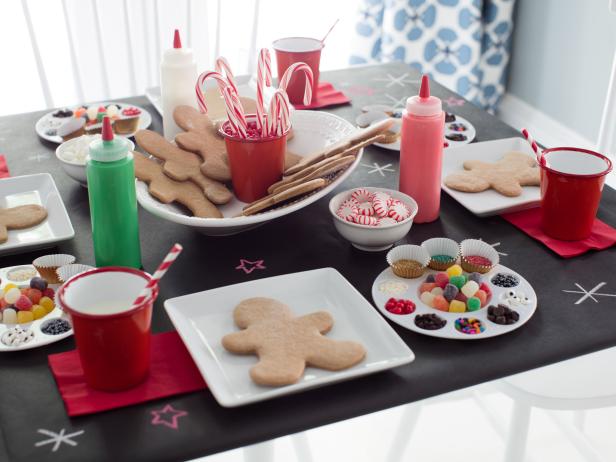 Gingerbread Cookie Decorating Party
A cookie decorating party is a fun way to keep the kids occupied and totally entertained during the holidays.
Flynnside Out Productions
Join HGTV and Food Network Friday, December 11 for a LIVE stream of the Ultimate Cookie Party on Facebook. HGTV editors will be sharing their best tips for throwing a Pinterest-worthy cookie party while Food Network and Food.com, along with Food Network Kitchen experts Justin Warner and Dan Pashman, will be streaming their best how-tos for baking, decorating and eating perfect cookies.
Facebook fans of each brand page can watch the streams at Facebook.com/HGTV and Facebook.com/FoodNetwork. Fans will be able to ask their most pressing cookie questions and get real-time answers right from the pros.
Read on below to get a taste of what's in store during the live event:

12 p.m. on Food Network's Facebook page: Dan joins the party alongside Justin to discuss the science of cookies, then the focus shifts to the ultimate in multipurpose cookie dough. Learn Food.com's five twists on a chocolatey classic, plus the secrets to piping like a professional.

1 p.m. on HGTV's Facebook page: 'Tis the season for cookie swaps. Hear about good-to-know ideas for hosting an event with ease, and find out how to keep the kids busy at all your seasonal get-togethers.

2 p.m. on Food Network's Facebook page: The FoodNetwork.com team breaks down the king of all cookies — the chocolate chipper — crumb by crumb to show off just what makes it so special. Afterward, get an up-close look at the gingerbread houses that the FoodNetwork.com and HGTV.com teams created, and be sure to ask any last-minutes questions for members of our team to answer.


Want to learn more about the recipes and projects that are featured during the Ultimate Cookie Party? Check out the links below:
Cookie-Inspired Ornaments: