8 Magical Ways to Celebrate International Fairy Day
Pixie dust optional, but strongly suggested.
Mythical, magical and the subject of some of our favorite stories, fairies have captured our imaginations for centuries. And today we celebrate them! International Fairy Day falls during the week of Midsummer — a week-long event centered around the Summer Solstice — when it's believed that the veil between our world and Tír na nÓg, the fairy land of eternal youth, is temporarily lifted. Be on the lookout at dawn and dusk, when fairies are the most active, to catch a glimpse of one of these magical creatures!
Celebrate this enchanted time with some of our favorite fairy-friendly garden projects, recipes and costumes.
This sweet Australian treat is a combo of white bread, butter and TONS of sprinkles. When you've had your fill, be sure to leave out a few slices overnight with a glass of milk for the fairies to enjoy.
Or Whip Up Some Pixie Dust Gelatin Shots
Just sprinkle a little edible glitter over your favorite gelatin shots for a boozy treat any fairy would love.
Fairies are most visible outside during the "'tween" times - dawn, dusk and midnight - especially near water or after a rainstorm. While looking for fairies, keep your eyes unfocused, directing your gaze just to the left or right of places that fairies like to frequent — thick tree roots, moss-covered rocks, shorelines and underneath large, green leaves.
How will you know if you've spotted a fairy? Watch for glowing orbs of light, listen for strange, melodic music and, if you see a dragonfly, unfocus your eyes. The fae often disguise themselves as dragonflies when they suspect they're being watched!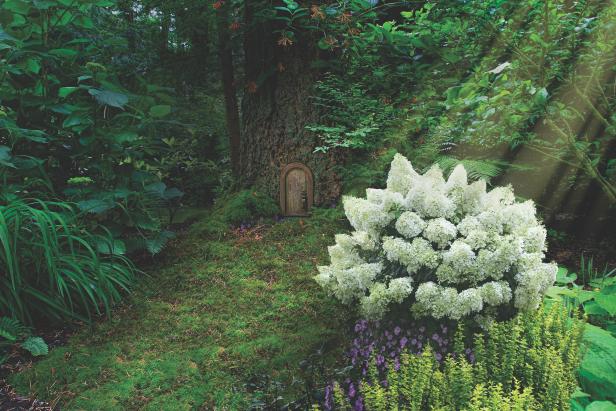 Hydrangeas in Fairy Gardens
At just 30 to 36 inches tall, dwarf hydrangeas like 'Bobo' are a great choice for fairy gardens. Grow them in a secluded nook, so visitors will feel as if they've discovered an enchanted spot. Add low-growing plants and ground covers, or let moss make a natural carpet in a wooded garden.