8 Super Chic Hanukkah Accessories Your Guests Will Love
Peek at our top entertaining picks for Hanukkah -- one for every night of the holiday.
Those of us who celebrate Hanukkah don't necessarily have as many options in the stylish accessory department. But if you dig around a bit, you can find some beautiful choices to use for your gathering. We've rounded up eight of our favorites — one for each night of Hanukkah — to get you started with your holiday gatherings.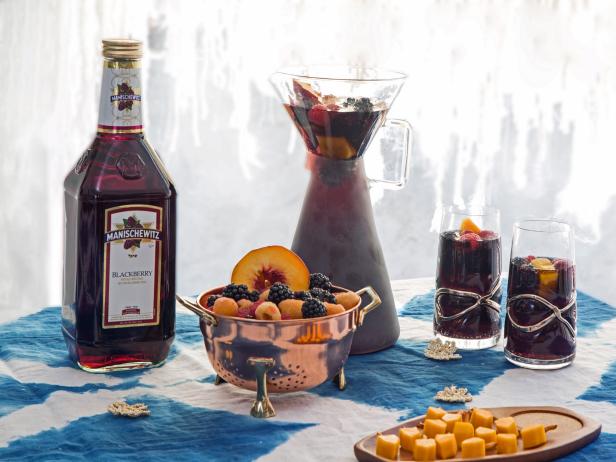 Sangria Recipe
Use your favorite sangria recipe, but replace the red wine with Manischewitz blackberry wine. Add fresh blackberries, raspberries, blueberries and peaches to amp up the flavor. For a kid-friendly version, use sparkling grape juice instead.
Bethany Nauert; Styling by Paige Geffen
This all-white zebra menorah is a truly unique piece. It would work beautifully with a box of colorful Hanukkah candles, but would also look super chic with all-white candles, as well. In addition to the zebras, this menorah is also available with giraffes.
You'll find pomegranates, peacocks, palm leaves and Stars of David on this gorgeous blue and white jacquard table runner. It coordinates with its matching napkins and there's a tablecloth available, too. But this runner would look gorgeous on a wood table with some rustic branches or simple flower arrangements.
These white taper candles are a bit more elegant than the traditional Hanukkah candles you might find at the supermarket. Forty-five hand-dipped candles are included to get you through all eight nights of Hanukkah.
These super inexpensive Star of David tealight candle holders would have a big impact on a holiday dinner table. You can use simple white tealight candles, which will look gorgeous with the silver. Try using a large number of them in the middle of your table as a centerpiece, or put one candle at each table setting.
These cordial glasses will bring a nice pop of silver to your Hanukkah tables or cocktail hours. Try mixing metals like we did in the tablescape above and use these glasses with some other gold accessories. Or for a more uniform look, mix the glasses with silver flatware and serving pieces.
To avoid candles from your menorah dripping on your table, make sure to put a tray underneath it. Choose a tray that is slightly larger than your menorah, as well as one that can manage the hot wax (and is easy to clean) like this gold metal hammered tray.
Blue and white are the traditional colors of the Hanukkah holiday, but that doesn't mean your accessories need to be traditional. Try using colorful shibori napkins if you want to create a more boho Hanukkah look. These would look great with simple, white plates.
If you've ever tried lighting the candles of your menorah with a short match, you've probably burned yourself (me!). These beautiful, scented matches are a great choice to have on hand if you want to protect your fingers.