7 Lower-Proof Cocktails Perfect for Day Drinking
Because 40-proof liquor and strong sun aren't always the best match.
There are few activities that scream summer quite as strongly as day drinking. Spending a Saturday or Sunday relaxing with cocktails, wine or beer just feels right when the weather is steamy.
But all that drinking in the hot sunshine can hit you harder than you expect, even if you're properly hydrating — which should always be a priority. So, when you're choosing what drink to mix up for your next day-drinking session, consider one of these lower-proof options instead. You'll still get a buzz, but are much less likely to overindulge like you would with a stronger cocktail.
With dry white wine, three different fruit juices, sparkling water and fresh fruit, this is one refreshing and delicious option that's hard to beat.
2: Skittles-Infused Wine Cocktail
Yes, we're talking about candy-infused wine here. Talk about tempting. And pairing the boldly colored wine with sparkling water or juice keeps this cocktail from feeling overwhelmingly sugary.
3: Rose Lemon Champagne Punch
There's nothing like a deliciously bubbly beverage to keep you cool on a hot day, but frequently, champagne cocktails get an extra kick from the addition of hard liquor. Not this option though, which is just as delicious as it's extra boozy counterpoints.
Prosecco, limoncello (a lower-proof lemon liqueur) and lemon sorbet combine in this cold and creamy cocktail.
Speaking of creamy, cold cocktails, may we present the beer popsicle? Okay, so it's not technically a cocktail, but it keeps you cool and gives you just the right amount of buzz, so it's fine by us.
6: Sparkling Summer Sangria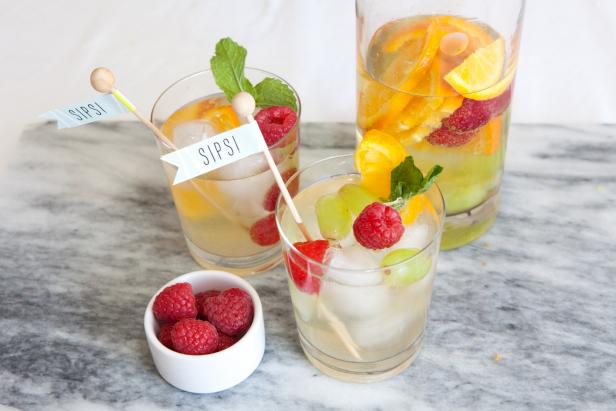 Homemade Sparkling Sangria
Ditch the fully stocked bar loaded with wine and spirits and opt for one signature cocktail such as sparkling sangria instead! This will take the pressure off the host from having to play bartender all night.
It wouldn't be a summer cocktail list without at least one sangria. And this white version pairs a little wine and a little sparkling wine with delicious in-season fruits.
Yes, this cocktail does actually have liquor in it — though flavored vodkas, like this coconut version, do tend to be under 80 proof — but it's also full of other hydrating liquids. The coconut water, sparkling water and fresh fruit keep this cocktail from getting too strong.