6 Things You Need for the Best Friendsgiving Ever
Other than your friends, of course.
Thanksgiving is just a few days away (which, first off, how?!) and I couldn't be more excited. It's such a lovely time of year, what with the copious amounts of food and family time. In fact, I love Thanksgiving so much that celebrating it once just isn't enough. That's why I'm so jazzed that Friendsgiving has become such a trend, especially since I live in New York City and travel home to Ohio for the holidays. It's a real treat to get to celebrate Thanksgiving with my city friends before we head back to our respective hometowns. Plus, I will never turn down an opportunity to eat mashed potatoes.
If you're looking to throw your own Friendsgiving, these six special touches can really make it a next level bash. Now let's get ready to give thanks!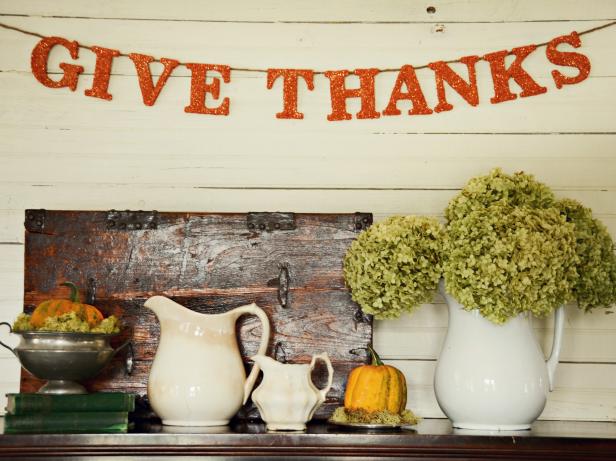 Craft a Glittery Banner
Remind friends and family how lucky they are with this easy, do-it-yourself decoration. Pick up chipboard letters at your local craft store, then cover them in copper glitter. Attach letters to twine with hot glue and hang above a buffet, mantel, entry table or anywhere your home could use a bit of seasonal sparkle.
Get your guests into the Thanksgiving mood with this glittery banner.
Friendsgiving Photo Booth
05:21
HGTV Handmade's Karen Kavett makes photo booth props and a backdrop for a Thanksgiving themed party.
A gathering of close friends is the perfect time to capture those mems — millennial for memories — so customizing a photo booth for the occasion is sure to excite everyone in attendance and guarantee some amazing Instagram posts.
3: Unexpected Place Settings
Jason Kisner, Copyright 2013, HGTV/Scripps Networks, LLC. All Rights Reserved.
Surprise your guests by eschewing the expected turkeys and cornucopias and whip up these DIY white pumpkin succulent holders. They're minimal, stylish and your guests will be able to take them home, what could be better?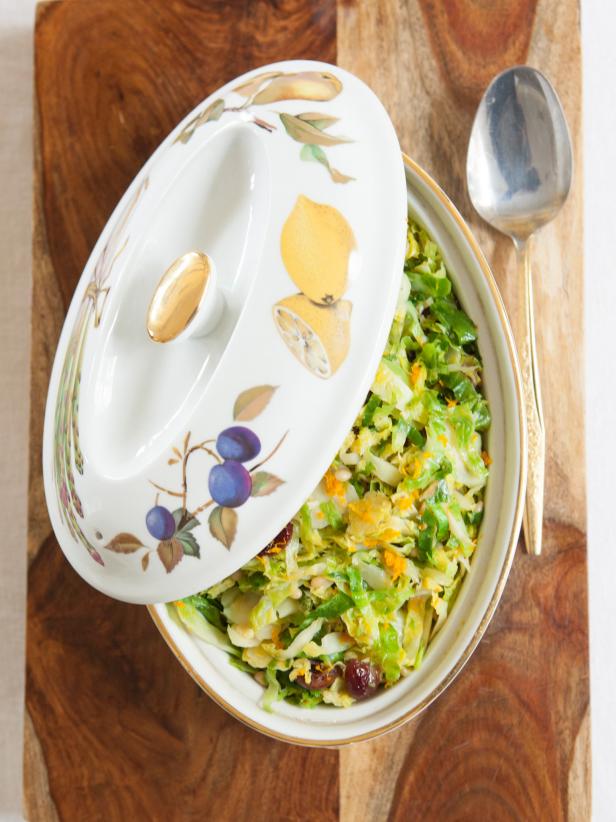 Heirloom China Dish for Sauteed Brussels Sprouts
Thanksgiving is all about tradition, so incorporate a bit of your family's history into the table by using heirloom china. If you like the look but your inventory of vintage pieces is lacking, scour local antique stores and thrift shops to start your own collection.
Your Thanksgiving dinner will be all about the main dish, but most Friendsgivings are pot luck-style, so side dishes get their chance to shine. This take on Brussels sprouts includes cranberries, orange juice, pine nuts and plenty of garlic...yum!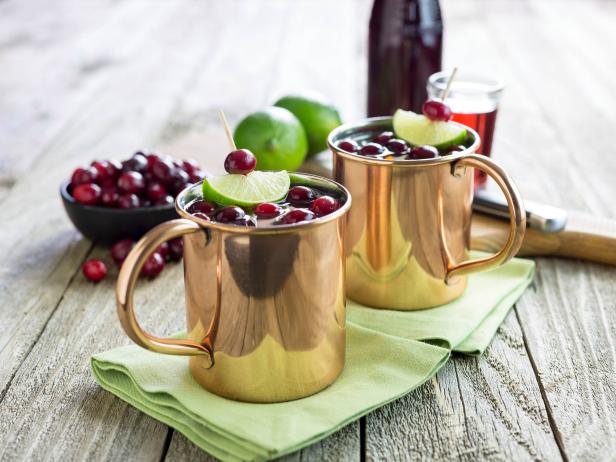 Perfect Thanksgiving Moscow Mule
Combine the ginger beer and cranberry juice, and heat in a small saucepan over medium heat or in the microwave. Then, place the ginger beer and cranberry juice in a mug. Add the vodka and lime juice, stirring gently to combine. Garnish with a lime wedge and fresh cranberries. Serve immediately.
Of course, you'll want to have plenty of non-alcoholic options as well as beer and wine on hand, but serving up one speciality drink is s fun way to add personality to your get together. You could go with one of these seasonal apple cider sips, or get creative with this this hot cranberry mule, an autumnal take on a summer classic.
6: A Crowd-Pleasing Dessert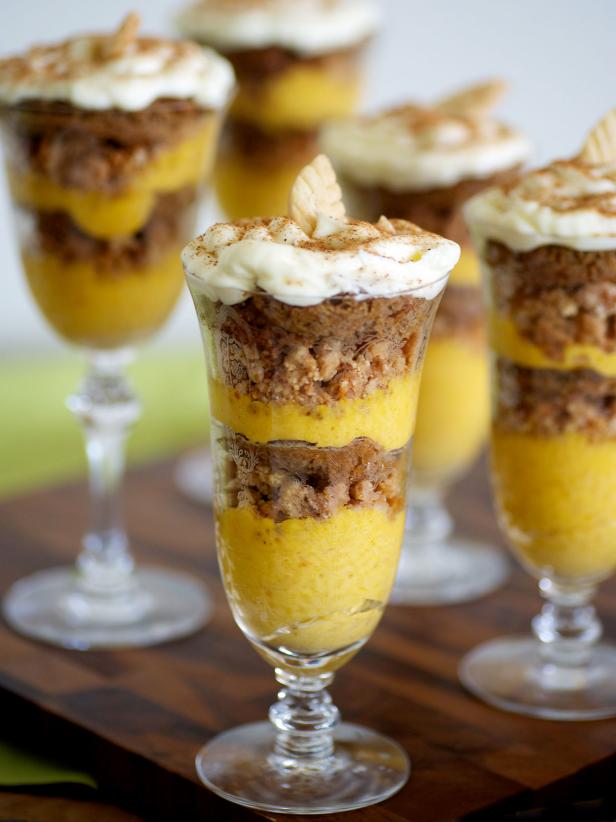 Pumpkin Mousse and Ginger Parfaits
Andrea Bearce of Bake Sale Austin shares this recipe that features layers of creamy pumpkin mousse, crunchy graham-cracker streusel and dense maple-ginger cake — a combination that's sure to become a favorite fall dessert and new Thanksgiving tradition. Get the recipe: http://www.hgtv.com/entertaining/pumpkin-mousse-and-ginger-parfaits/index.html
To cap off your top-notch Friendsgiving, all you need is a delicious sweet treat. And sure, you could go with apple pie or pumpkin pie, but sometimes it's a little more fun to try something new. These pumpkin mousse and ginger parfaits scream fall, look pretty and they come pre-portioned!