46 Treats to Put 'Halloween Baking Championship' Bakers to Shame
Not a baking expert? Dress up as one for Halloween with these super-easy, super-impressive fall treats.
Did you tune in for Food Network's Halloween Baking Championship? From towering haunted house cakes to gourmet trick-or-treat eats, these are creations that would steal the show at any Halloween party. Well, even if your kitchen isn't equipped with pastry bags and spun sugar, we've got eerie treats that will have your friends coming back for seconds (and thirds.)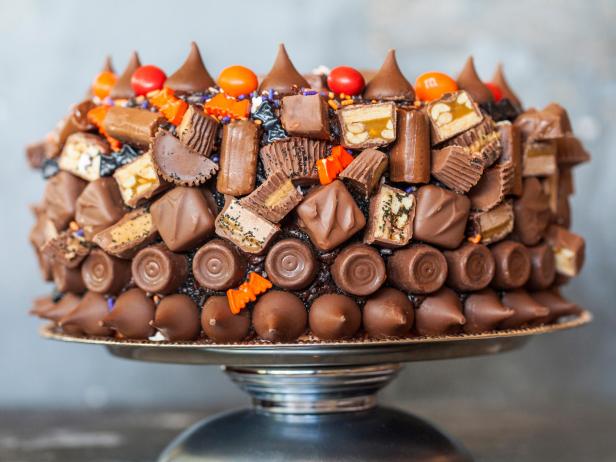 Candy Cake
Kids consider their stash of hard-earned Halloween candy sacred, so the concept of leftover candy is a fantasy in a lot of households. Before making spooky desserts like this candy-loaded cake, stock up on extra goods in advance, or hit the post-trick-or-treat sales. Store-bought cake, frosting and brownies can be used as timesavers, or you can make your own. Do frost the cake and brownies yourself, though, because the frosting needs to be wet for the toppings to adhere properly.
This recipe from our friends at Food Network may look intricate but is quite easy. Bake your favorite cake (or buy one!), let it cool and apply icing. Stick your favorite chocolate candies onto the fresh icing.
Mini Candy-Corn Layer Cake
Candy Corn Cakes
Exposed layer cakes are very popular right now and the mini versions are perfect for your little guests. Display mini cakes on a pretty cake stand for perfect presentation!
Candy corn may not be your favorite Halloween candy, but you'll love this layer cake. The exposed layers resemble candy corn sans the waxy texture.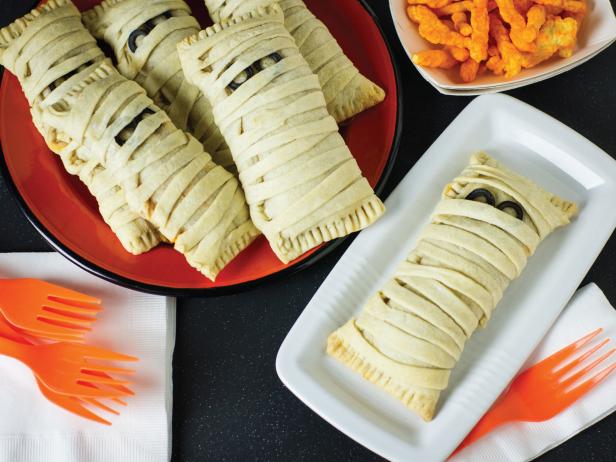 Mummy Empanadas
Wrap up fun for your Halloween party with these pepperoni pizza style empanadas.
These hearty pepperoni-filled empanadas are great year round. Serve them at your Halloween party or for your kids' lunch.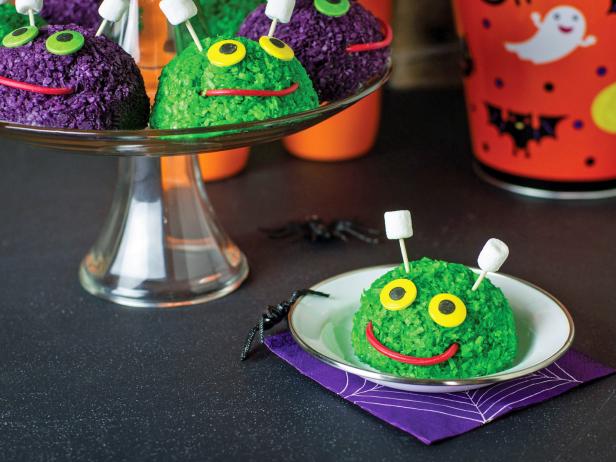 These fun-filled cupcakes are sure to be a hit at
These fun-filled cupcakes are sure to be a hit at your Halloween party
I can't get over how cute these snowball monsters are. The combination of chocolate cake, marshmallow and coconut is sure to be a crowd-pleaser.
These adorable witches' hats are made with store-bought crescent rolls. We filled our hats with chicken pesto salad for a delicious surprise.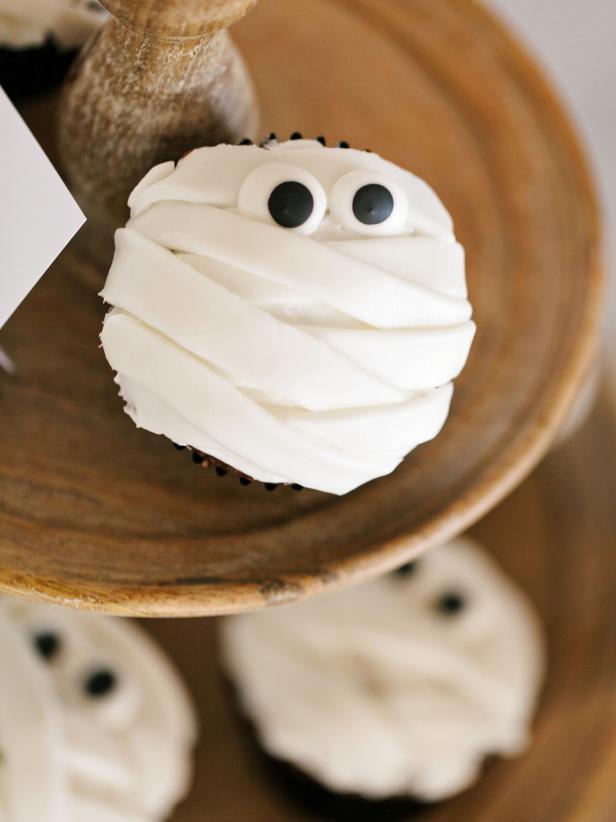 Mummy Cupcakes
Cupcakes are adorable treats for any party, but when frosted like mummies, the kids won't be able to resist them! These
Get your kids in on the action with these easy, festive mummy cupcakes.