Guys, We've Got 5 Essential Party Tips You Need to Know About
With football season in full swing, it's time for all you dudes to up your game on the hosting front. That means stocking up on a few key essentials to have on hand to make sure impromptu get-togethers with your boys go off without a hitch. And nope: paper plates and red plastic cups aren't going to cut it.
Here are some basic hosting tips that will help you become the party-planning superstar we know you're meant to be.

When your sofa is at maximum seating capacity, you need some additional options for your guests. Make sure you have some extra seating on hand, and always keep spare folding chairs around. If you're feeling super creative, you can even paint your chairs your favorite team colors or bucket.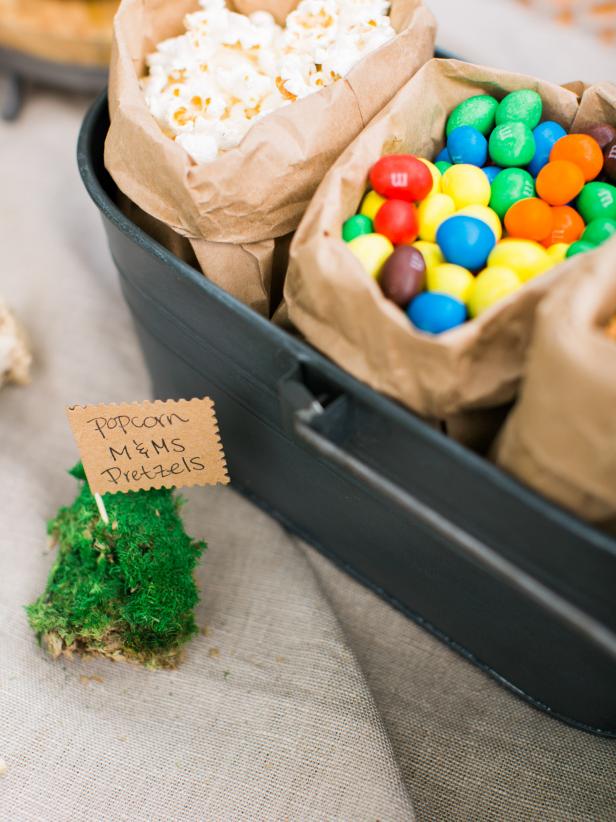 Snack Baskets
Keep your sweets on display with rustic buckets packed with brown paper bags filled with favorites like popcorn, pretzels and chocolate candies. Once the party heads inside the stadium, each brown bag can be brought in rather than having to traipse up stairs with the entire bucket.
Flynnside Out Productions
Grab-and-go snacks are a great way to make sure your guests are able to help themselves anytime they're hit with the munchies. Purchase a bunch of different candy and chips options, then pop them in a handy basket.
Our Product Pick: Seagrass baskets work with any decor scheme and have plenty of options when it comes to size.
For those of you who already know your way around the kitchen (or grill!), some easy prepare-ahead appetizer options will up your hosting cred like nothing else. Sliders are always a crowd pleaser and allow you to get creative with your toppings. Cheese? Bacon? Ranch dressing? Yes, yes and yes.
Of course everyone loves a beer, but why not get creative and offer your buds a signature drink. Moscow Mules are a great fall choice and are super easy to make: vodka, ginger ale, ice, lime and you're done! Add a sprig of mint if you want to get super-duper fancy.
One of the easiest ways to up your decor game and make sure your space is comfy is by adding a few pillows or a throw to your sofa. If you're not sure what types of pillows or throws to add, use the solid/pattern rule: if you choose a pillow with a pattern, choose a solid throw, or if you choose a patterned throw, choose a solid pillow.