11 Festive DIY Projects for Your Fall Holidays and Gatherings
 The best part? These are beginner-friendly!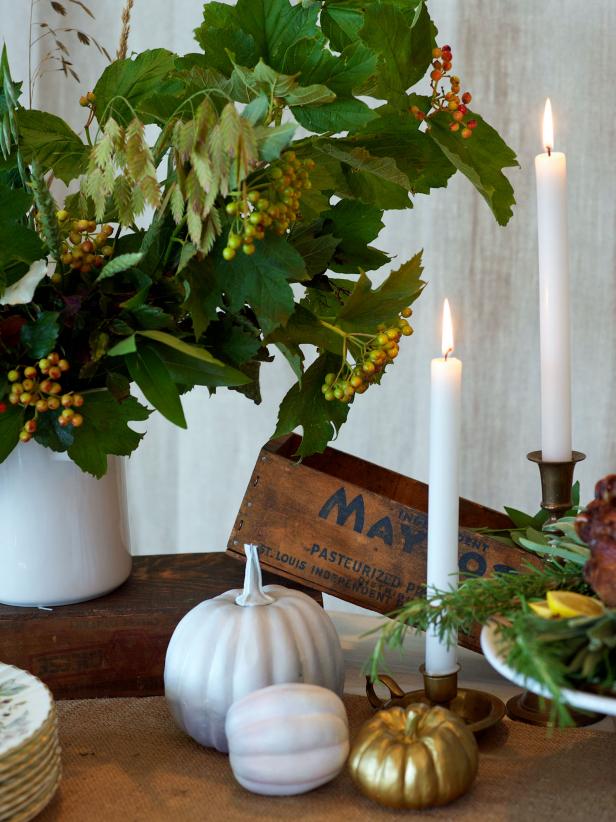 Paint Pumpkins and Gourds for Thanksgiving Buffet
Celebrate the season by scattering harvest elements like gourds and pumpkins around the platters on the buffet. Pick up the real thing from the grocery store or stop by the local craft store for faux gourds and squash that can be reused in your decor year after year. A quick shot with spray paint turned these white and gold — perfectly in line with the table's elegant aesthetic.
Soon, crisp breezes, cozy sweaters and fireside snuggles will take the place of bathing suits, long, hot days and beach trips.
Yes, before you know it, we'll be in the middle of holiday season with parties and events taking over our calendars. Get a head start on party planning with HGTV's simple, stylish DIY projects you can do in an afternoon.
DIY Cake Stands, Three Ways
3 DIY Cake Stands
01:07
Check out these three ways to make your own DIY cake stand.
You remembered to pick up the cake (yay!), but have no way to display it (oops). Upcycle serving dishes, cake pans and candlesticks into elegant cake stands in a matter of minutes.
Pretty Painted Party Decor
Spray Painting Party Items
01:15
Spray paint these items to add a metallic twist to your next party.
No cute party decor? No problem! Basic and boring everyday objects get a luxe update with a single can of metallic spray paint.
3 DIY Wine Charms
01:29
Keep your guests' drinks organized with these DIY wine charms.
Don't you hate that moment when you have to ask a stranger at a party if that's their glass or yours? Help guests avoid awkward moments with these three simple wine glass markers.