You Won't Believe These Killer Beach Views
It's lifestyles of the rich and famous, beach edition. 
Maybe you can afford them, or maybe you can't. But it doesn't hurt to look, right? I picked out a few of my favorite waterfront homes featuring absolutely insane views, and I have a feeling we'll all be daydreaming about our perfect beach house for the rest of the day.
Can you imagine a better scenario than enjoying tropical drinks on a balcony overlooking the Amalfi Coast in Campania? I'll take a pina colada, please!
Outdoor dining doesn't get much better than this. A stunning white canopy filters the sun, while an all-white pattern lets nature be the star. All meals should be eaten here. Always.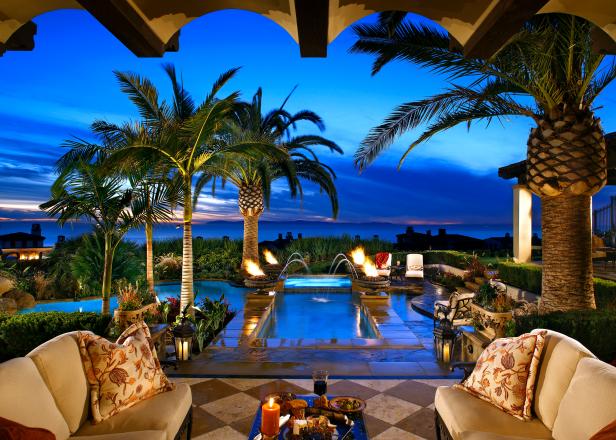 Covered Mediterranean Patio With Pool and Ocean View
A cozy outdoor sitting room looks out over the pool as well as a beautiful ocean view. A series of torches and lanterns around the pool provide ideal ambient lighting for enjoying a breathtaking tropical sunset.
If you can't decide if a dip in the ocean or a swim in the pool is more your style, then this is the space for you. Can you imagine the jaw-dropping sunsets you could witness here? Design by Mark Scott Associates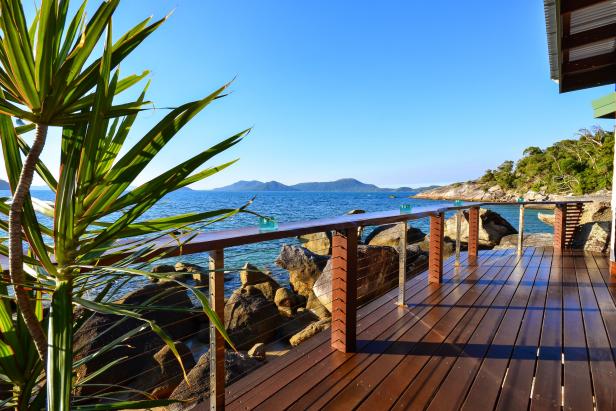 Ocean View: Open Plan Villa on East Bedarra Island, Australia
From certain angles, the deck looks as though it's hovering above the water. Just off the house is a large coral reef, home to a rainbow wonderland of marine life.
Ken Jacobs, a member of Luxury Portfolio International
Located on East Bedarra Island in Australia, this open-plan villa was designed to make the most of its dreamy surroundings. Add one comfy chair, and I could be very happy here. Design by Ken Jacobs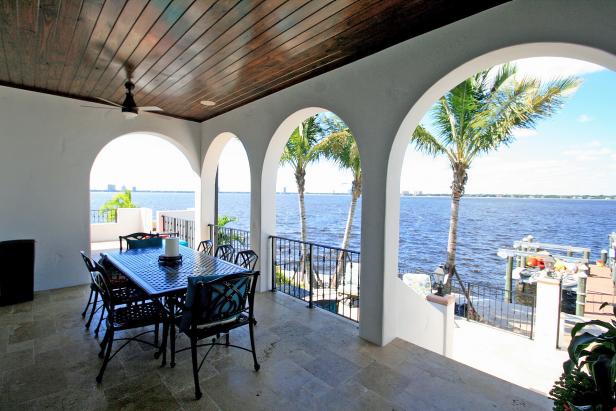 Magnificent Ocean Views from Kitchen and Breakfast Area
To make this home feel as if it were floating on the water, the main floor of the home is built up twelve feet off the ground. This way, as guests look out from the kitchen or outdoor eating space, all they can see is a magnificent ocean view.
Balber Architecture, Inc.
Designed to feel like it was floating on water, the main floor in this home was built 12 feet off the ground. Look off the balcony, and all you see is deep blue sea. Design by Balber Architecture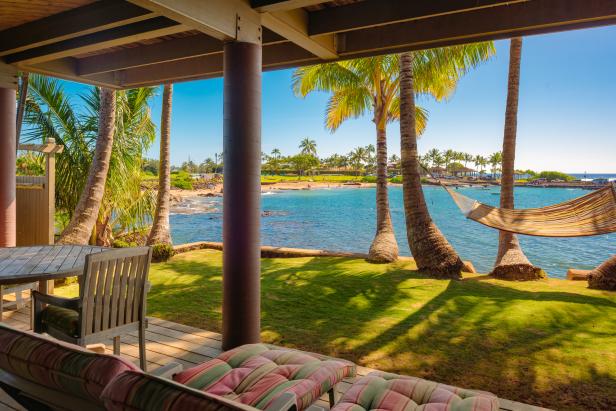 Relaxing Outdoor Space Is Tropical, Oceanfront
Striped cushion lounge chairs, a hammock and a weathered table with chairs provide multiple ways to sit and enjoy the stunning ocean views off the coast of Kauai.
Hawaii Life Real Estate Brokers, a member of Luxury Portfolio International
Lounge in the shade or nap in the hammock, this smart design has a space for everyone. Best of all, no room skimps on a spectacular view.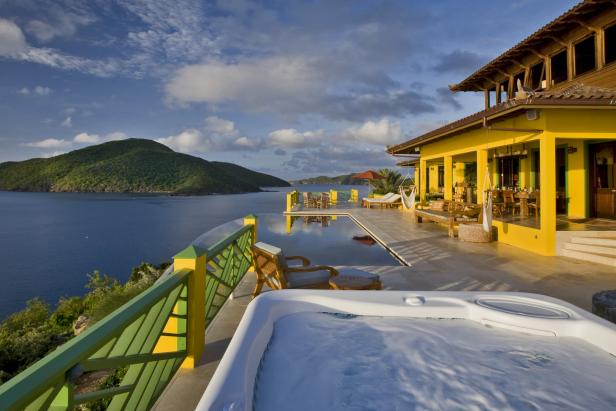 Hot Tub View: Balinese-Inspired Villa in Tortola, British Virgin Islands
This British Virgin Islands property features a dramatic terrace with a heated infinity-edge pool, hot tub, outdoor fire grill and fully equipped gym. The patio offers multiple vantage points for taking in the breathtaking ocean views.
Smiths Gore Limited, a member of Luxury Portfolio International
If you ever find yourself at this British Virgin Islands property, which includes a breathtaking terrace, infinity-edge pool, hot tub and outdoor fire grill, you must have done something really, really right. Oh, and did I mention the home gym?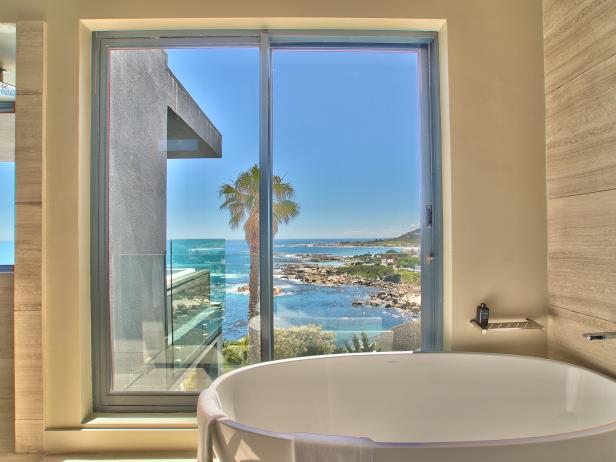 Bathroom View: Magnificent Modern Home in Cape Town, South Africa
This freestanding soaker tub is positioned to take full advantage of the ocean views in this Cape Town, South Africa home. Neutral stone walls allow the attention to remain with the stunning scenery.
Jawitz Properties Ltd., a member of Luxury Portfolio International
Just when you thought a relaxing bubble bath couldn't get any better, they added a scenic ocean view overlooking Cape Town, South Africa. Okay, it did get better.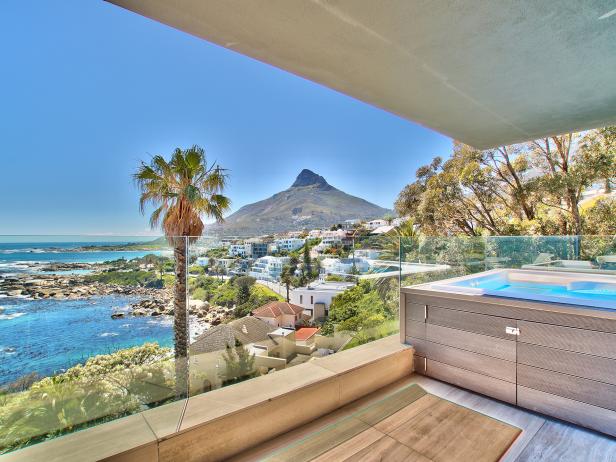 Private Terrace: Magnificent Modern Home in Cape Town, South Africa
This private terrace located in a home in the Camps Bay area of Cape Town, South Africa, affords a stunning view of both the ocean and Signal Hill. Frameless glass surrounds both the terrace and the private hot tub, minimizing the interruption of the sweeping vista.
Jawitz Properties Ltd., a member of Luxury Portfolio International
Same house, different view. Why? Because you deserve it.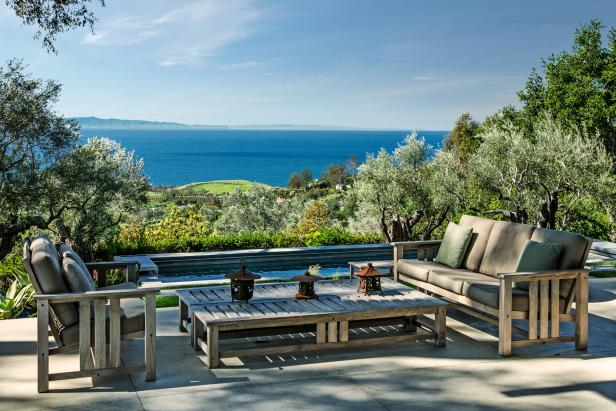 Patio and Pool With Ocean View
Plunk down here at sunset and watch the sky go colorful over the Pacific Ocean and the far-off Channel Islands. Long benches do double-duty as coffee tables or, in a pinch, extra seating.
Village Properties, a member of Luxury Portfolio International
This incredible patio by Village Properties boasts a pretty spectacular view of the Pacific and distant Channel Islands. I can see many a family game night happening right here.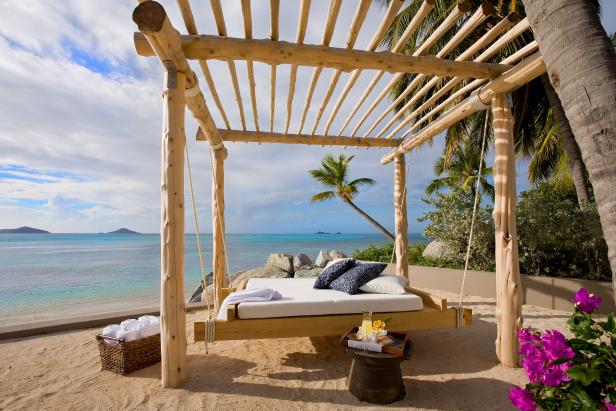 Oceanside Hanging Canopy Bed On Private Beach
This dreamy hanging canopy bed sits oceanside and provides the comforts of a typical bedroom with the added benefit of an ocean view. A small table provides the ideal spot for a breakfast tray, while surrounding palm trees provide the perfect tropical touch.
Smiths Gore Limited, a member of Luxury Portfolio International
Add endless snacks and a good book, and this is basically my idea of the perfect beach vacation.
If you liked these, then you'll love these celebrity beach homes.