The Best Places to Buy Wallpaper Online
Looking to pattern up your walls? Try this designer's go-to sources.
Growing up, I recall many borderline-offensive kitchens and/or dining rooms covered in cheap, nausea-inducing wallpaper. Perhaps that's why my generation, kids who went to high school in the mid-1990's, consider decorating with wallcovering so despicable. Well, it's time to SNAP OUT OF IT [Cher slaps Nicolas]! There's only so much one can do with eggshell enamel until the need for texture, sheen and pattern come into play.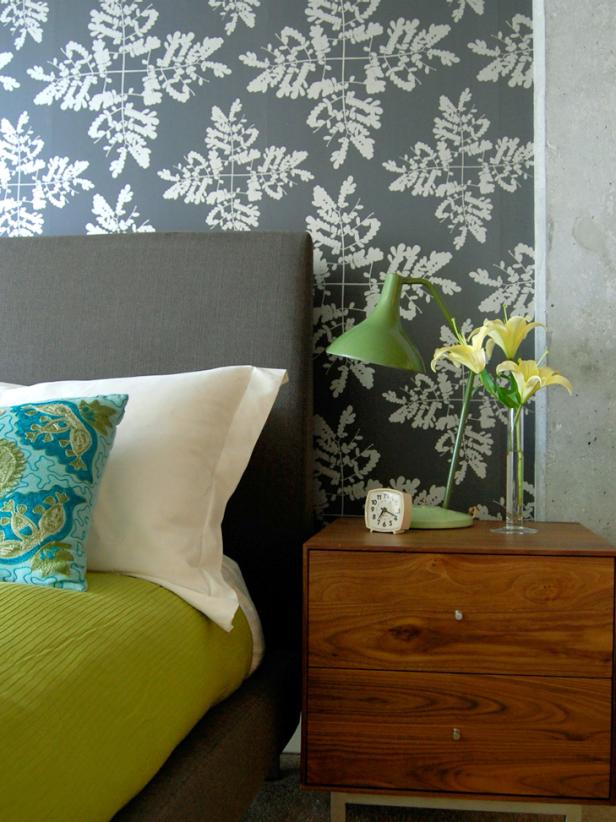 Block-Printed Fern Wallpaper
Plant-based motifs, like these block-printed ferns, are cropping up everywhere from bedding to wallpaper to throw pillows. Designer Jennifer Jones uses this slate wallpaper to add character and whimsy to this master bedroom without going too bold.
For interior designers, wallcovering hasn't really ever gone out of style. Sure, to the general public, it may have disappeared for 15 years; however, any high-end designer home created in the past decade is certain to have a few rooms sporting a variety of options from grasscloth to toile. If you're borderline-interested in the possibility of wallpaper for your own home, here's a few options sure to get your design mojo flowing. Now, as far as wallpaper BORDERS are concerned, let's just go ahead and completely erase those from history. The world will be a better place.
Hands down, the best source for wallpaper online. The UK-based company offers collections from huge designers such as Kelly Hoppen, Amy Butler and Barbara Hulanicki. Sure, their products are amazing; however, their prices will leave your jaw on the floor too.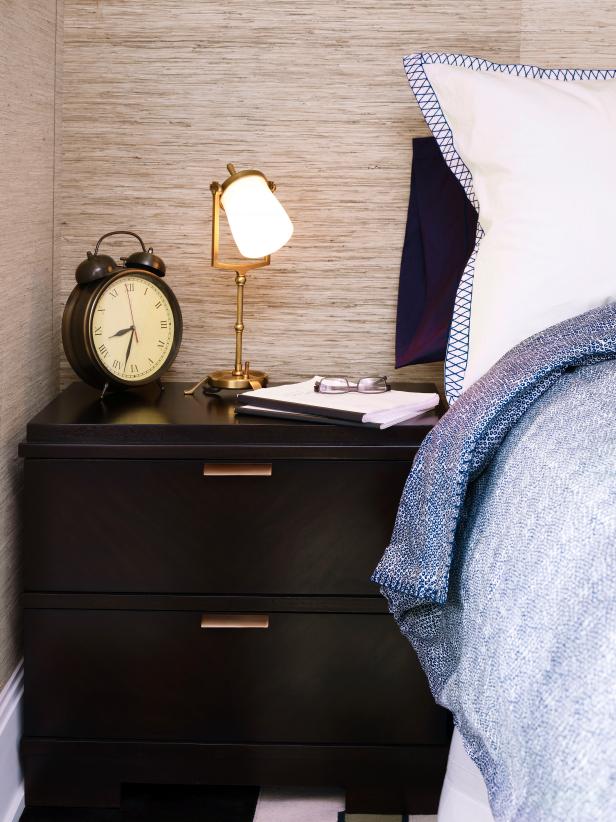 Transitional Dark Brown Nightstand With Gold Lamp
A neutral grasscloth wallpaper provides a textured backdrop for this brown wooden nightstand. A brushed bronze clock and small gold leaf table lamp sit atop the nightstand, while blue and white linens add a fresh, clean look to the bed.
If you're looking for grasscloth, Paper My Walls offers great colors and textures at low to medium price-points. Their greens, browns and tans tend to be the richest and look the most high-end.
Wallpaper Collective has an incredible selection of playful, vintage prints ideal for kids' rooms, midcentury-modern homes and bachelor pads. Price-points are upper-medium to high; the wallpapers are artisanal, ranging from mom-and-pop shops to designer lines including Aimee Wilder and Marimekko. My personal favorites are "Robots" and "Analog Nights," two wallpapers I'm determined to try in a bachelor pad and kids' room.
If you're up for high-end retro, Jonathan Adler is the way to go. Overall, Adler has the most colorful and happy selection out there.