What's Your Design Spirit Animal? Find Your Style Twin + Take Our Poll
Are you more of a speedy cheetah thriving on a fast-paced life or a retreat-loving crab?
You'd be surprised to learn that the qualities you share with your favorite animal can say a lot about what you like when it comes to design. Since I've taken a few personality tests (okay, more like twenty,) I rounded up some common spirit animals and found the perfect space for each. Take the poll at the end and let us know what design spirit animal you relate to most!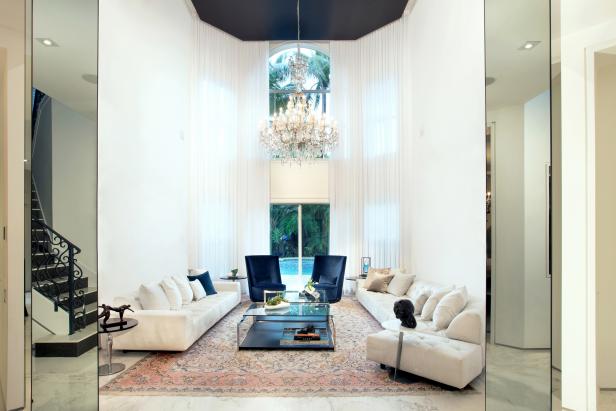 White Transitional Living Room With High Ceiling
Mirrored doors pull back to reveal this sweepingly grand living room featuring a double-height ceiling and crystal chandelier. Curtains cover the entire window facade when needed drawing the eye upward.
Owls are known for their calm, insightful demeanor and of course, their wisdom. If you lean towards the peaceful, elegant side, your design style reflects a sophisticated charm. Chic spaces like this one by DKOR Interiors dazzles with luxe chandeliers and a crisp color palette. Sapphire-blue slipper chairs add a pop of color.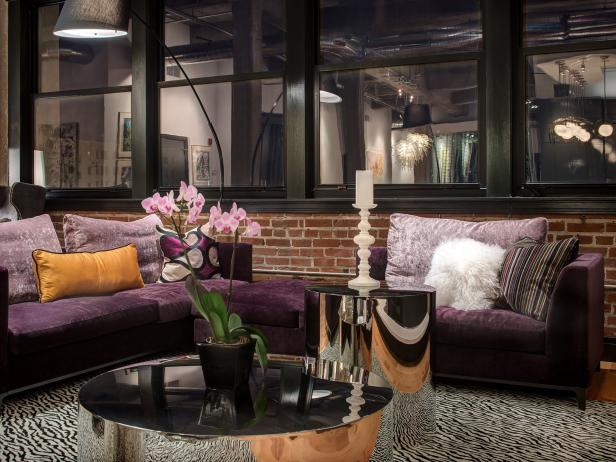 Purple Velvet Sectional and Zebra-Print Area Rug
Exposed brick and oversized windows lay an urban foundation for this living space. A velvet sectional, mirrored coffee table and zebra print area rug combine to create a glamorous look in the eclectic living room.
S&K INTERIORS, Scripps Networks
The fast-paced life of a cheetah: They can go from 0 mph to a casual 60 in a few seconds, not to mention they are the fiercest animal in the kingdom. If you relate to the speedy life of a cheetah and enjoy the hustle bustle of a big city, an urban jungle is for you. In this living room by S&K Interiors, brick walls add the urban vibe while rich velvet upholstery with a touch of animal print brings in that fierceness.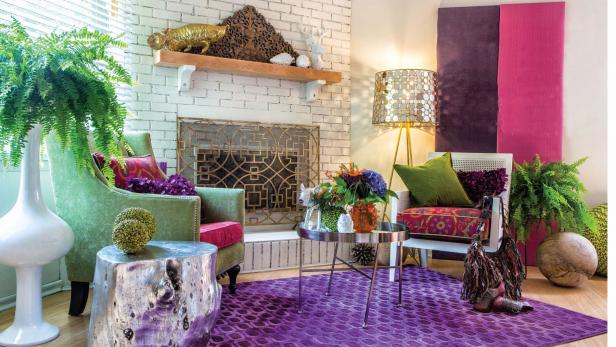 Multicolored Eclectic Living Room With Fireplace
A white brick fireplace serves as a visual anchor for this eclectic living room, that mixes bright colors and metallics for a bohemian chic look. The purple rug helps unify the furniture to create a conversational grouping.
For the playful and adventurous, here's a style for you. With lots of colors, patterns and textures, this eclectic living room by C. Marie Hebson will be the perfect home for the eccentric monkey spirit. The room itself is quite the adventure, complete with a metallic tree stump end table and a mod gold floor lamp.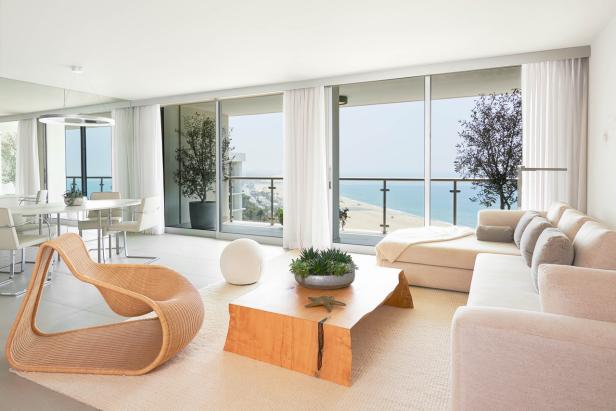 Dreamy, Coastal Oceanfront Living Room
A wall of windows abuts a wall of mirrors in this oceanfront living room, creating a dreamy space that feels almost as if it's floating on a cloud. Walls, floors and furnishings are light and neutral, while warm wood accents ground the space and provide warmth. Sheer draperies layered beneath eggshell-hued panels add to the room's ethereal feel.
Here's one for all the beach lovers at heart. If you enjoy cozying up in your retreat at the end of the day, you might be a coastal crab. Beachy accents and soft color palettes are your go-to's because at the end of the long day, you want to curl up in your shell and relax. I wouldn't mind calling this coastal front living room designed by Sarah Barnard home.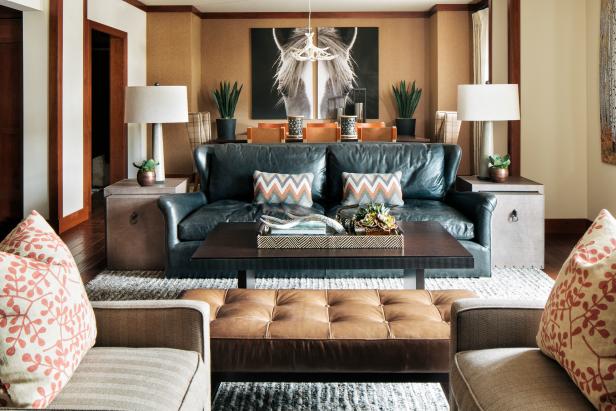 Comfortable, Open Living Room is Family Friendly
The dining room and sitting area connect, creating an open living area for the family. A gray area rug ground the seating area, which combines a black leather sofa with cozy armchairs and a tufted leather bench.
Strong and dependable, the horse has had a longstanding relationship with man. When it comes to design, this resilient animal's human style twin likes to incorporate sturdy fabrics like leather and suede, while capturing a western flair with desert-toned neutrals, blue hues and dark oranges. This living room by Duet Design Group captures that Southwestern character.
And last but not least: the cat. When it comes to this feline favorite, everyone with a kitty-inspired personality knows it's the cat that does the decorating. Whether it's laying on shelves, becoming a desk accessory or adding some bedding decor, these animals themselves are the decorations. Thank you for decorating homes with your furry precious selves.