Wallpaper Looks You Need to Copy ASAP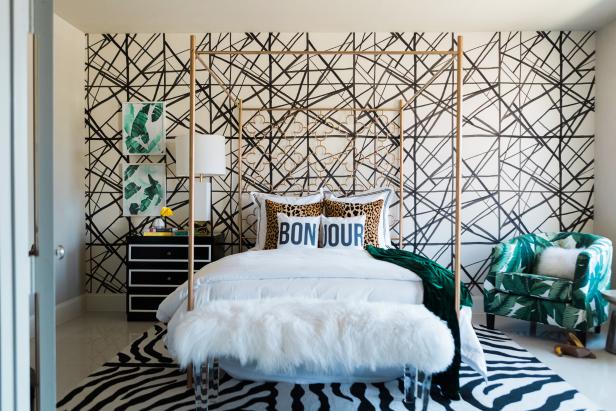 Black and White Eclectic Bedroom With Canopy Bed
The designers used white walls and a white floor as a blank canvas on which to layer dynamic wallpaper and strong patterns. The delicate gold canopy bed in the center helps unify the eclectic look.
A weekend spent waking up your walls is a weekend well spent. No, no — I'm not talking about a fresh coat of paint, people! Rather, enliven your home with some wow-worthy wallpaper. Stick it in your bathrooms, kitchen or boudoir. The results yield a home that feels chic, curated and so, undeniably, you.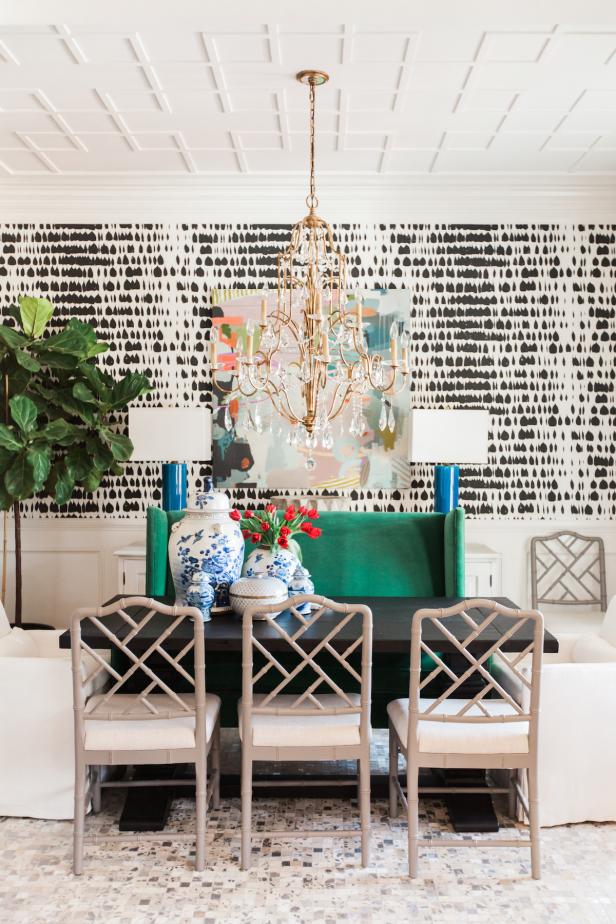 Black and White Eclectic Dining Room With Graphic Wallpaper
Instantly up your cool factor with a bold, black-and-white wallpaper. Graphic patterns will floor your guests in the best way possible. Not to mention, black and white serve as stylish, neutral backdrops to any and every color palette under the sun. (Yes, even brown and navy.)
Carolina Mariana Photography, Aimee Mazzenga Photography
I can't get enough of this subtle, sophisticated bedroom. The cornflower blue and cream floral print adds that extra "something" the space needs to declare some serious style. Replicate the same look by using a patterned print to create a statement wall in your space.
If you want to play it safe while still achieving major style points, toy with texture on your walls. Stick to a neutral tone that complements your furnishings, but add style with unexpected texture throughout. The scales on this creamy paper creates interest in an otherwise traditional dining area.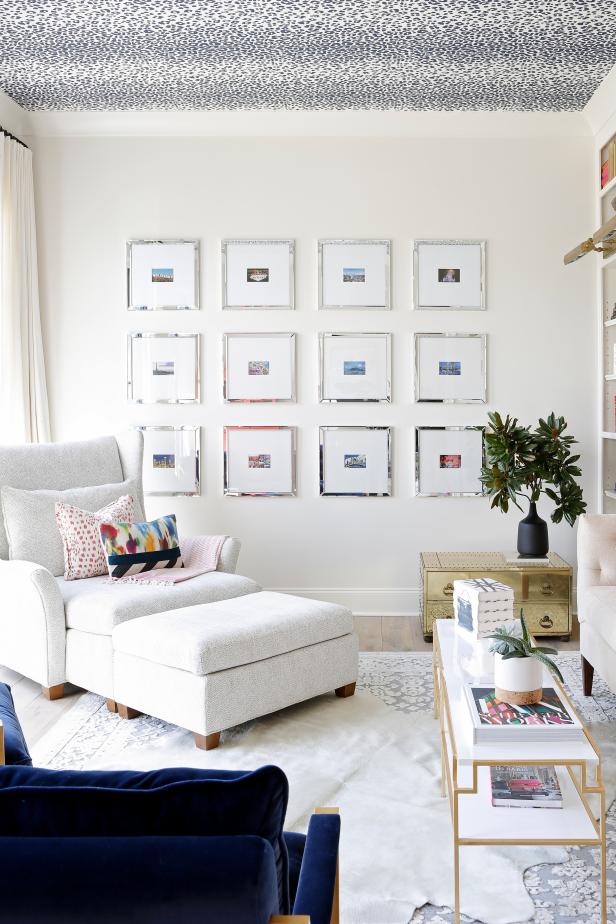 White Contemporary Library With Leopard Print Ceiling
A gallery wall takes on simple elegance by using a series of silver frames. Light-colored furniture is the perfect subdued foil for bright accent pillows and the wild (natch) leopard-print ceiling.
All-white rooms can appear sterile, no? Kick it up a notch with some adventurous, papered ceilings. This crisp, white room appears effortlessly chic with the company of the navy-spotted ceiling. Love.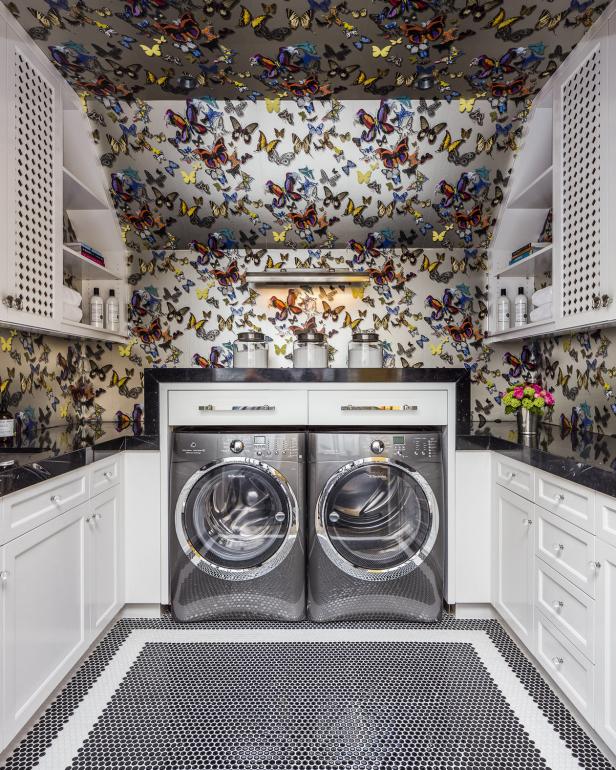 Butterfly Print Wallpaper Brings Laundry Room to Life
Subtle shadows on the Christian Lacroix wallpaper make the butterflies appear to float above the walls in the laundry room at the San Francisco Decorator Showcase 2015. The room is as functional as it is beautiful, with ample storage throughout, a sink in the corner and drying racks tucked above the washer and dryer.
Christopher Stark; Design by Evars + Anderson Interior Design
Laundry = no fun. Laundry in a room full of rainbow-colored butterflies? The most fun. Go all out in your LD with a vibrant color or kaleidoscope print. If you're going to have to fold four loads of clothes, you might as well enjoy the view.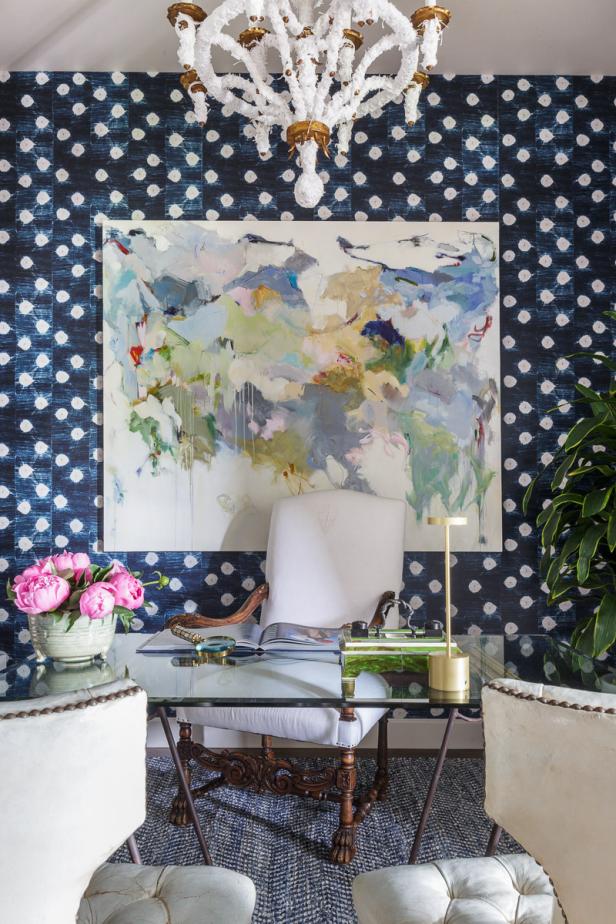 Colorful Artwork and Fresh Ranunculus Brighten Home Office
Add wallpaper that imitates the texture of fabric for a luxe, lived-in look. The over-dyed indigo paper used in this eclectic home office is such goals. Goals on goals on goals.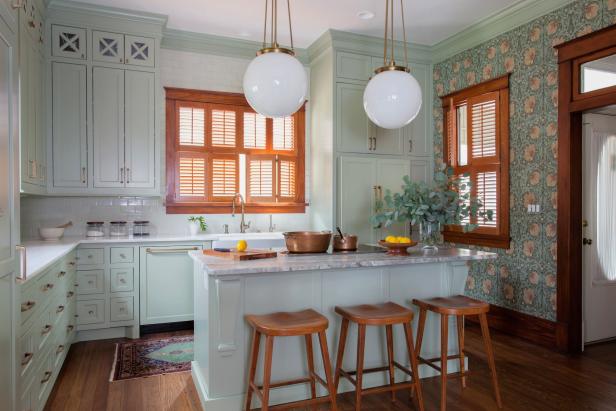 1900 Cottage-Style Kitchen with Wood Trim and Accent Wall
The kitchen of this 1900-era Victorian home was in desperate need of an upgrade. The homeowners wanted to keep the vintage feel of the home, so designers used wood trim and shutters to give the kitchen some of the charm of the rest of the house. To help maintain the classic feel of the home, an accent wall was created using wallpaper. The overall effect is reminiscent of cottage charm.
Sweet, sage-colored cabinets are enhanced by a complementary wallpaper in this darling rehabbed kitchen. Together, the shade of sage and earthy wallpaper draw to the natural wood details throughout the kitchen. Using neutral, earth-toned paper will look incredible against any wood floors or furniture in your space. Take this as your green light for green wallpaper, peeps!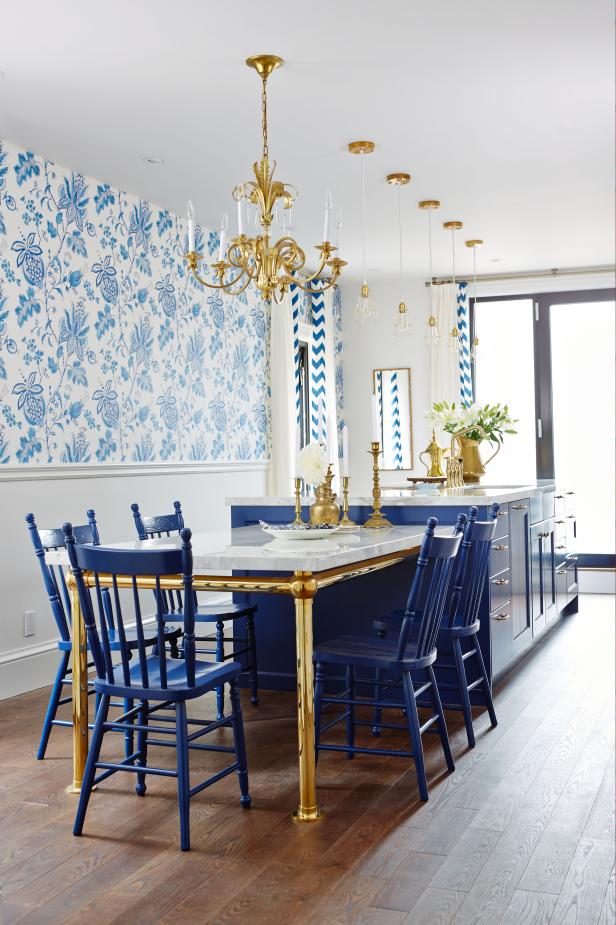 Blue and White Traditional Eat-In Kitchen From Sarah Sees Potential
Stacey Brandford Photography
Create a classic space with bold variations of timeless patterns. Stripes, plaids, polka-dots and floral patterns will not lead you astray. This blue and white floral has been around for hundreds of years and serves as a phenomenal backdrop to the brass and marble finishes throughout the kitchen.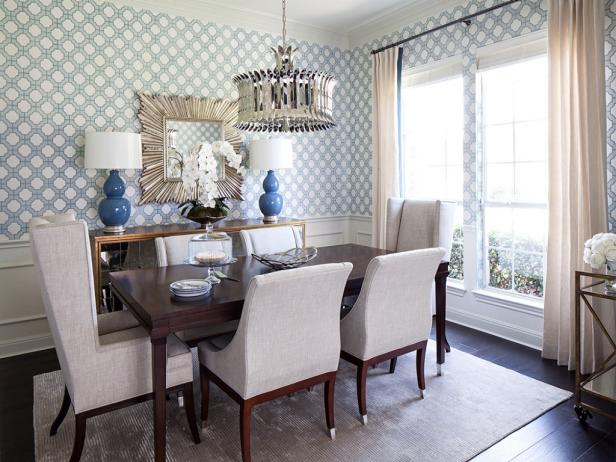 Blue and White Transitional Dining Room With Blue Lamps
For the timid traditionalists, try transforming your space using a very light hand. This conservative wallpaper is subtle enough to work as a backdrop to the furnishings of the space while also offering an undeniable amount of style and interest to the room overall. This is what we a call a win-win over here at HGTV.