Terrapins, Tortoises and Turtles: The New Twist on Coastal Style
See how this season's star is blowing coral clusters and driftwood displays out of the water.
Cast your nets now, wannabe mermaids, because there's a new home decor trend fresh from the ocean. Inspired by the calming, go-with-the-flow nature of the sea and its creatures, several designers are using faux-turtle shells to achieve their own coastal style.
And who could resist the look? With rigid lines and a glossy finish, faux-turtle shells pack the walls with visual interest. See how some of our savviest designers are using this season's catch, and find out where you can grab a shell for yourself.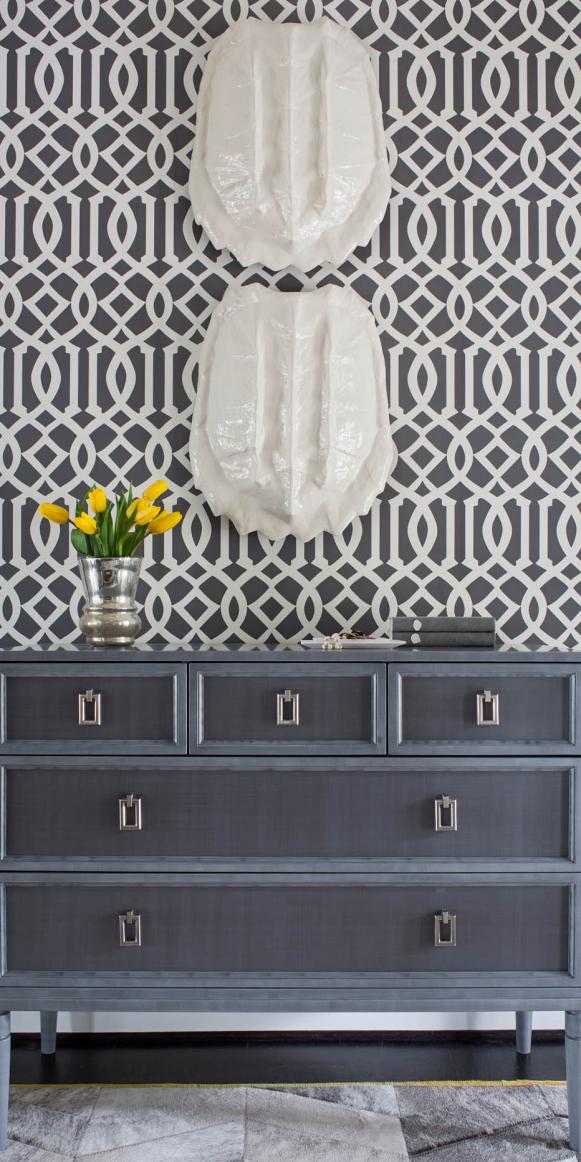 Gray Graphic Wallpaper and Dresser
Keep graphic wallpaper from overwhelming a room by pairing it with monotone furniture and artwork. Here, a gray dresser and white wall hangings are ideal complements, crisp and clean.
Back in March, we learned that Joel and Erika Snayd of Rethink Design Studio in Savannah, Ga., love to make an entrance with bold colors and patterns — and this foyer is no exception.
By stacking two white shells over a dark gray console table, the duo add height to the room and give the contemporary space a cheeky nod to the water. Talk about coastal-cool.
Tortoise Shell in Guest Bedroom
To give the fireplace a bit of decorative flair, designers placed the couple's tortoise shell in front, adding interest to the space.
On the West Coast, Melanie Coddington of Coddington Design in San Francisco, Calif., is working a little magic of her own. Rather than hang a shell on the wall, Coddington treats this custom piece as a sculpture to anchor the fireplace.
The result? A soothing blue master suite that exudes tranquility...and doesn't shy away from a splash of personality.
Plus, Some of Our Favorite Shells
Beach house style doesn't have to be all about neutrals.