5 Trendy Yet Timeless Ways to Transition Teal Into Your Fall Decor
We project a smooth transition into the fall for all those aboard the teal train.
School is back in session, September issues are on the newsstands and fashionistas everywhere are drooling over the up and coming autumn trends as they scroll through their Instagram feed.
The usual suspects are all there — suede booties, chunky knits and a plethora of warm earth tones. But a not-so-expected hue in the lineup this fall? Teal. That's right, friends. Turquoise's favorite first cousin is taking the fashion world by storm one blouse at a time. It's the perfect blue-green to seamlessly transition your summer wardrobe into fall.
It turns out that this trendy tone is no one-trick pony. Not only does it work wonders to mute down your vibrant summer closet, but it does just as well to transition the rest of your home into the coming months, too. A teal top with a cognac cross-body bag? Cute. But a teal rug paired with shiny cognac couch? A living (room) dream.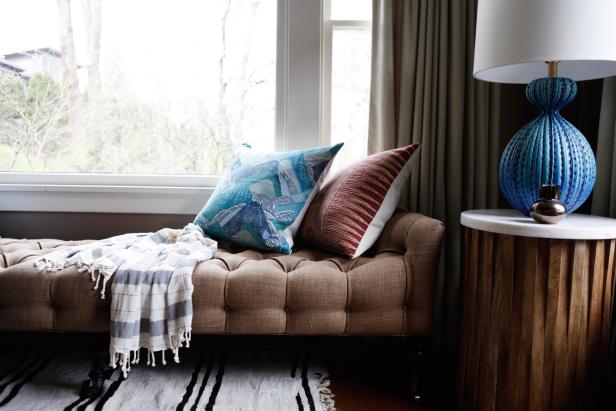 Eclectic Living Room is Comfy, Relaxed
This eclectic living room layers a mix of patterns and textures to create a warm, inviting space. A classic tufted bench is topped with hand-printed throw pillows, while a wooden end table is paired with a cool blue table lamp.
Here are some of the transitional teal moments I'm dying to replicate right now.
I've always thought there was something so effortless and chic about a bright white comforter. It's perfect for the spring and summer months and even works as a wintry white from December through February. Those breezy autumn months in between are what prove to be a particular challenge for those gorgeous cozies.
All those warm harvest tones we associate with fall look completely out of place against a stark, bright white. They contrast in the most major and unintentional way. Not glam, effortless or stylish. So how do we bring the autumn feels to our white-washed bedroom? Teal, of course!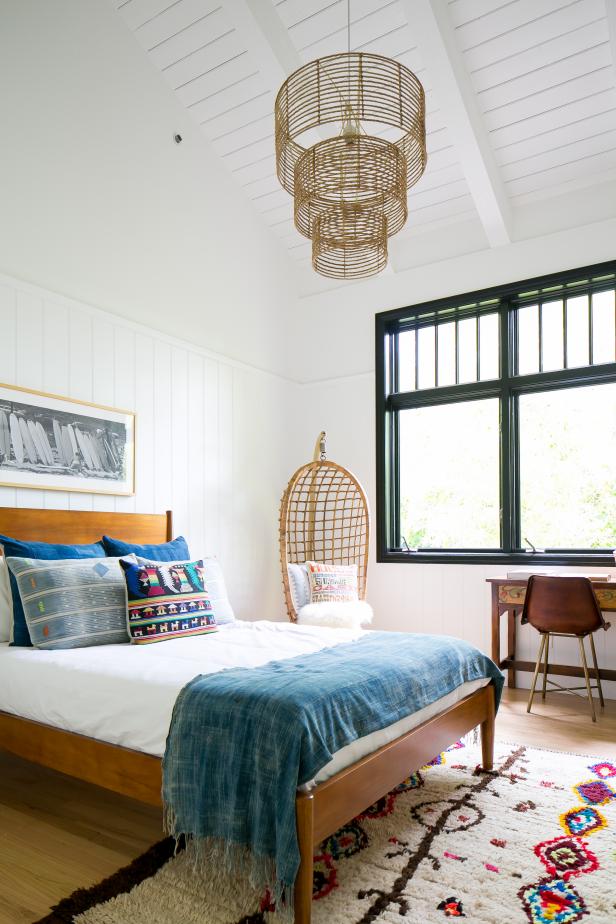 White Southwestern Bedroom With Colorful Rug
Vibrant colors jump out from the bed and the floor in this light-filled bedroom. The furnishings are kept simple, clean lines and pretty wood.
Teal is unique in that it functions as a warmer variation of a cool tone. Its warmth brings that fall coziness you're craving into a bright space without the inevitable and obvious contrast that you'd come across with traditional harvest colors.
Designer Shannon Wilkins tones down the shining summer look in this boho-eclectic bedroom by incorporating a teal throw across the white bed. The results? This moody hue proves itself once again by complementing a bright, white comforter in ways that dark orange and mustard yellow could only dream of.
Touches That Rock (Literally)
Geode and agate accents have been trending for the last couple of seasons, and they show no sign of stopping anytime soon. Can't get enough? I'm right there with you.
So why not kill one bird with two stones (pun intended) with some earthy, teal geode pieces thrown* into your space. These pretties will look right at home on your coffee table, bookshelf or bedroom dresser.
*Note: Please take "throw" as a figure of speech, because otherwise you run the risk of damaging your valuables. And let's be honest, property damage is never on trend.
A lot of people steer clear from designs that are too trendy for fear that they will be soon become outdated. Listen, I totally get that. I am still feeling #blessed that I was able to deter my mother from plastering chevron wallpaper onto the walls of my childhood bedroom while I was away at college.
Wallpaper aside, teal is a trend that anyone and everyone should get on board with. Let's just take some baby steps, shall we?
What you have to keep in mind is that sometimes the biggest impact in a space comes from some well-executed finesse. Designer Brian Paquette used a light hand to distribute teal accents throughout an otherwise neutral space, ultimately resulting in a room that displays effortless style.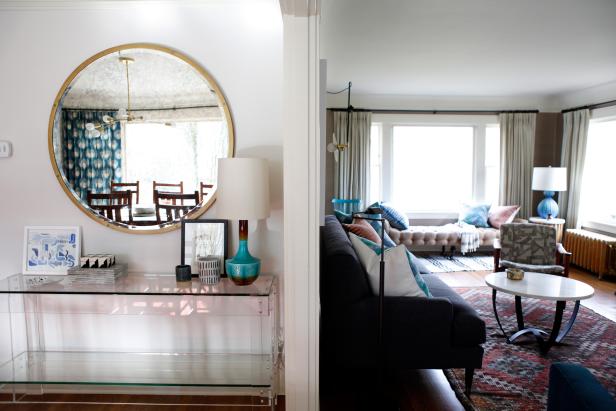 Open, Relaxed Dining Room and Living Room
The dining room and living area open up to each other to create a relaxed, family friendly space. A large round mirror bounces light around the room, reflecting the eclectic dining room style. A Lucite table is topped with pretty accessories for a sophisticated vignette.
The glossy teal and cognac lamp, patterned drapes and sizable throw pillows are all 100 percent removable and require no real design commitment. This means you can try teal on for size this fall with no strings attached. Just don't be surprised when you realize that you want it around for the rest of the year, too.
I mean, Joanna Gaines can really do no wrong. Her eye for design is loved by literally everyone, and she outdoes herself time and time again. This living room? No exception. I happen to think that the divine teal rug she chose for this space has a lot to do with its drool-worthy charm.
Just look at that thing. Our feet are not worthy of its beauty.
The contrast of the saturated teal against the cognac hardwood and leather work in unison to create a warm, well-balanced design that is as stylish in the heat of the summer as it is cozy in the chill of the fall. I don't know about you guys, but my heart is officially bursting to the seams with a very serious design desire for an overdyed, teal area rug.
Leave it to Joanna to gift us with the perfect example of how to use teal in a completely graceful and timeless way.
I would like this sofa to be packed, shipped and delivered to my door. Like, yesterday. While you're at it, go ahead and throw those pillows, lamps and bright turquoise dragon-dog figurines in there too. Please and thank you. Everything about this look is complete and utter gold.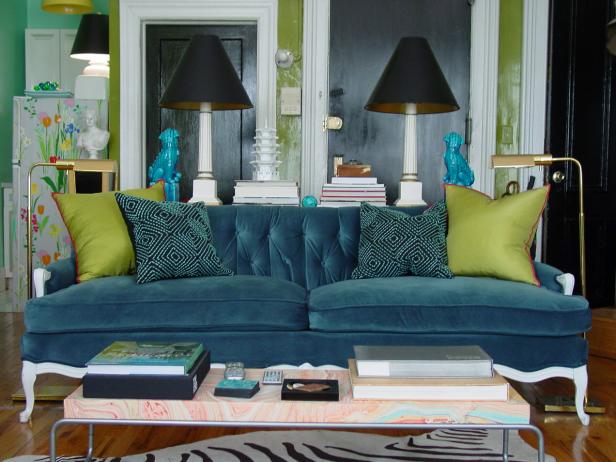 Small Living Room with Green Walls
When decorator Nick Olsen moved into his 525-square-foot studio in New York City, the walls were painted white, in keeping with small-space convention. "But the place just looked gray and dingy," says Olsen. And so, rather than just slapping on a newer, brighter coat of white, he painted the apartment's main room Oregano Green (Benjamin Moore 2147-10), in an oil-based metal enamel, to resemble lacquer. "Although the apartment is small," says Olsen, "it's actually rather grand with 12-foot ceilings, huge windows and a high-relief fireplace. So I felt it would be a shame to tone it down with a pale color or white." For even more impact, he painted the doors glossy black and the trim white, and added a deep teal velvet sofa. Olsen didn't shy away from bright color in the 35- (yes, 35!) square-foot kitchen either, wallpapering the fridge in a bright spring pattern and painting the walls and the ceiling Sea Mist Green (Benjamin Moore #2041-50). "To make color work in a really tiny room like this kitchen," Olsen suggests, "paint the walls and ceilings the same color so you're eye doesn't stop at the ceiling line."
This little tufted beauty is the ultimate teal transition piece because of its timeless design. The teal, velvet upholstery acts as a neutral, complementing just about any decorative pillow or throw you'd want to toss in its direction. It looks gorgeous with the bright spectrum of summer colors and delivers an Oscar-worthy performance as the supporting role to all the bronze-y, smoky and earthy colors making their debut during the fall.
The design inspiration to take away from this sofa? Trendy teal tones on a timeless piece. If largescale seating is out of the question, then at the very least, let's fling for a fancy pouf. Have you ever felt buyer's remorse over purchasing a pretty pouf? I know you haven't. No one feels remorse when pretty poufs are involved.