Rustic Meets Luxury in This Picturesque Mountain Escape
After laying eyes on this jaw-dropping outdoor space, you'll know exactly why HGTV fans crowned it the winner of this year's Fresh Faces of Design Outdoor Living Spaces category. It just doesn't get any better than this.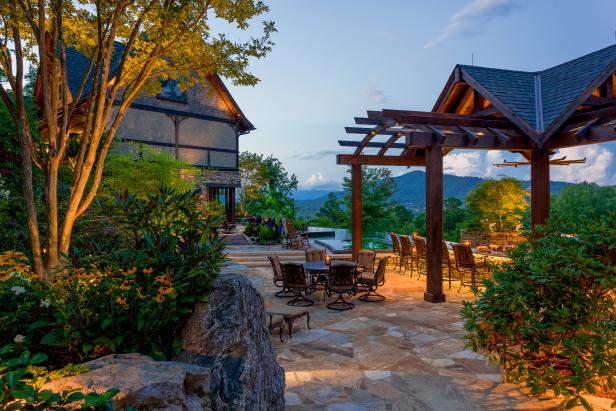 Outdoor Living Fit for a King
With a priceless view of the Western North Carolina mountains, a summer kitchen outfitted with luxurious appliances and an infinity edge pool to soak up your surroundings, this outdoor living space is sure to impress.
Tucked away in the gorgeous hills of North Carolina, you'll find a grand mountain home with a backyard that is to die for. Thanks to the exceptional vision of architect Amy Conner-Murphy, this stunning rustic home has been equipped with all the best amenities — starting with lush landscaping and striking stone walkways — to highlight the remarkable surroundings.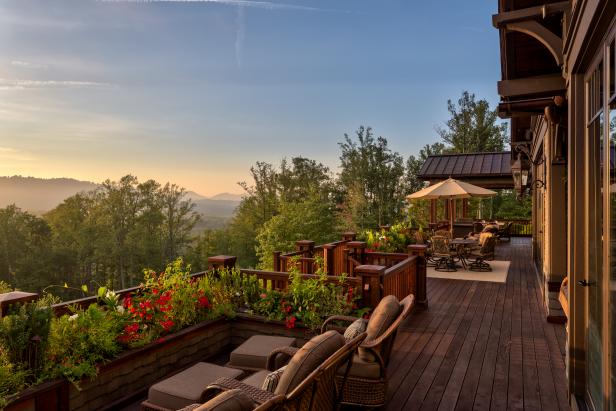 Back Deck With Mountain View
What a beautiful view to wake up to! The outdoor living space of this home's back deck can't be beat.
Meechan Architectural Photography
To ensure guests and the homeowners are making the most of their breathtaking views, Amy's design incorporates an infinity-edge pool, outdoor wet bar and plenty of seating for even large gatherings.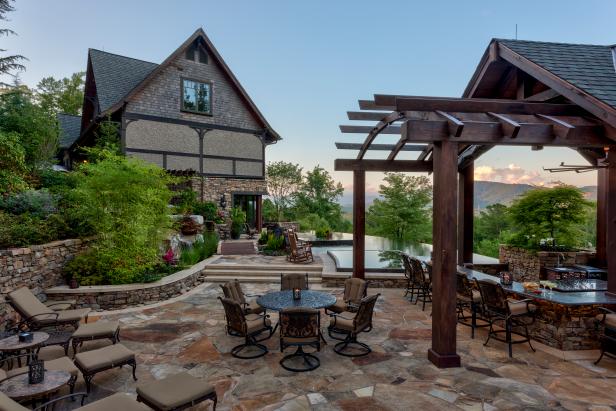 Rustic Patio With Wrought Iron Furnishings & Outdoor Bar
Incredible mountain views, an outdoor bar and an infinity edge pool make this rustic patio an ideal place to gather with friends and family.
"Other than the original house structure, this area was completely undeveloped property," explains Amy. "The clients planned to add a guest house on the property, which we designed as well. The outdoor living area, including the summer kitchen and pool, were designed to link the main house and the guest house while still maintaining a sense of privacy for each."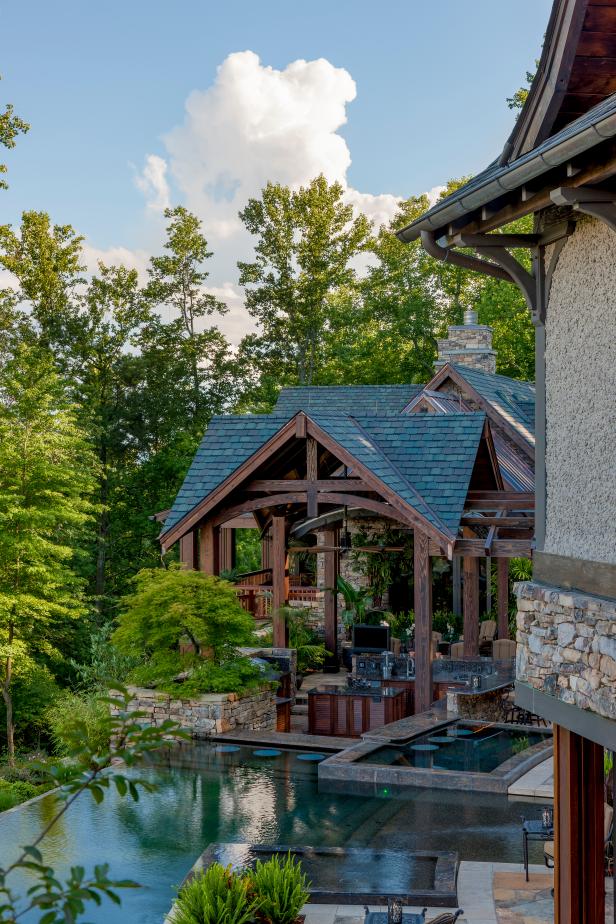 Rustic Summer Kitchen At Pool's Edge
Nestled between the main house and the guest house lies a fully equipped summer kitchen, waterfall and infinity edge pool. There's no skimping on the views from every angle of the outdoor living space. It's easy to escape at this mountain retreat.
But this outdoor space does much more than simply connect the main house with the guest house. With hidden details like the retractable awning (hidden below the arched trellis structure), the space can accommodate all kinds of weather, making it a non-stop party hub. It's no surprise the hidden awning is one of Amy's favorite features. "With the push of a button, the area can become covered to protect from intense sun or rain, making this outdoor living usable anytime."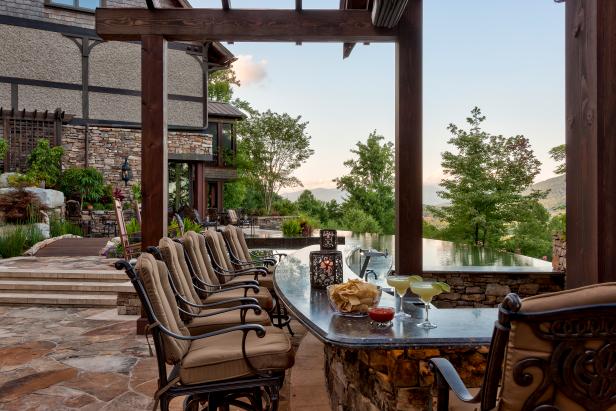 Outdoor Bar Perfect for Entertaining
Cushioned, wrought iron barstools surround this outdoor bar with a sleek countertop and rock base that blends in perfectly with the natural, rustic surroundings. With stunning mountain views and a nearby infinity pool, it's the ideal spot for entertaining friends and family.
And just when it seemed this home couldn't get any better, Amy worked in a full-size tennis court, mini waterfall and pond and a fabulous deck with a beautiful set of wooden rocking chairs to highlight the home's Southern roots. She really outdid herself with this one.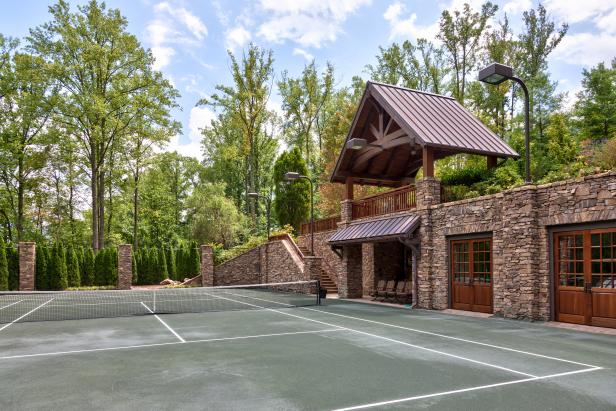 Tennis Court at Rustic Mountain Retreat
Enjoy a game or two of tennis at this rustic mountain retreat. There's even a shaded seating area for spectators.