Tour This Classically-Chic Chef's Kitchen
Designer Tatiana Machado-Rosas skillfully blends form with function in this timelessly on-trend black, white and gold open-concept kitchen.
Move over family room, the kitchen has become the undisputed hub of today's homes. But, unlike formal rooms whose primary purpose is to look good when guests arrive, the kitchen is a functional space where feeding hungry hordes is on the menu daily. Designing a kitchen that works hard while looking stylish can be challenging, especially when that kitchen is for a family of four who love to cook large Italian meals for themselves and lavishly entertain guests.
San Diego, California-based designer Tatiana Machado-Rosas was up to the challenge, creating an award-winning chef's kitchen that serves up plenty of hidden storage for both everyday and entertaining essentials. The space's durable surfaces stand up to wear and tear, all wrapped up in a timelessly tasteful package that will look just as stylish 10 years from now as it does today.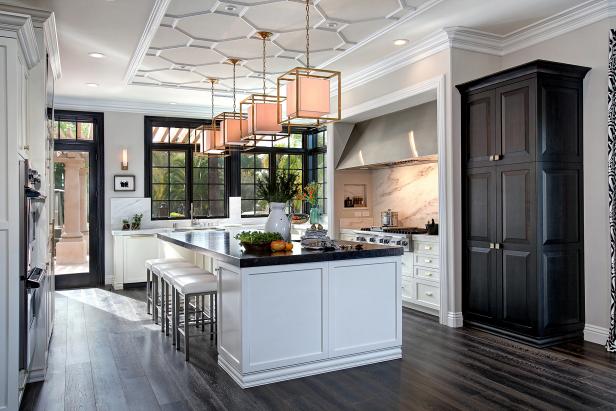 White Transitional Chef Kitchen With Large Island
Stately and sophisticated, this kitchen creates a graceful mood with a white palette, subtle pink accents and lots of natural light courtesy of large windows and a glass door. The oversized island offers casual eating as well as plenty of prep space.
Jackson Design and Remodeling
Before the remodel, the kitchen was in an underused area of the home cut off from the family's main living areas. Tatiana convinced the homeowners to relocate it to better take advantage of sweeping views of the property and to connect it to the family room and an adjacent breakfast nook.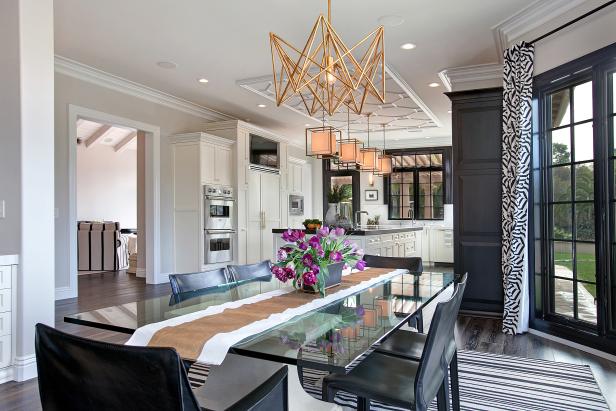 Transitional Dining Space With Geometric Pendant
A geometric pendant light above the dining table provides visual continuity with the kitchen's lights and is a dynamic statement in the open concept space.
Jackson Design and Remodeling
So the homeowners could better appreciate the natural surroundings, Tatiana installed 11-foot-high windows that wrap the corner, flooding the space with natural light.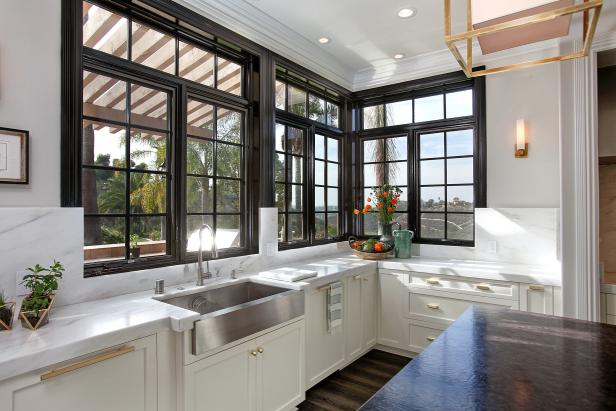 Kitchen Sink With Black Windows
Beautiful big windows wrap around the kitchen and make washing dishes infinitely more enjoyable.
Jackson Design and Remodeling
But don't let this kitchen's star-worthy good looks fool you; it was designed to stand up to the real-world demands of feeding a family while being stylish enough to serve as the gathering spot for party guests. Tatiana's tip: "Space planning is key. There should be adequate space between the cabinets and island to ensure easy traffic flow and careful planning of storage and appliance placement to make cooking, cleaning and entertaining easy and enjoyable."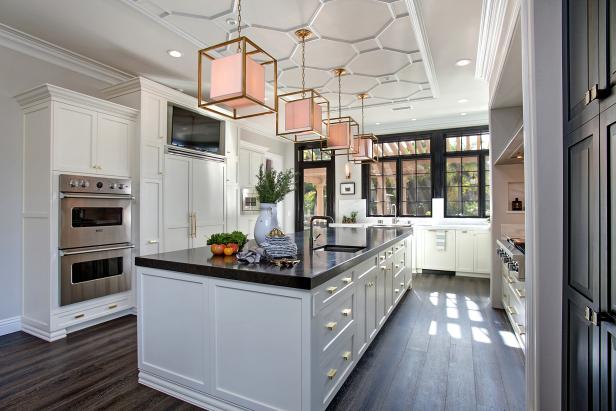 White Transitional Chef's Kitchen With Patterned Ceiling
Invite visitors to look up! A fun way to add visual interest to a neutral room is to decorate the ceiling with a graphic pattern or colorful wallpaper. Here, the cube-shaped pendant lights tie in with the geometric theme.
Jackson Design and Remodeling
Focusing on how the space will be used when entertaining, Tatiana worked in double ovens, two dishwashers a large farmhouse sink under the bank of windows and a small prep sink in the island. Knowing that guests inevitably congregate in the kitchen, she also considered safety. "In kitchens with islands, it's important to plan the layout so guests gather on the opposite side of the countertop from the chef so cooking and socializing can happen easily and safely at the same time," she suggests.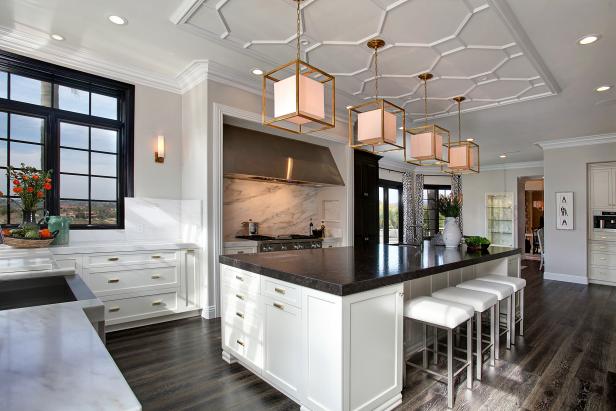 Transitional White Chef Kitchen With Cube Pendants
This gorgeous kitchen keeps the mood refreshingly calm with an all-white color palette, bringing in visual dimension with soft pink pendants, a marble backsplash and geometric pattern on the ceiling.
Jackson Design and Remodeling
Speaking of the chef, Tatiana didn't skimp on the range area which includes a custom stainless steel vent hood, Viking gas range, built-in spice niches and gorgeously veined Calacatta marble countertop and backsplash. Because the family loves to cook Italian food, which is typically acidic and can etch marble, Tatiana chose a honed finish rather than polished so any splatters will be less visible.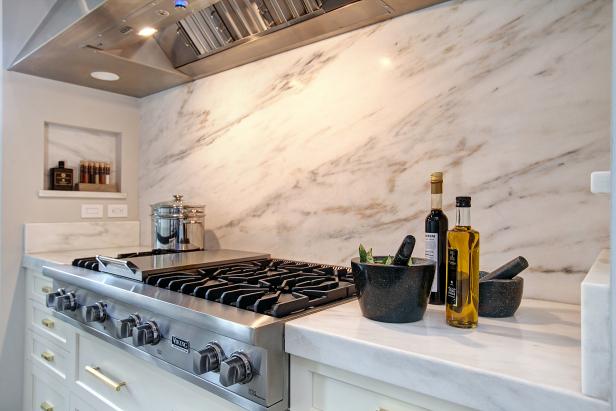 Cooktop With White Marble Backsplash
White marble is an elegant backdrop to the cooktop. Stretches of countertop on either side make prep work a breeze.
Jackson Design and Remodeling
She also kept the kids in mind, carving out a sunny homework niche in the breakfast area. Around the corner, a bank of built-ins is handy for storing afterschool snacks while the X-style wine rack keeps Mom and Dad's favorite vintages within easy reach.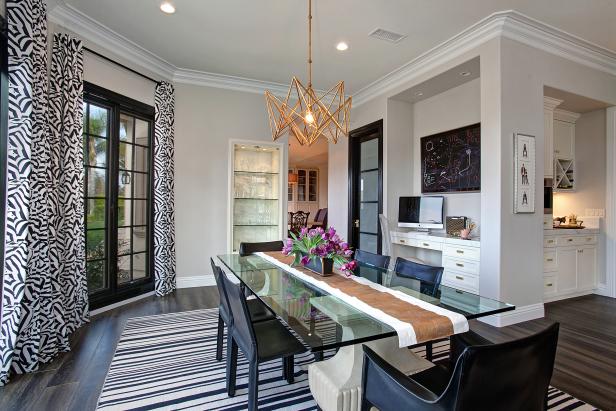 Black and White Transitional Dining Area With Striped Rug
The open concept design of this dining area allows room for a small workspace and convenient access to the adjacent kitchen. Black and white curtains and a striped rug add dynamic energy to the space.
Jackson Design and Remodeling
See More of This Traditional-Meets-Contemporary Kitchen
See All Photos