Top 10 Ultimate Decorating Tips From a Magazine Stylist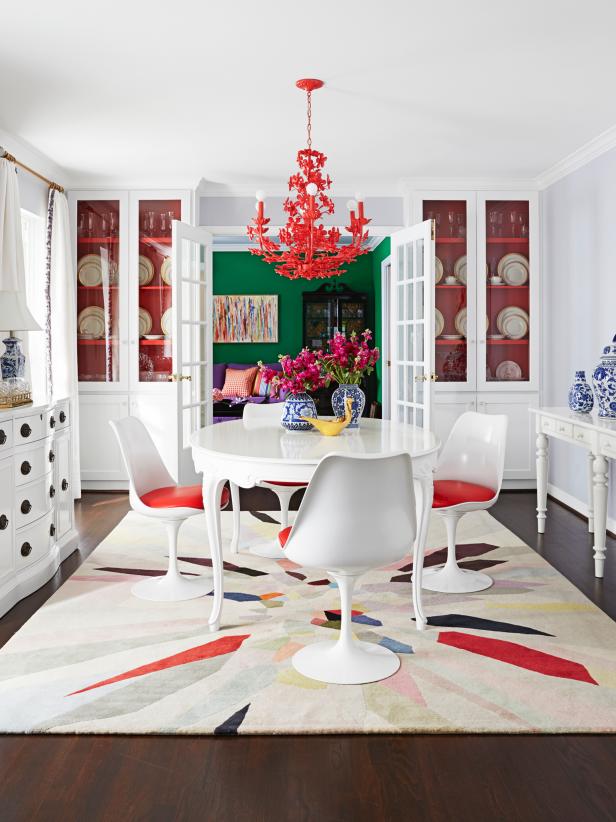 Multi-Colored Eclectic Dining Room
This dining room was featured in HGTV Magazine.
David A. Land (styled by Elizabeth Demos)
As a professional photo stylist and designer, Elizabeth Demos is a creative mastermind behind many of the stunning house tours you see inside HGTV Magazine. She works her magic adding a throw here, a bowl of lemons there, and of course, making sure every bookshelf is designed to perfection. Liz helps the editors and photographers ensure every room and every shot look both lived in and expertly styled, and now she's sharing her top 10 decorating tips that work for everyone.
1. Rug size is everything
"A small rug is like a too-tight dress," says Demos. "It's just a bad idea no matter what." A rug forms the foundation of a room and creates connectivity with your furniture, so a tiny rug that just fits under a coffee table will only emphasize the table and fails to connect the rest of the room. Her general rule: If your furniture floats, it should be touching if not holding all of your furniture. If your furniture is wall-bound, you can get away with only the front legs on the rug.
2. Every common room needs a plant
Besides improving air quality, plants are good for your mental health and boost your mood and energy. Plus, "a little green is aesthetically pleasing," says Demos. In the living room, she suggests a fiddle leaf fig tree or bird of paradise palm. Don't have that much space? Try a plant stand featuring several smaller varieties, or if you want something more useful, try herbs!
3. Editing is a master skill everyone should learn
"Think of your home accessories like jewelry for your room," says Demos. "Know when too much of a good thing is really a bad thing." If you can't part with your treasures, consider rotating items like a museum. "You will discover and appreciate your possessions much more," she says.
Demos says every room should have at least one tall piece of furniture. Why? To break up the monotony. "It gives a room visual rhythm and acts as a big anchor," she says.
5. Mix and match high/low finds
Want to make a flea market lamp look like a million bucks? Demos says to add a high-end shade. The high item instantly makes the low-end piece look more sophisticated. "Spend the money," she urges. "You won't regret it."
6. Great composition is key to good balance…
…in a room, on a mantel, on top of a dresser—just about anywhere in your home. "Think about scale, shape and how objects harmonize," says Demos. She regularly applies what she calls the "Sesame Street Theory." Ask yourself 'which of these things in not like the others?' Then eliminate the item that feels out of place. "Same items, whether it's in shape, color, material or style, are a good way to make things feel cohesive," she says.
7. Pillows are more important than you think
Pillows make a room feel cozy, so resist the urge to skimp when shopping. Also, remember that a pair of matching pillows does not have to live on the same piece of furniture. There's no design rule that says so.
8. Don't be afraid of sparkle
"Whether it's something metallic or glass, every room needs a little sparkle," says Demos. Think shiny, not necessarily glittery, to keep things grown-up and sophisticated.
"Monotone beds are boring!" says Demos. Use different colors and styles of texture when you layer sheets, blankets and pillows. "It keeps your bedding from feeling like you bought it all in one big bag at a department store," she says.
Breathe new life into an old possession by simply moving it. "You'd be surprised how special an item looks when you place it in a different room or on a different piece of furniture," says Demos.
Tour a home recently styled by Demos for HGTV Magazine.