Top Tips for Turning Your Home Into a Well-Tailored Abode
Looking for home design that's more timeless than trendy? See how LA-based designer Amy Elbaum uses well-tailored furniture pieces and accessories to create classic home styles.
It can be fun to embrace the latest, hottest design trend, but what if you're aiming for a look for your home that's timeless? One of the best ways to achieve a look that will age gracefully is to turn to one of the top tricks of fashion designers like Coco Chanel, Thomas Burberry and Ralph Lauren, whose styles are embraced year after year: tailoring.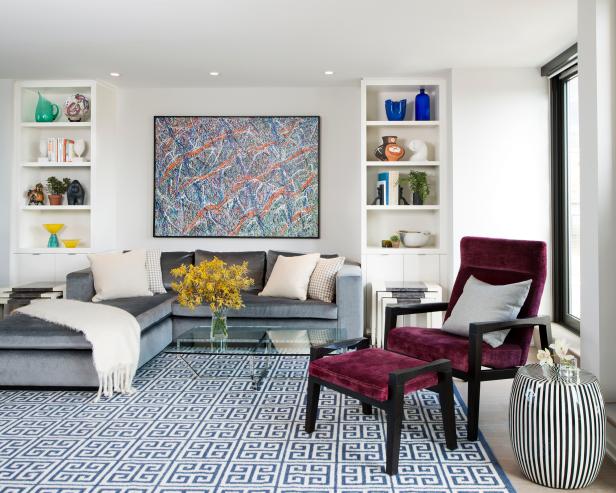 Modern Living Room With Maroon Chair and Greek Key Rug
This sleek and modern living room features built-shelving that flanks a comfy gray sectional, while a blue and white Greek key patterned rug anchors the space. A velvet maroon chair and ottoman add a pop of color, pattern and texture to bring the small living room to life.
Enter LA-based designer Amy Elbaum, whose style I L-O-V-E. Amy has mastered the clean, classic look thanks to how she embraces well-tailored furnishings and accessories.
Amy learned from a young age about art history, antique textiles and classic furniture design from her interior designer grandmother, Harriet Robinson. She turned that inspiration into a degree from Parsons The New School for Design and a career in New York before moving her firm, AE Design, to LA earlier this year.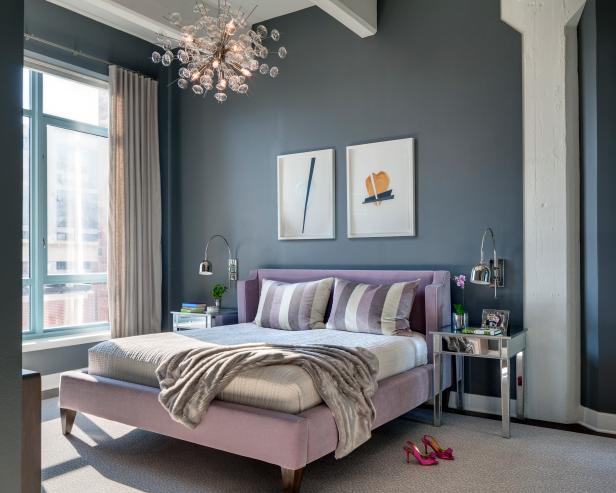 Soft-Hued Master Bedroom Presents Glamorous Modernity
From the wall color to the softly hued platform bed to the well-placed modern accessories, this master bedroom is an homage to simple, elegant glamor. The straightforward design blends well with the room's strong architecture, and the soft accent colors are a great contrast to the bold gray walls.
Amy uses furnishings upholstered with rich fabrics that hug every corner — just as a tailored jacket would be snug on your shoulders and nip at your waist.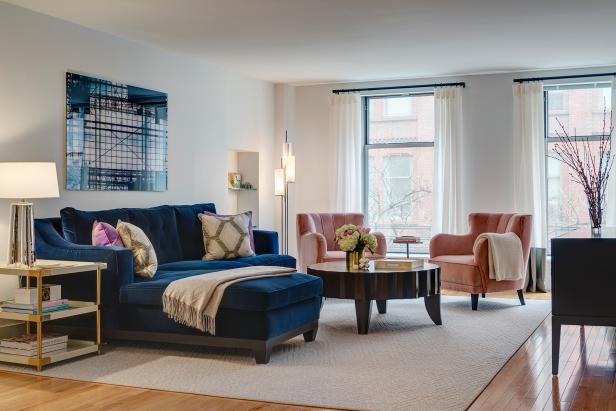 Living Room Redo: Timeless Elegance With a Modern Twist
Designer Amy Elbaum cleverly designed this living room with a slight nod to modern living in the accents she selected and placed within the traditional space. The artwork, lighting and overall look of the room evoke an updated yet timeless feel of sophistication. Especially lovely is the color scheme, which allows dark blue and soft color to play against white walls in a harmonious flow of hues.
These pieces also have extra details like smart-looking chair legs or brass brackets on table corners that mimic the buttons and trim that give suiting pieces their unique styles.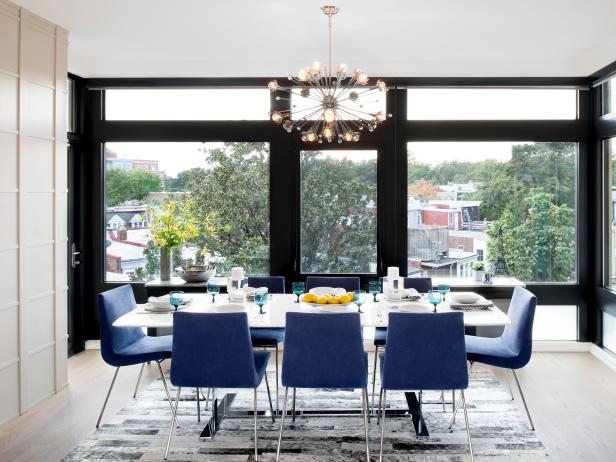 Sleek and Stylish Dining Room With Blue Chairs
In this sleek and modern dining room, color, pattern and texture bring the space to life.
Aside from the difference-making details, Amy adds extra wow factor to her rooms using pops of color, luxe fabrics and sharp patterns. Notice how each of her designs includes unexpected color, a plush throw or rug, a blingy chandelier or a strikingly patterned piece.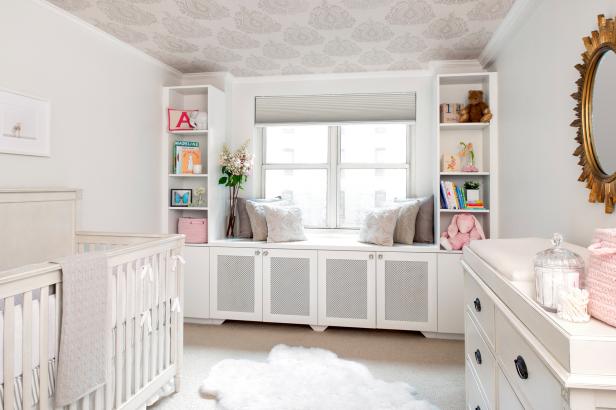 Transitional Neutral Nursery Is Light, Glamorous
This sweet, neutral nursery is filled with softness and light. Walls in Benjamin Moore's Dove Wing give way to a subtly patterned Romo wallpaper used on the ceiling for added impact. Built-in shelves and cabinets offer plenty of storage for baby items and toys, and a sheepskin rug provides comfort underfoot.