These Rooms Prove Black Paint Can Be Welcoming
Dark walls don't always feel overwhelming.
Black walls tend to get a bad rap: They're too dark, too overwhelming, not welcoming. The list of complaints goes on and on. And yes, when done incorrectly, a space painted black can veer into that negative territory, but in the hands of the right person, black paint can transform a space into something truly magical.
Need proof? Look no further than these 10 rooms. They all feature black walls but retain a warm, welcoming vibe that would make anyone feel at home.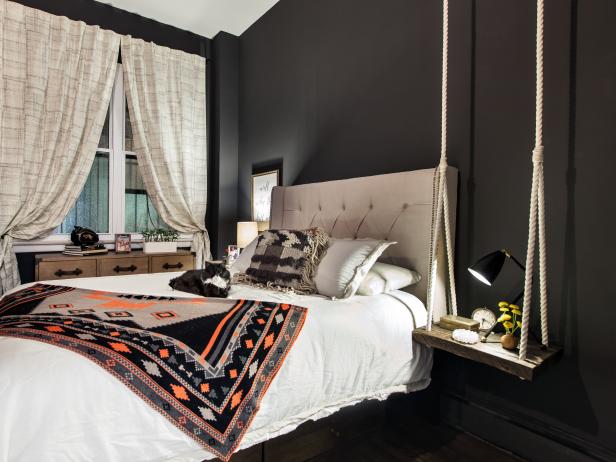 Black Master Bedroom with Room Saving Furnishings
The bedroom in this small apartment also makes very good use of its space. A slender dresser has been placed just under the window, and a bedside table has been hung from the ceiling to create space beneath it.
This bedroom feels perfectly bohemian thanks to the gorgeous throw and suspended nightstands. The light colored headboard, bedding and curtains add a sense of brightness to the space.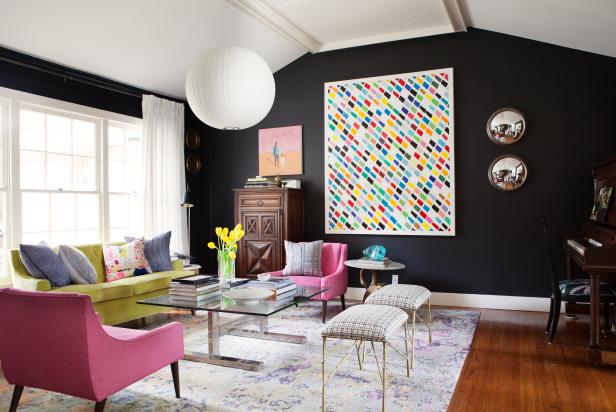 Bursts of Color in Chic, Black Living Room
A large window in white fills the living room with ample light and reflects off the black walls. Colorful art and furnishings help brighten and liven up the room.
Black walls serve as the perfect backdrop for the colorful furniture and accessories in this fun living room.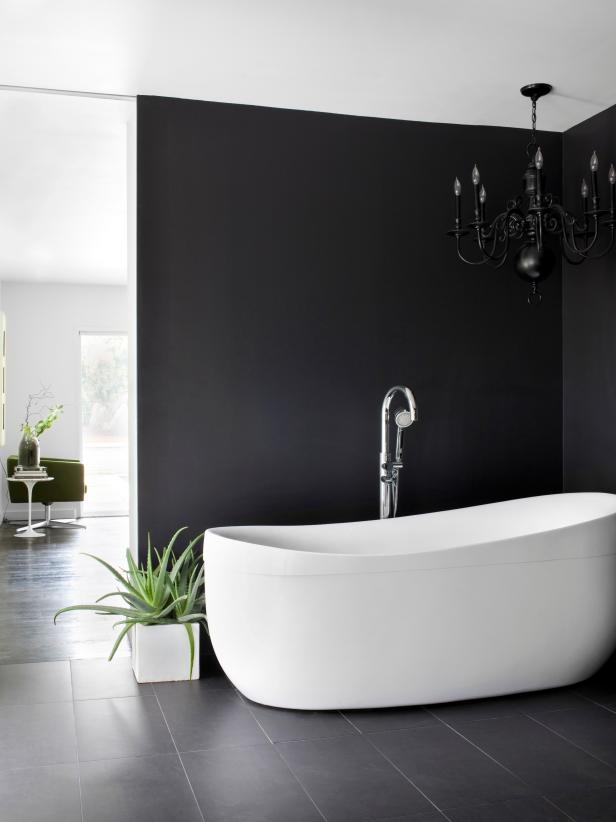 Modern Bathroom With Black Wall and Chandelier
A white bathtub pops in this black, open bathroom featuring a black chandelier. An open floor plan and minimal furnishings create a clean, spare space that is signature of modern design.
A simple, chic aesthetic adds a sense of sophistication to this master bathroom.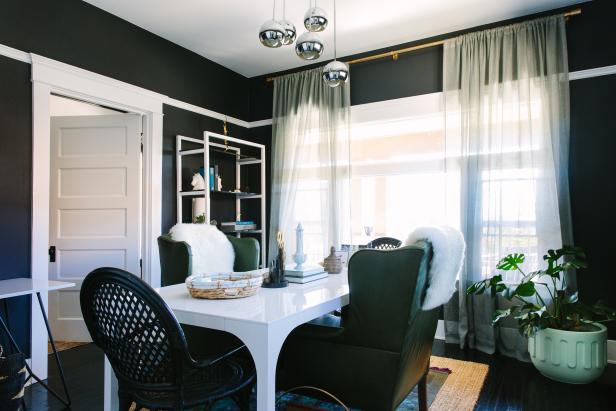 Eclectic Home Office With Black Walls
The work table featured at this eclectic home office space features two different seating styles. One is a green armchair and the other seating option is a woven black chair. The walls are painted black with white crown molding.
Mismatched dining chairs, faux fur accents and an eye-catching chandelier add levity to an otherwise serious space.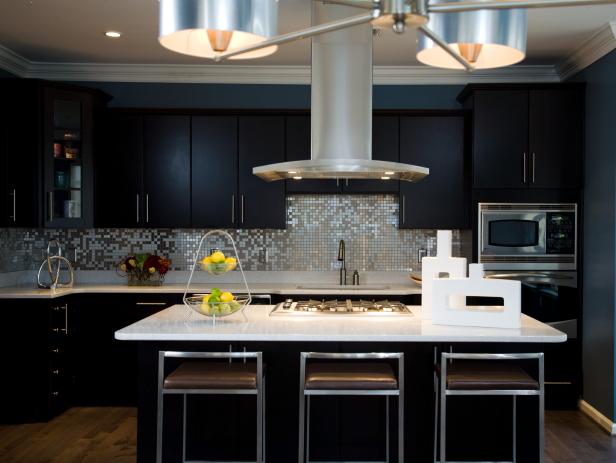 Black Contemporary Kitchen With Stainless Steel Mosaic Backsplash
This kitchen design from Patrick Baglino, Jr. features black kitchen cabinets, white countertops and a trendy stainless steel mosaic tile backsplash.
This (almost) all-black kitchen features a glamorous glittering backsplash but still feels homey thanks to the simple cabinets and fixtures.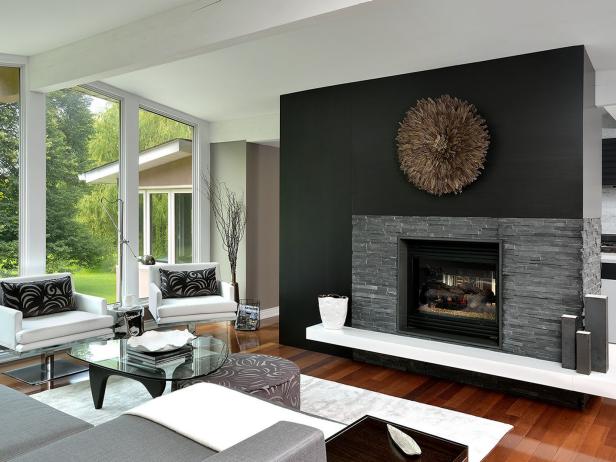 Modern Fireplace With Stone Veneer Surround
Contrast is king in this fireplace wall by Nathalie Tremblay of Atelier Cachet, post-renovation and re-design. Gone are the drab wall and white brick; in their place, a stone-veneer surround and black wall add plenty of drama, and a three-dimensional art piece adds the finishing touch.
Larry Arnal; Design By: Nathalie Tremblay of Atelier Cachet
The classic pairing of black with white just might be the most beloved color combo out there, and this understated living room is proof positive that it's always a stylish choice.
Joanna Gaines may have made white shiplap a star, but this black version adds a sophisticated edge to the farmhouse-chic style.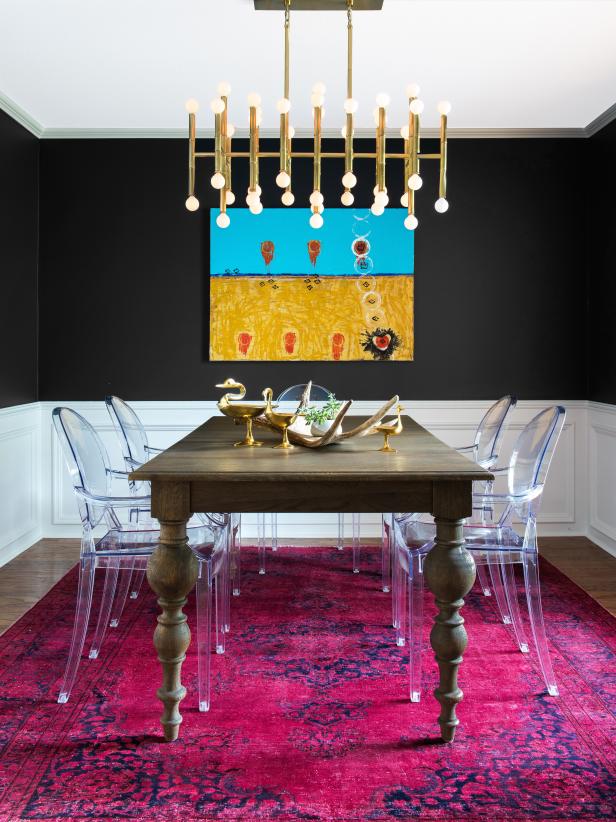 Black Dining Room with Rustic Farmhouse Table
A modern chandelier serves as the centerpiece to this chic, black-and-white dining room. The paneled walls are a glamorous backdrop to the rustic table and transparent "ghost" chairs.
This dining room's hot pink rug paired with bright artwork could easily veer into the "too much" territory, but black walls instantly subdue the space.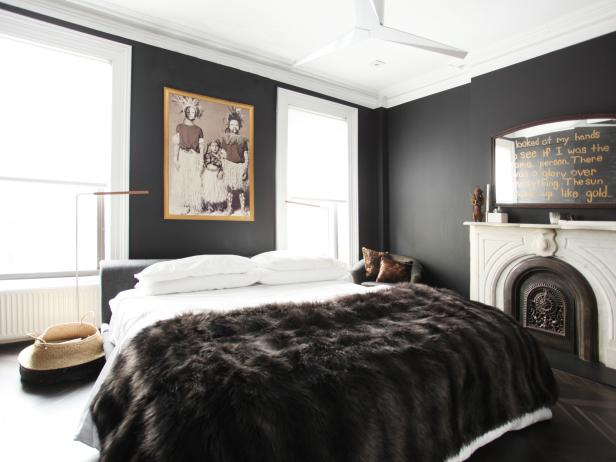 Master Style
The Leitao master bedroom is a beautiful, minimalist retreat. Black walls are on-trend, and envelope the space, creating a cozy vibe. The dark walls in Kenza and Julio's room are also a great backdrop and visual contrast for the art and architecture. Above the bed, another image by French photographer Patrick Demarchelier, of dancers from Batotu Yetu is is the perfect artistic touch.
Patrick Cline Photography
A faux fur throw, gilded frames and minimal furniture lend a decidedly-cool feel to this bedroom, which is equal parts cozy and glamorous.