The iPhone 7 Headphone Jack + 11 Other Things We're Missing Right Now
Apple nixes aux cord; world spirals into electronic nostalgia. #courage
When Apple announced this week that the new iPhone 7 and 7 Plus would no longer include a headphone jack, our worlds were rocked. Confusion. Sadness. Betrayal. We felt it all.
And though we did our best to fight through the pain, we couldn't help but reminisce about the last time the world as we knew it was ripped from our hands, and we were introduced to some newer, shinier "improvement." You have to wonder, did Apple know what kind of maddening electronic nostalgia they were unleashing?
Laura: Although my iPhone is now my favorite thing I own, I do sometimes miss the ability to flip open and flip closed a cell phone, especially when I'm feeling sassy. Watching some favorite TV shows from the early 2000s like Gilmore Girls makes me nostalgic for these ancient cell phones and simpler technological times when deciding on which Snapchat filter to use wasn't a thing.
Shannon: I drop my phone approximately seven times a day, and I'm thankful every night that I don't have a shattered screen. A flip phone could fall off a 10-story building and be just fine.
Farima: I miss burning CDs. They were the perfect gift for your love or BFF because they were personal and thoughtful. Creating playlists for someone just isn't the same...
Katie: I miss VHS tapes! Thanks to the development of DVDs and BluRay, I have an extensive collection of Mary-Kate and Ashley Olsen videos that no longer see the light of day. RIP, classics like "Passport to Paris" and "Winning London." I'll think of you fondly.
Beth: I miss going to the video store on a Friday night. It felt like the official start of the weekend. Don't get me wrong, I do my fair share of Netflixing and chilling now, but I loved wandering the aisles of Blockbuster to see what was new and occasionally finding old (and new) favorites when the movie I had wanted to rent was out of stock. I don't miss having to return the videos on time, though.
Shannon: I also miss video rental stores. Sure, streaming services are convenient, but picking out a movie in person was an experience. Plus, they usually had all the new releases ... as long as you got there early enough.
Kayla: While I do love having everything consolidated onto one device, it did take me a while to get there. If there's one thing I truly miss in a purely nostalgic manner, it's the Discman. Mine was stickered up and abused — as most were. I still have a few massive CD wallets stuffed with albums I'll never part with, including my first ever CD: TLC's "FanMail."
Clara: Long before iPads and iPhones, there was the Game Boy — the original entertaining device. It kept me occupied during long road trips and boring family reunions. A distant memory now, but you were "too cool for school" if you had one.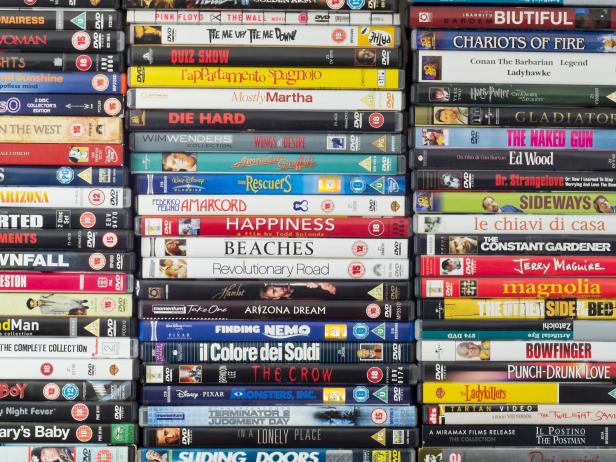 157735299
Durham, England - July 25, 2012: many DVDs, Region 1 and 2, from the British, American and Italian market, are stacked in four columns, in their boxes. They contain movies from French, Italian, American, British, German, Romanian cinema and the titles include: The Color of Money, Beaches, Ice Age, Downfall, Fargo, Inception.
Marco Rosario Venturini Autie
Ryan: I miss actually owning CDs and DVDs and the simplicity of it. It's more cost effective to sign up for a streaming service for your movies and music, but you're always dependent on a strong data connection, which can eat into your monthly allotment if you're using your smartphone. Digital movies take up a lot of hard drive space, so that's another concern you have to worry about. And if you want to store everything in the "cloud," well, that's a cost too.
Molly: I miss View-Masters. They were like primitive versions of virtual reality headsets.
Chelsea: I miss printing pictures. One of my favorite things to do after vacation or a school trip was to get my little disposable yellow camera developed. It was like Christmas every time! I actually found an undeveloped camera in the bottom of my closet when I moved out of my parent's house a few years back. I sent it through one of the few online services that still develops those things and had the best time looking through the pictures when they came in the mail. Turns out they were from my senior year of high school. So many awkward, flash-heavy selfies. Pure gold.
Ryan: I miss the original Facebook when it was only for college kids. It was a great way to connect with people you just met in English 101 and the go-to site for organizing a small dorm room social gathering. Plus, you never had to worry about your mom commenting on last weekend's party album.
And of Course, iPod Classic
Jordan: I guess they aren't truly gone yet, but they're definitely on their way out. I miss having all of my music in one place with a battery that lasted for days, which also made it perfect for long flights or road trips. Plus, now I have to run down my phone battery to listen to music. I still have mine, but it's now a paperweight because the charging dock is messed up.