11 Sophisticated Teen Bedroom Decorating Ideas That Will Grow With Them
Skip the themes, and try these decor ideas they'll love for years.
It's not always the easiest task to figure out your teen's style when decorating their bedroom. The good news? "Cute" themes have been upgraded with more sophisticated options that will grow with them as the years pass.
Check out our 11 favorite design ideas to get you and your teen inspired for redecoration.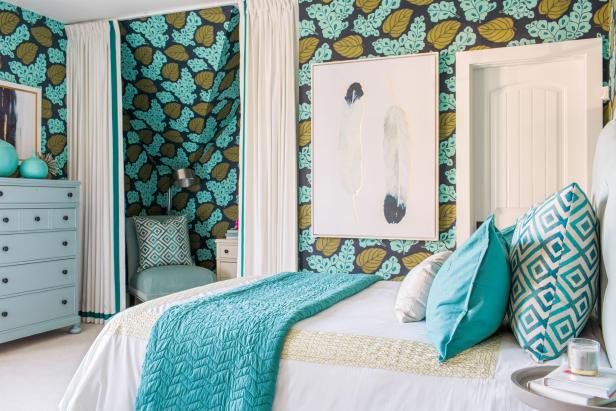 Bold Bedroom
Attention-grabbing wallpaper with teal, navy and green flowers adds fun and personality to this chic guest bedroom.
Robert Peterson/Rustic White Photography, 2016, HGTV/Scripps Networks, LLC. All Rights Reserved
An easy way to add some instant sophistication to a teen's bedroom is with a fun, patterned wallpaper. Don't be afraid of bold colors or larger patterns in a younger space. If you don't want to commit to wallpaper on all four walls, then consider an accent wall. If you're renting, there are great options these days for removable wallpaper, as well.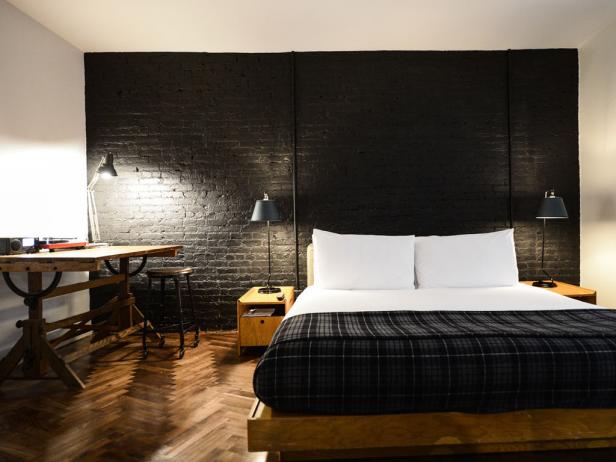 Ace Hotel Bedroom
Who wouldn't want to stay in this rustic style hotel room? The main feature in this bedroom at the Ace Hotel is an exposed black brick wall. A platform bed made with white and black linens anchors the room and side tables with black table lamps act as bedside tables. The room's hardwood is laid in a zig-zag pattern, Chevron-like pattern and an antique table and stool act as a work station.
While bright colors are always a fun idea for a bedroom, darker hues can be a great option, too. Darker colors often make a space feel cozier, and they look great with smaller pops of color.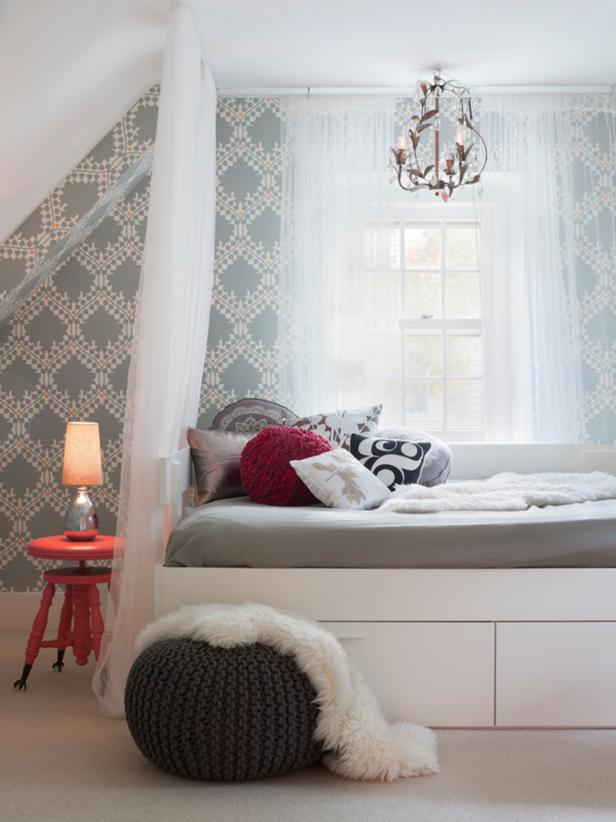 Transitional Teen Bedroom With Romantic Feel
A modern white bed and stylish patterned wallpaper update this classic teen bedroom. A chandelier and gauzy canopy over the bed give the room a romantic feel.
Many kids dream of having a canopy bed in their bedrooms, but a canopy still works in a teen's bedroom, especially if it's a more modern canopy.
4: Feminine, Rustic Vibes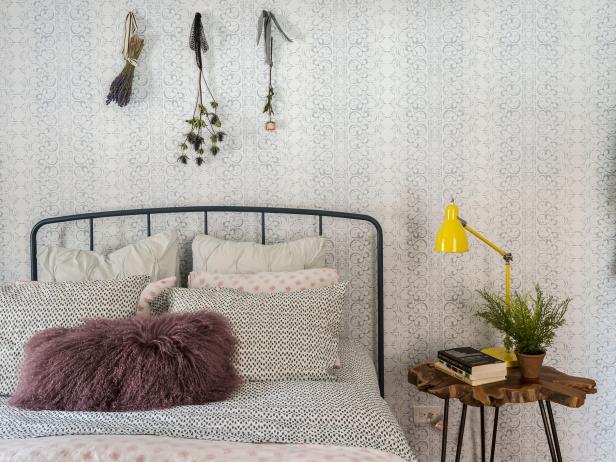 Bohemian Bedroom With Hanging Flowers, Live-Edge Table
Cozy up in this eclectic bedroom with punches of color and personality everywhere. Multiple, cool and complementary patterns give the room almost a monotone neutral feel. The eye is drawn to the perky yellow table lamp which is sitting on a slice of an old tree.
For a teen's bedroom it helps to soften rustic elements with a more feminine look. Furry pillows or throws, dried flowers and wood touches really balance out the cozy vibe of this space.
Pastel pink and baby blue are colors often associated with nurseries. But an updated pastel palette would be a great color scheme for a teen's bedroom. Touches of mint greens, peaches and blues work perfectly against a neutral backdrop.
Bedroom Closet Organization System
Create a floor-to-ceiling closet by attaching rods and shelves to a wall, then draping off the area with a set of curtains. Define your storage needs, then choose the best spot—here we moved the bed to the center of the room and built the closet on the wall behind it.
A clever idea that will instantly change the look of a room is to remove the closet doors and replace them with curtains. Choose bright hues or patterns if you want to add a splash of color, or go with a neutral, such as cream or gray, to quietly balance out the space.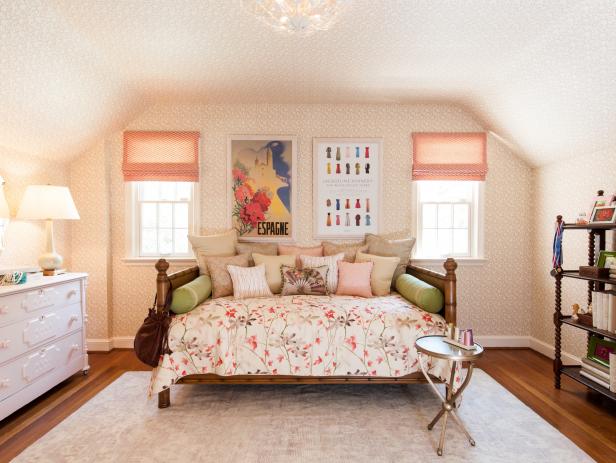 Pink Girl's Bedroom With Daybed
This room features floor-to-ceiling pink patterns and a bed full of accent pillows. Patterned wallpaper, curtains and bedding create an adorable blend of pinks that complement one another. A neutral area rug and soft lamp lighting make this a warm and inviting space for girls of all ages.
Using a daybed in a teen's bedroom is a great way to make the space feel a bit more grown-up. You can bring in some texture and color with throw pillows, including bolster pillows. Daybeds are also a great solution for tighter spaces, as they have a smaller footprint.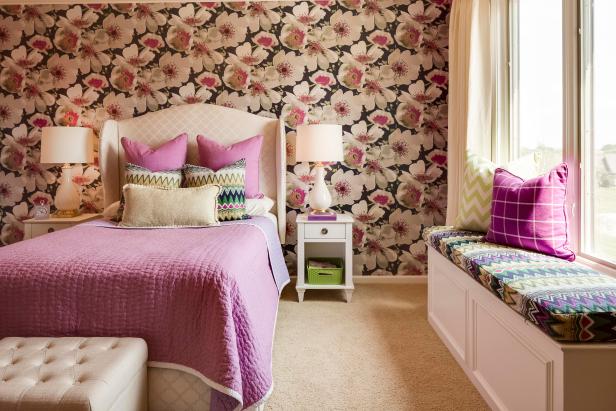 Pre-Teen Bedroom With Floral Wallpaper and Padded Headboard
This pre-teen girl's bedroom was redone in bright raspberry and purple hues, along with a bold accent wall with floral wallpaper. A funky design covers the window seat, and a padded headboard gives the bed a touch of elegance.
Window seats are a great spot to study or read. If you have a built-in space, you can cozy it up with pillows and a throw. But even if you don't have a built-in window seat, you can create a similar effect by adding a bench underneath a window and creating your own faux window seat.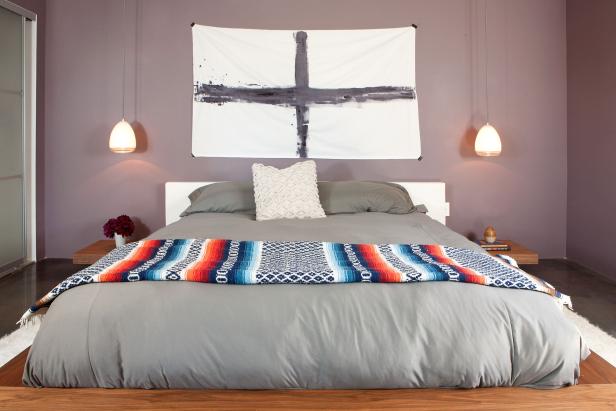 Masculine Master Bedroom
Neutral purple walls, dropped pendant bedside lamps and a platform bed create a balanced, masculine sleeping space in this Arts District loft.
A low platform bed is another way to create a sleek, modern space for your teen's bedroom. Since many bedside tables are too high for platform beds, consider using a stack of books or a plant stand in place of a standard bedside table.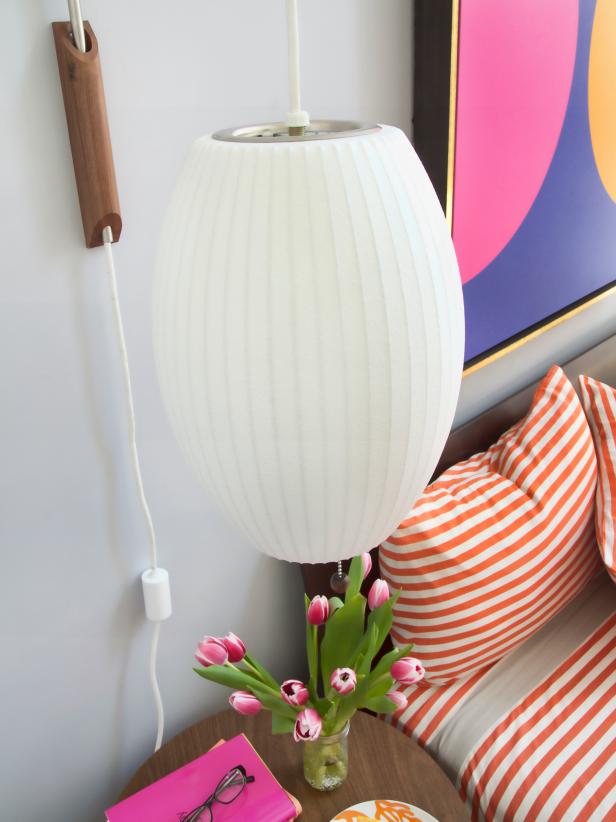 Bedroom Lighting
To add ample light to their sleeping area, Briana and Buzz opted for wall-mounted, plug-in sconces that don't require permanent hard wiring. By simply screwing the attachment to the wall, then plugging the cord into a nearby outlet, the look of custom, permanent lighting is achieved without long-term commitment or the steep cost of hiring an electrician. Another advantage of wall-mounted sconces is that table space is freed up, allowing surfaces to be used for other purposes.
Sconces next to a bed are a wonderful addition to a teen bedroom. Late-night studying will be a breeze once you install some bedside sconces. If you don't want to have the sconce installed by an electrician, you can choose plug-in sconces which are easy to install and work for both homeowners and renters.
Boys' Transitional Bedroom Activity Area
A Parsons-style desk paired with stylish stools creates a space-saving and versatile option for a bedroom that functions as a sleep, lounge and homework space. This layout also leaves room for more fun seating options, such as hanging hammock chairs.
A swing would make for a super unique addition to your teen's bedroom. Add a pillow to help tie it in with the rest of the space. And if you're concerned about having it installed properly, consider hiring a professional who can anchor it to your ceiling.