#TBT: 6 Kid Rooms That Prove Retro is So Cool
Go ahead and steal a glimpse for yourself.  
As a parent, it's your duty to impart the wisdom of the ages unto your children. This means dispensing golden nuggets about how the original Karate Kid is obviously better than the remake and how '80s Pac-Man is far superior to today's Mario Kart. (That's just good parenting, people.)
But ultimately, it's your job to show the next generation what separates the classic and cool from the here today, gone tomorrow. Drop some knowledge (AKA, parental guidance) with a retro-inspired room they'll want to share as a #TBT in a few years.
Long before they shattered box-office records, Marvel and DC heroes dominated the pages of comics. Introduce your mini guardian of the galaxy to the multiverses (and the power of reading) with a big-kid bedroom defined by those epic storylines.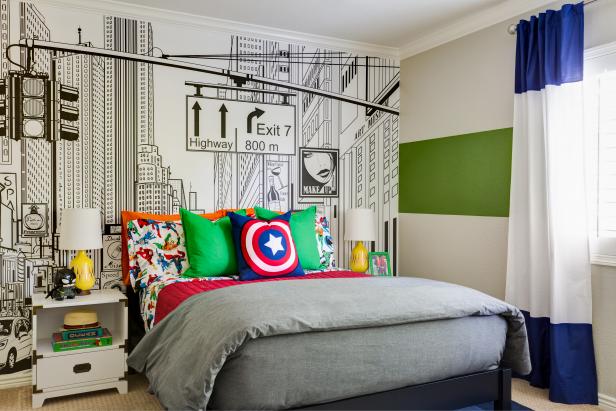 Multicolored Contemporary Boy's Bedroom With Mural
Super-hero style gets graphic and way cool in this boy's bedroom that mixes crisp, comic book-style drawings with bright, bold colors.
John Woodcock Photography
And if you really want to kick bland wall butt? Take note from super-duo Jen and Jo of J&J Design Group and deck your kid's cave with a NYC streetscape, Justice League sheets and Batman accessories. The poppy color schemes alone will knock their socks off.
If you were raised in the '80s, then you know that Ray-Bans, technicolor tracksuits and graphic patterns never really went out of style. Draw on those gems of the past and create a kid space that's as fun and flashy as it is iconic.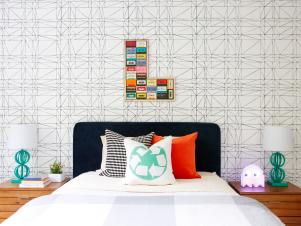 Multicolored Kid's Room With Graphic Wallpaper
To keep this bedroom feeling fun and kid-friendly, designers mix and match bright colors and graphic patterns. It's a look that is playful without being at all childish.
Bedroom With Sunglass Mirrors
Sunglasses make cheeky mirror frames in this boy's bedroom where a sunny yellow dresser is a bright companion. Fabric bins in graphic black and white hide toys and laundry with crisp panache.
For one lucky client, J&J Design Group did just that. Cassette tapes became a rockin' monogram, Pac-Man ghosts glowing nightlights and laser-cut Aviators a cheeky mirror. The result? A bedroom that's cool beyond its years.
3: — And Those Neon Nights
Another major takeaway from our favorite decade? Only the hippest of hangouts can be seen from outer space. Back in the day, fluorescent pinks and neon greens were key to achieving childhood popularity.
Retro Orange and Pink Palette Made Fresh in Joyful Bedroom
Designer Annie Lowengart created a modern homage to her sister's orange and pink childhood room in "Smoll's Room Redux" at the 2016 San Francisco Decorator Showcase. The punchy, graphic wallpaper on the ceiling by Flavor Paper is tempered by the more traditional stylings of the headboards and armchair chair from Chairish.
Inspired by the raddest girl on the block, HGTV Designer of the Month Annie Lowengart recreated her big sister's childhood bedroom for the 2016 San Francisco Decorator Showcase. To make your daughter's space just as bold, we suggest going heavy on the orange day-glo.
Before you lament the loss of classic arcades, take heart: you can still indulge in the fun of Pac-Man and Space Invaders with your little ones. Wall decals that stretch from floor-to-ceiling will turn your kids' room into an intergalactic battleground.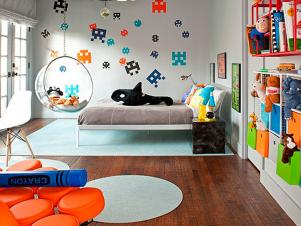 Playful Contemporary Kids Room
This fun, contemporary kids room keeps things interesting with a bright color palette and unconventional accessories.
Fun Contemporary Kids Room
This contemporary kid's room is fun from floor to ceiling with an oversized polka dot rug and a modern chandelier.
But don't just take our word for it. See how Mary Anne Smiley used neon aliens and ghosts to bring the familiar faces of old arcade games home.
Have a future Speed Racer on your hands? Give them a crash course in the history of transportation with prints that depict race cars, motorbikes and yes, even the classic little red wagon.
Contemporary Boy's Nursery With Art Wall
A gallery wall of transportation prints makes a colorful, fun backdrop to the sleek gray crib in this boy's nursery. Visual texture and tactile appeal is brought in through a mix of patterns from the graphic curtains to the blue-and-white gingham rocking chair and faux fur area rug.
We love how the designers at Chango & Co. drew on retro autos to help their champ get ahead. The wood train on the floor is also a nice touch, just in case the kiddo decides to switch gears down the line.
Nothing says retro-cool quite like a summer spent at sleepaway camp. Recreate the experience for your kids by decking their corner of the lakehouse with bunk beds and an antique medicine cabinet.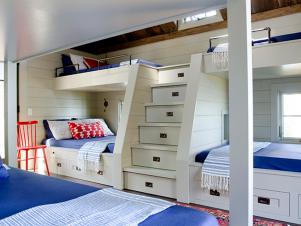 James R. Salomon Photography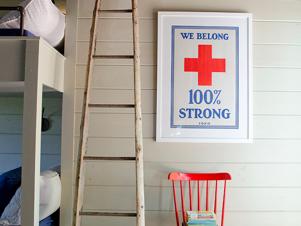 James R. Salomon Photography
Built-In Bunk Beds With Storage
Room to sleep is plentiful in this kids bedroom. Multiple built-in bunk beds offer storage underneath the bottom beds as well as the steps leading to the top bunk beds. A patriotic color scheme adds a fresh, coastal vibe to the space.
Wooden Ladder & Bright Red Chair in Lakefront Kids Room
A long wooden ladder is used as decor to enhance this coastal-themed kids room. A bright red chair and an American Red Cross framed print complete the design.
Better still, choose a classic color palette like Kristina Crestin did here. Red, white and blue bed linens feel oh-so Americana.