Take a Virtual Spring Break With These Beachside Bedrooms
Not taking a vacation anytime soon? Make a virtual getaway by getting lost in these incredible coastal bedrooms.
With spring break right around the corner, I have been fantasizing about the ultimate beach getaway: Soaking up the sun, napping in a cozy beach front bedroom and getting a stellar tan. Unfortunately for me, my relaxing trip to paradise isn't coming up anytime soon. To hold me over until then, I'm taking my own virtual spring break with these beach bedrooms complete with an ocean view. Is it too early to start packing?
The HGTV Dream Home 2016 master bedroom brings an entire new level of fun to beach bedrooms. Instead of the usual muted color palette often seen in coastal design, the ceiling and walls are painted a bright teal, bringing the stunning color of the ocean inside. If you're a beach lover like I am, you want the real thing, too. Floor-to-ceiling windows and French doors let in plenty of light and offer an exquisite ocean view. Don't worry, there's a deck right outside for all-day sunbathing.
I'm ready to set sail in this coastal-meets-traditional bedroom by Eric Gedney. Vaulted ceilings with hand-hewn wood trusses feel like the hull of a vessel and lend plenty of wall space for large windows that boast an expansive sea view. French doors open to a deck with railing which embody the bow of a ship. All aboard, anyone?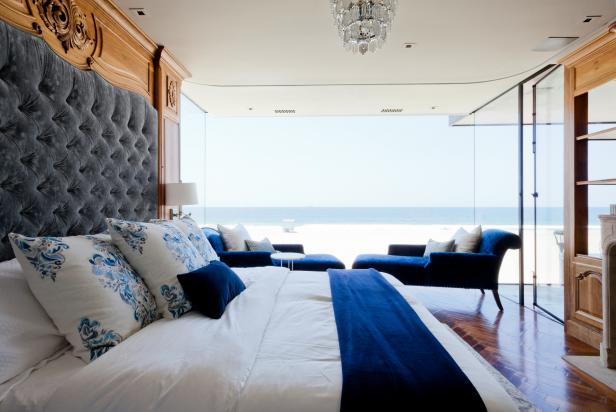 Seaside Master Bedroom with Large Windows, Blue Chaise Lounge Chairs, and a Built-in Headboard
What an inspiring way to start the day -- a view of the ocean from this amazing master bedroom! The deep blues of the matching chaise lounge chairs and throw rug echo the ocean below. A massive built-in headboard featuring carved wood and a velvet tufted center over the bed itself is nothing short of spectacular.
This room designed by Kelly Sutton might be a dream. Glass walls and retractable doors bring the beach right into this seaside bedroom. White and deep blue linens echo the look of the ocean, while a velvet tufted headboard adds a touch of luxury. Need to get some sun in? Well, there are matching chaise lounge chairs perfect for catching some rays.
Joseph Montanaro, Sotheby's International Realty Quebec
Okay, so while this bedroom is actually one of many in Celine Dion's multimillion estate on Jupiter Island, Fla., it's still fun to dream that this is your go-to vacation spot. This room comes complete with a double-sided fireplace and flat screen TV ... in the ceiling. Sheer curtains add that beachy touch, and when you're ready for bed, just crawl into your platform bed with rich fur upholstery and watch the sun set over the ocean.