Step Inside This Warm and Welcoming Urban Bistro
Architect Alan Metcalfe re-invented a familiar neighborhood gathering place from old and bleak to urban and chic.
Designing for one client can be a challenge, but designing for multiple clients is a whole different ball game, and architect Alan Metcalfe knocked it out of the park.
After all, designing public spaces isn't solely about making a space aesthetically pleasing, but designing with people in mind, our human nature and how we interact with others. While Alan has a vast resume, he is especially proficient in the public spaces arena, as can be seen in his recent remodel of Goat Hollow restaurant.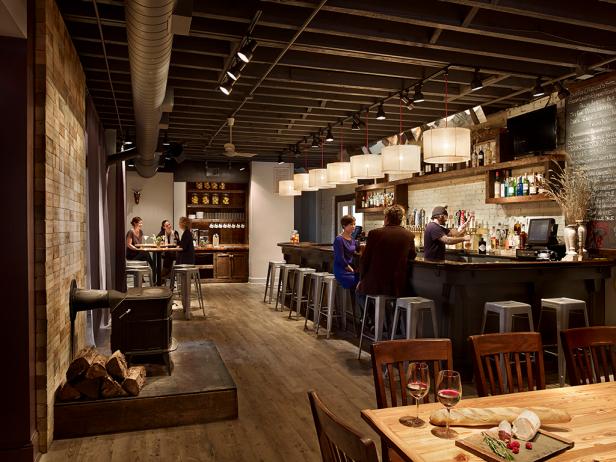 Drum Pendants Add Contemporary Flair to Urban Bar
The drum-shaped pendant lights above the bar are custom-made and covered in a white stocking material. The pendants create ambiance and add contemporary flair to the urban-style space.
Halkin | Mason Photography
"We are focused on making spaces that encourage people to interact and enjoy being the human animals we are," says Alan.
It's this ideology and a good eye for design that inspired Alan's remodel of the historic Goat Hollow restaurant, a cultural landmark in the Mt. Airy section of Philadelphia. This close attention to purpose and a new urban bistro design scheme has earned Alan praise from Philadelphians as well as HGTV fans, who selected his space the winner of the HGTV Fresh Faces of Design Posh Public Spaces category.
Alan holds a firm belief that every project has a story to tell, and just like an old Cheers episode, Goat Hollows is the place 'where everybody knows your name.'
To reflect this idea, Alan left as much of the beloved cultural landmark as possible while also making some noticeable improvements.
Urban Bistro Boasts 1920s Charm
This 1920s house-turned-restaurant uses its bright red-orange canopy with an aluminum goat silhouette to attract visitors inside. The building's original stone exterior was restored, giving the restaurant authentic charm.
Halkin | Mason Photography
The original stone exterior was restored, but to make the restaurant more prominent, Alan added a large illuminated sign to the building face and knocked down an existing fence to reveal an outdoor dining area.
"We wanted diners to say 'hey, outdoor dining...I want to be there!'" says Alan.
Inside the restaurant, walls of recycled red cedar add authenticity, warmth and rustic charm. Alan also collaborated with photographer Julia Blaukopf to create wallpaper made of local photos that blend the restaurant with the local scene.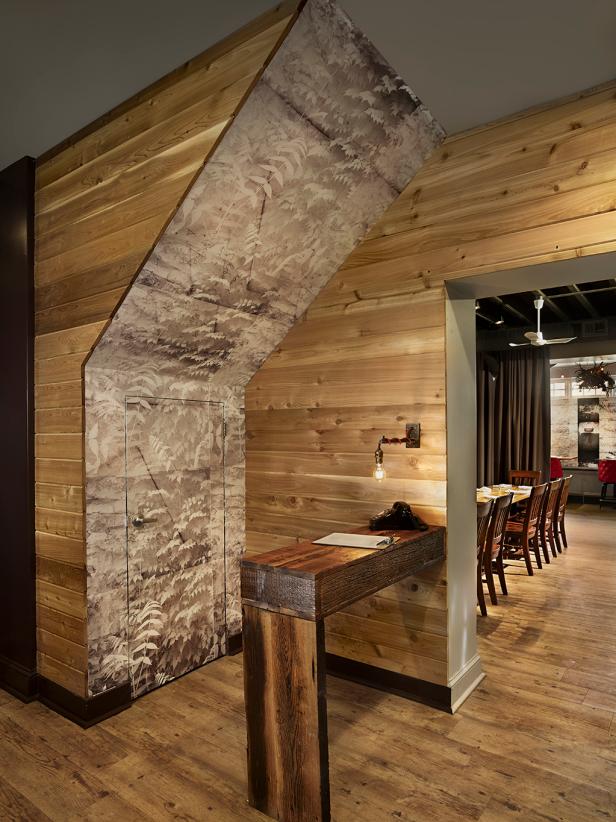 Restaurant Entry With Rustic, Nature-Inspired Feel
Goat Hollow's interior features photographer Julia Blaukopf's nature murals and walls of recycled red cedar. The recycled wood gives the space a rustic vibe.
Halkin | Mason Photography
To reflect the recylcing ethos of the Mt. Airy community, Alan mixed in upcycled materials with new materials wherever possible. Cider jugs were recycled into a chic and modern chandelier, a definite focal point in the upstairs dining area. Vintage seating, exposed ductwork and wallpaper murals all contribute to the fusion of rustic and industrial design.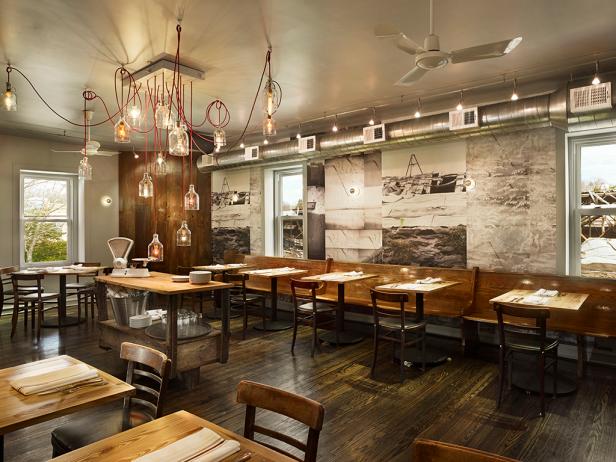 Second-Story Dining Room Features Upcycled Chandelier
The chandelier in this dining area is made of recycled cider jugs; photo murals on the walls depict the roofscapes visible through these second-story windows. Exposed ductwork keeps with the urban feel of the downstairs, and the use of rustic wood gives the space a sense of authenticity and warmth.
Halkin | Mason Photography
Along with the use of recycled materials, Alan rounded out his well-conceieved design scheme with attention to detail. Floors are covered in wood-simulating vinyl to reduce noise on the dining floor and create a more pleasant dining experience. Lighting highlights the walls, rather than the heads of the diners, and a vintage-style fireplace at the entry sends a message of warmth and conviviality while seperating the main dining area from the bar.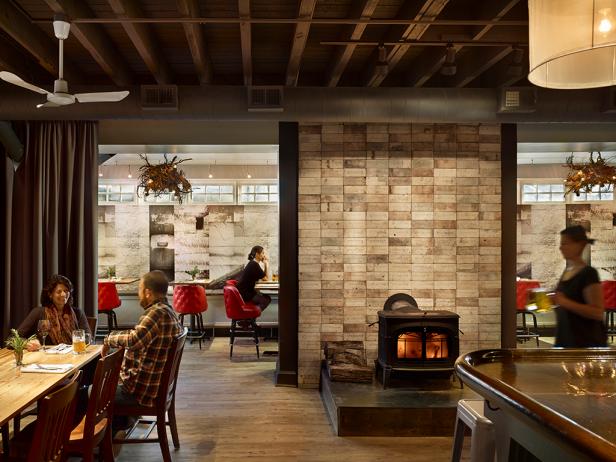 Urban-Style Restaurant Is Warm, Welcoming
Goat Hollow diners are greeted with a warm fireplace backed with recycled brick. The room is punctuated by brightly colored vintage chairs and photo murals beyond.
Halkin | Mason Photography
"Spaces where food is being served are special," says Alan. "They are places where people let down their defenses and speak as equals."
An inviting exterior paired with warm and welcoming design within make Goat Hollow particularly special, returning the old familiar gathering place to the community once again.