10 Color Combos We're Loving for Spring
There may be four shades of pink.
When you think of traditional spring colors, what comes to mind? A bouquet of muted pastels, maybe? While we're all obsessing over the hot resurgence of blush, known as "millennial pink", it's being paired with deeper hues to keep palettes bright and sophisticated. Think: Pantone's Kale, Flame and Yapis Blue from this spring's Fashion Color Report.
If you've had a chance to explore HGTV Spring House, then you'll notice designer Brian Patrick Flynn took a mix-and-match approach when introducing color to the outdoor spaces. With more than five outdoor lounges and a dining room to design at the Phoenix home, each palette is different yet perfectly coordinates with one another.
Take a look at our top 10 color combos for the home. (The burnt orange and hot pink combo is my favorite!)
Can you spot any of the palettes above in the spring-ready spaces below?
Burnt Orange + Hot Pink + White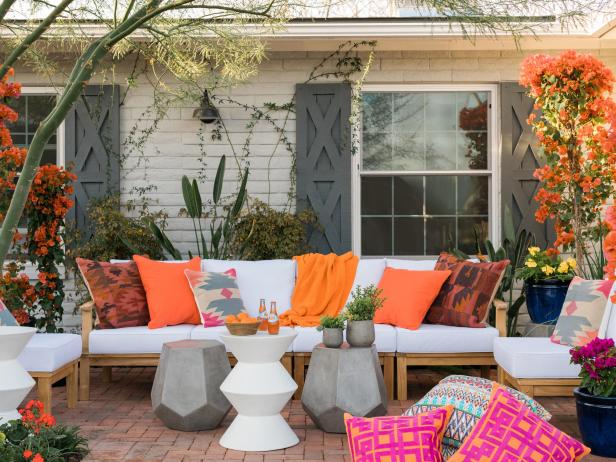 Optimize Outdoor Living Spaces
The most effective way to use any outdoor area maximally is with perimeter seating. Here, a modular sectional sofa is configured to conform to a corner of this welcoming courtyard, putting every square inch of the area to use. For optional flexibility, consider sectional sofas without arms since the armless modules can also be added to elongate a straight-lined sofa.
Flynnside Out Productions
Aqua + Navy + Flamingo Pink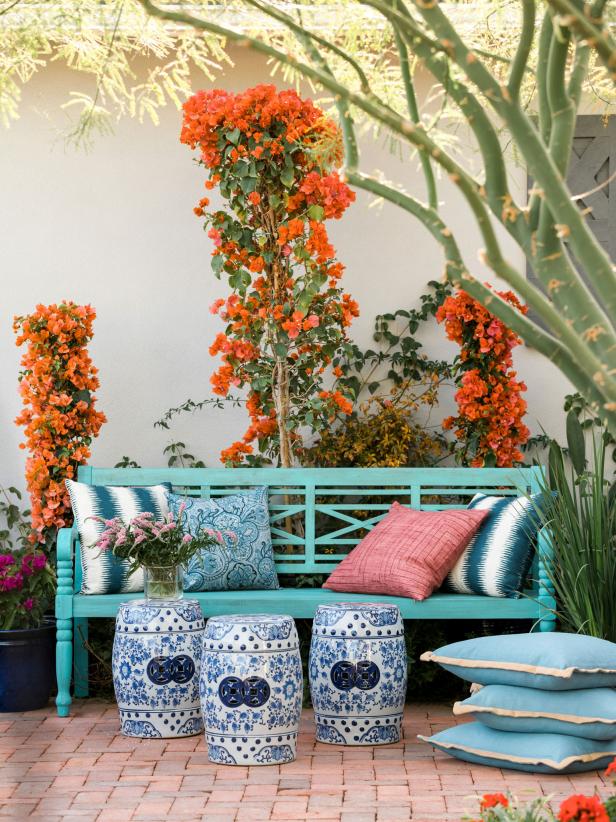 Garden Bench
Make a warm and welcoming statement near your entry with a classically styled garden bench. In addition to offering guests a spot to pause and take off their shoes, these also help tremendously for extra seating during formal or casual outdoor meals since the benches can easily pull up to one side of a table.
Flynnside Out Productions
Blue-Gray + Blush Pink + White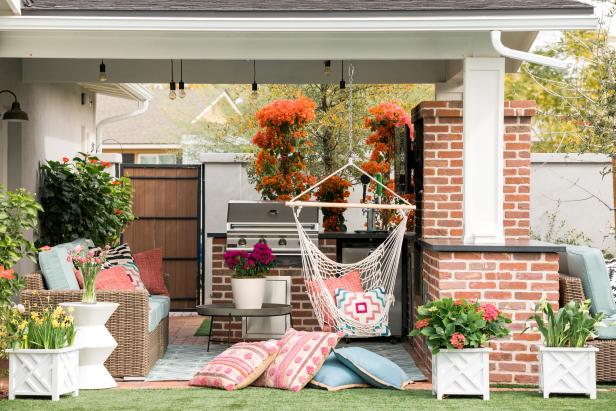 Covered Patio Is Full-Fledged Living Space
This covered patio was transformed into a full-fledged outdoor living room by juxtaposing the hard surfaces with a mix of soft furnishings. For cohesiveness, the dusty tones of the brick were carried throughout the space as an accent color of blush pink set against a dominant hue of blue-gray.
Flynnside Out Productions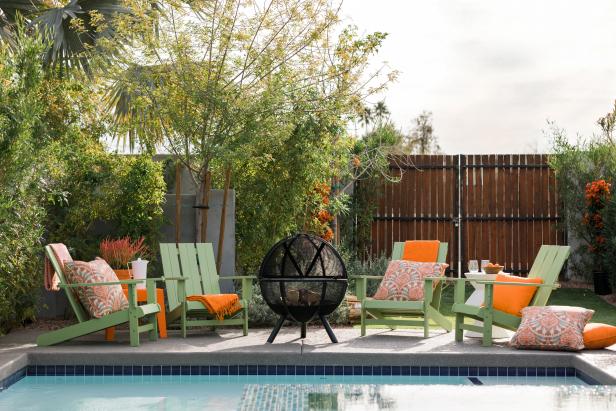 Spring Inspired Fire Pit Patio
Just in time for spring, this fire pit patio was outfitted with classic seating and punchy, garden-inspired colors.
Flynnside Out Productions
Robin's Egg Blue + Bubblegum Pink
Robin's-Egg Blue & Bubblegum Pink Dining Room
For day-to-day use, this space is used for laid-back, casual dining. The cool pastel palette keeps the room looking young and fresh and the unexpected use of kitchen island lighting over the dining table helps keep the spot brightly lit after dark.
Flynnside Out Productions