See What Makes This Barn-Style Kids' Room Playful + Functional
Sitting inside a renovated barn, this room's rustic style is the perfect place for kids to play and grow.
A kids' room should be a space for them to use their imagination and grow, but it should also be functional. Architect Daniel Contelmo did just that in this barn-style kids' room. Sitting inside a renovated barn, Daniel made the space playful with rustic touches and practical by adding bunk beds and plenty of storage. HGTV fans loved the combination of old and new materials and voted it the winner of HGTV's Fresh Faces of Design Kid-Tastic Spaces Category.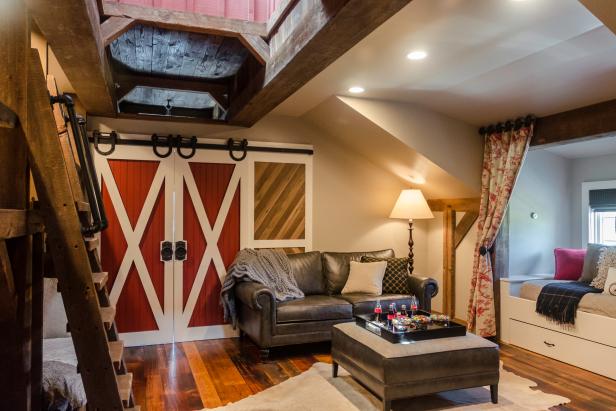 Neutral Rustic Bedroom With Window Seat
There's lots of space for curling up and reading or watching a movie in this super cute barn-turned-bedroom. A dormer with a window seat allows for extra seating without disrupting the original architecture.
Prior to the renovation, the kids' space was an unused, unfinished attic of an old barn. "Lacking any openings, the space was dark. We opened the lanthorn on the roof to let natural light pour in from above," Daniel says.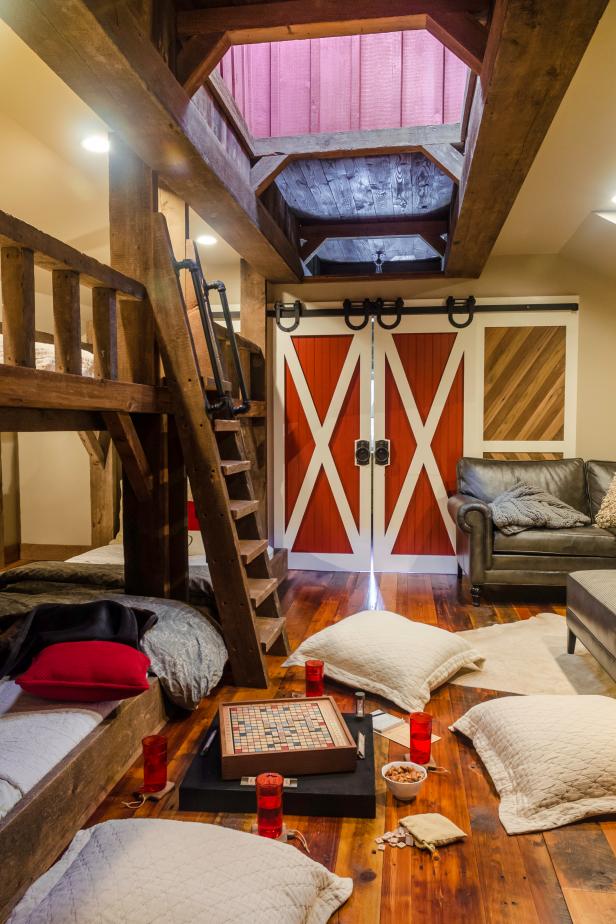 Neutral Rustic Kid's Room With Barn Door
This amazing barn-style playroom is sleepover heaven. The 15' x 20' space houses six built-in bunk beds with ample room left over for games and entertainment. The design uses the original home's farmhouse background for style inspiration.
Many times with an attic, you're dealing with a sloped ceiling. Daniel saw this as a visually-appealing architectural detail rather than a setback. To make the most of the limited height, he placed the bunk beds into the slope. The top bunks are twin beds while the bottom bunks are full-size beds, making it the perfect spot for sleepovers.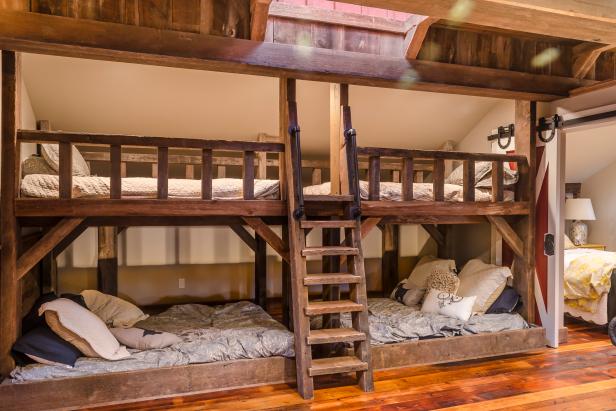 Rustic Barn Bunk Bed With Skylight
Slumber party at your house! The frame and rails of these fantastic bunk beds were made from antique barn beams. The top bed is a twin and the bottom beds are full size. Windows were installed above, allowing natural light to stream down into the space.
Even though the room is filled with new materials, Daniel preserved many details from the original barn. He exposed the original beams and columns, and the wainscoting that covers the gypsum walls is reclaimed wood from the original barn. "The flooring was reclaimed and refinished, providing a rich, authentic rustic-barn feel," he says.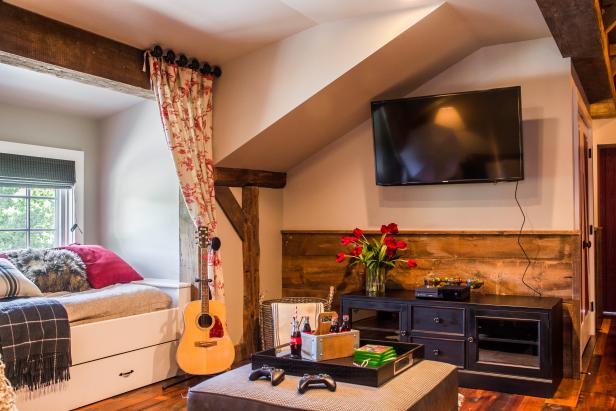 Neutral Rustic Bedroom With Entertainment Center
The original building housing this charming bedroom was a barn, and the designers took special care to protect its original structure and details. The room includes space for games and movie nights. The window seat and trundle bed were a custom design; they fit perfectly into the dormer and provide extra sitting and sleeping space.
For extra storage and seating, Daniel installed a custom-built window seat set into the dormer with a custom trundle bed that rolls out."The trundle bed is hidden but a great place to sit while playing video games," he says.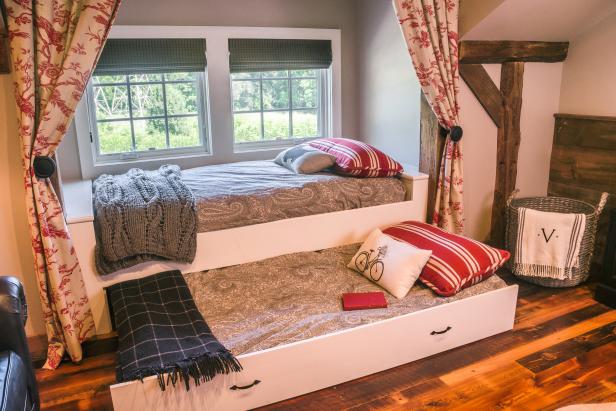 White Country Built-In Daybed and Trundle
In this sweet country-style bedroom, a built-in daybed and pull-out trundle bed add extra seating during the day and sleeping room for two at night.
"The rustic details of the room are warm, cozy and welcoming. The space encourages play — and while geared towards children — the space features timeless design and details that appeal to all ages."