Savor Shades of Lime and Orange in This California Home
Like a refreshing approach to design? Check out this home with a punchy palette.
With the unofficial start to summer behind us, let's perk up our palate with a refreshing cocktail of color, courtesy of a beautiful home in Marin County, Calif.
Designer Ann Lowengart first met with the homeowner nearly three years ago, when the tech industry professional was looking to update her ho-hum home. Ann knew immediately that her job would be to infuse the homeowner's love of color in the bland space.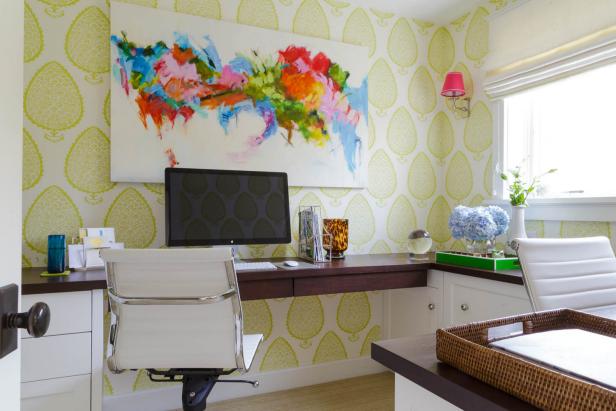 Colorful Home Office Includes Mechanized Sitting/Standing Desk
Katie Ridder's "Leaf" wallpaper in green adds a "squeeze of lime" to make work less of a chore in this home office. The stylish desktops are mechanized to transform from a sitting desk to a standing desk to suit the homeowner's preference for the day.
While the project was starting to take shape, another area of the homeowner's life was starting to blossom. She found herself in a random carpool pairing with another tech industry commuter and ended up with a date after finding they had quite a bit in common. That date led to a more serious relationship.
"Initially when she reached out to me, she was a single woman. A few meetings in she said, 'I'd really like my boyfriend to take a look at this too.'"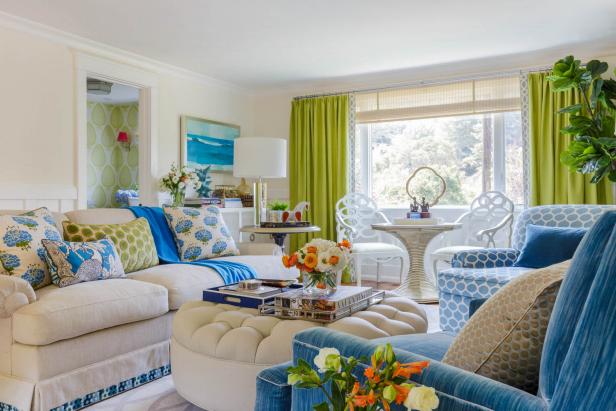 Thoughtful Layout Turns Living Room Into Multipurpose Space
The layout of the living room accommodates different activities, creating a true multipurpose space. The primary seating area includes an intimate arrangement of the sofa and two armchairs for gatherings of family or friends. The sofa has a comfortable view of the television, which is mounted above the fireplace, for nights when the homeowners choose to stay in and watch a movie. A bistro-sized table and chairs near the window offer a space to have a drink, play cards or even work on a laptop with a view of the TV.
That added a twist to the project Ann calls "A Squeeze of Lime." While her tastes were more traditional and color-focused, he preferred contemporary style with muted colors.
The couple became engaged in the middle of the remodeling project, and the final design represents a balance between their styles and tastes, one that makes them both happy.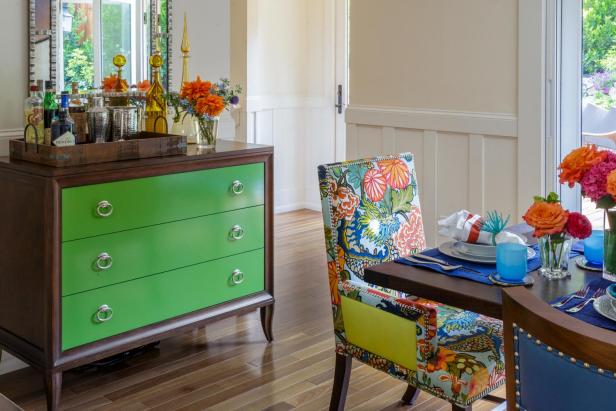 Contemporary Twist on Traditional Style in Colorful Dining Room
Bright green drawers give an unexpected contemporary twist to a more traditional chest of drawers used as a sideboard and bar in this colorful California dining room. The space draws its accent color palette from the Chiang Mai Dragon fabric by Schumacher adorning the end dining chair.
The woman's love of color is satisfied with the use of lime, orange and blue throughout the renovated spaces. Ann incorporated some contemporary twists, such as a chest in the dining room with green drawers.
His taste shows strongest in the media room — an addition to the project scope after he joined the conversation. He enjoyed the geometric pattern of the wallpaper and selected the gray flamestitch rug for the room.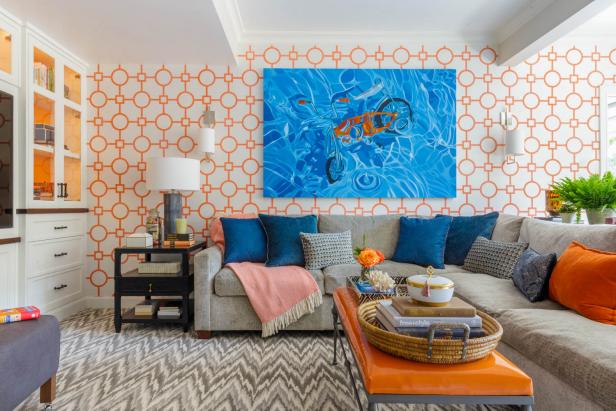 Media Room Pops With Refreshing Color, Artwork
A colorful bicycle-inspired painting nods to the homeowners' love of cycling and sets the palette for their refreshing media room. What was once a basic, beige space is enlivened by orange-and-white trellis-print wallpaper, cabinetry and accessories.
His love of cycling — a sport he introduced early on to his now wife — is represented in the artwork which inspired the room's color scheme.
"I want their relationship to thrive against this backdrop I've created," Ann says. "I'm trying to create something where they both feel at home."
Thanks for the peek inside, Ann!