An 8-Step Game Plan for the Reluctant Minimalist
Sometimes lots (and lots) of wrapping paper brings you joy.
I'm guessing you've heard the "ditch everything in your home that doesn't bring you joy" advice before? I'm also guessing that you may have rolled your eyes when you heard it. If you're interested in exploring the concept of minimalism but you're not quite ready to purge everything, you might be a reluctant minimalist. This means you're not quite ready to commit to the life-changing magic of, well, anything, but you do want to make sure that your home is organized, purposeful and not overrun with crap.
I've put together a step-by-step game plan for all of you wannabe minimalists who still might be skeptical of this whole minimalism thing.
1: Time to Purge (But Not Everything)
Look, I can't really tackle this minimalism thing without doing a bit of purging. But don't worry — I'm not going to make you get rid of everything in your closet. And if you happen to have a collection of 54 rolls of wrapping paper that you can't give up, that's cool, too. However, I want you to look at your space and do an honest assessment of anything that really is ready to go.
A good place to start is in your closet. But this shouldn't feel like a scary assignment; you're really just taking a look at anything you don't wear anymore and making room for new stuff. ThredUp is an online vintage clothing site that will send you a "Clean Out" envelope. Basically, you put all of your unwanted clothes in there, then put your pre-paid package back in the mail. They take care of everything else. They'll look through your clothing, see what they might be able to resell and donate anything they can't. It's simple.
Amazon also just started a program that makes it easy to donate clothing, accessories or household goods you don't need anymore. Simply take an Amazon box from any of your recent deliveries, fill it with items you'd like to donate, then print a shipping label from givebackbox.com. Once they receive your items, they'll donate them to local charity organizations for you.
2: Whatever You Keep Needs a Home
Once you've done your mini-purge, you need to assess everything that's staying. Your rule should be: If it stays, it must have a home. So that means: If you want to keep your 54 rolls of wrapping paper, you need some place to put them all. (And in a plastic bag behind the couch doesn't count.)
If you're keeping items that don't have a home right now, no problem — you just need to find one for them. This might mean buying a few bins for your shelves or cleaning out a closet to make more room for your craft supplies. Just make sure that if something is staying, it has a place to go.
3: Organize Spaces You've Ignored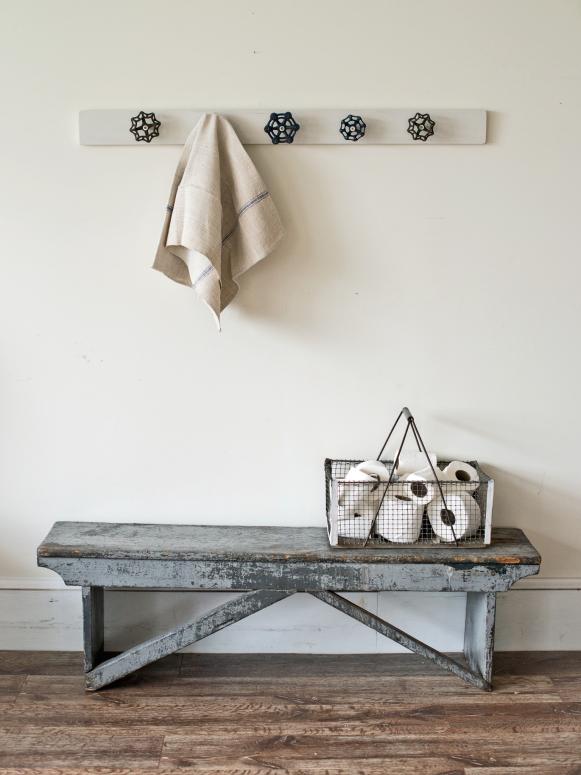 Spigot Handle Towel Rack
Antique spigot handles are repurposed to make this charming towel rack that will bring function and personality to any bathroom.
Marian Parsons, Mustard Seed Interiors
While you're in organizing mode, now is a good time to also tackle those forgotten spots in your house. For most of us, this might mean junk drawers, linen closets, attics, basements or even the garage.
If this feels like an overwhelming task, commit to tackling one of them one day a month until you feel like the space is organized.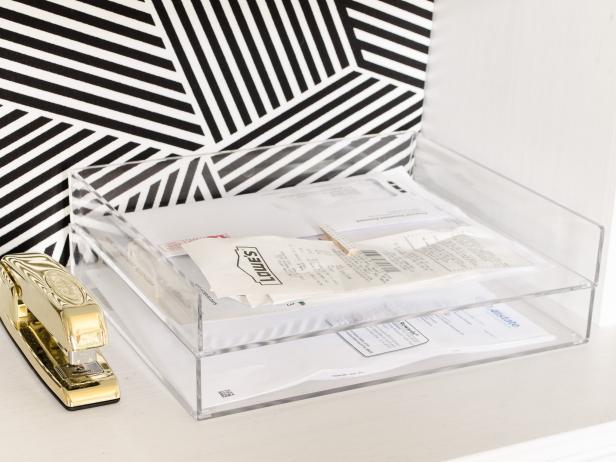 Inbox in Organized Home Office
Paper is the biggest organizing challenge in most offices. Make sure you have one designated location for all incoming papers that need your attention. A second tray is helpful for items that no longer need action but need to be filed. Just make sure to set aside time to file each week.
Developing systems for dealing with your stuff will help ensure that your home doesn't get to an out-of-control state again. Each family has different needs, but you can develop systems based on all of your own habits.
This might include developing a system for dealing with receipts (set up a catchall bin in your office), managing the mounds of laundry in your home (adding pretty hampers to each room) or even a system for handling the groceries when you come back from the store. Once you have your systems in place, practice sticking with them. It might take a while, but eventually, they'll become habits.
5: Take a Deep Dive Into Each Room
Now is also a good time to take a good, hard look at each room in your house to ensure it's functioning the way you need it to. For example, if your daughter's room is always a mess, figure out a way to keep things more orderly by adding a chest so you can quickly get toys and books out of the way or by pulling in some baskets that can slide under the bed to store messy items.
6: Bring Less Into Your House
Another great way to ensure that you keep your space feeling clutter-free is to bring fewer things in. If you're sick of piles of mail all over the place, keep a recycling bin in your garage so you can ditch any unwanted letters or catalogs before bringing them into the house. Try setting up a designated space to store extra shopping bags so you can hide them away as soon as you're done unloading your groceries. If you're feeling a bit overloaded with kids' art, create an area in your mudroom or garage to file away each child's creations.
7: Get Your Family Involved
Family-Friendly Home Office
This young family needed a home office that is as bright and bold as they are. The emerald green desk adds a punch of color to the space, while a warm-toned area rug grounds the room. An oversized geometric light fixture nods to modern style.
Another great way to get on the minimalism train (and make sure you stay there) is to get your family involved. Teach your kids about giving by donating things they're no longer using. Set up one day per month where you and your kids go through their toys and clothes and pick out anything they might be willing to donate. You can set a goal of three items per month so it doesn't feel overwhelming. Call it "Giving Day," and put a note on your calendar so you don't forget.
James Angus and Jamie Bolton, The Cavender Diary
This is, perhaps, the most important rule for the reluctant minimalist — remember to give yourself a break. There's no one perfect way to go minimal in your home. The fact that you're even thinking about minimalism and making small efforts is a really big deal. So don't worry if you're not ready to tackle everything on this list. Maybe just pick one and start from there. Baby steps are totally A-OK.