5 Reasons You Need to Print Your Photos Again
Don't let those precious memories get lost in your phone's camera roll.
Confession time: I've taken thousands and thousands of photos in the past few years, but I only have a handful of those images printed out for posterity. Instead of framing those beloved pictures of my family, friends and places I've visited, they sit forgotten — some in my Dropbox, some in my Google Drive, some on my old iPhone that I haven't turned on in years.
Sure, I've shared the best of the best on my Instagram account, but it's not like I go back and look through my old posts all that often. I rarely revisit the memories I've captured since I stopped printing out photos, which was at least eight years ago.
1: They help you feel the love.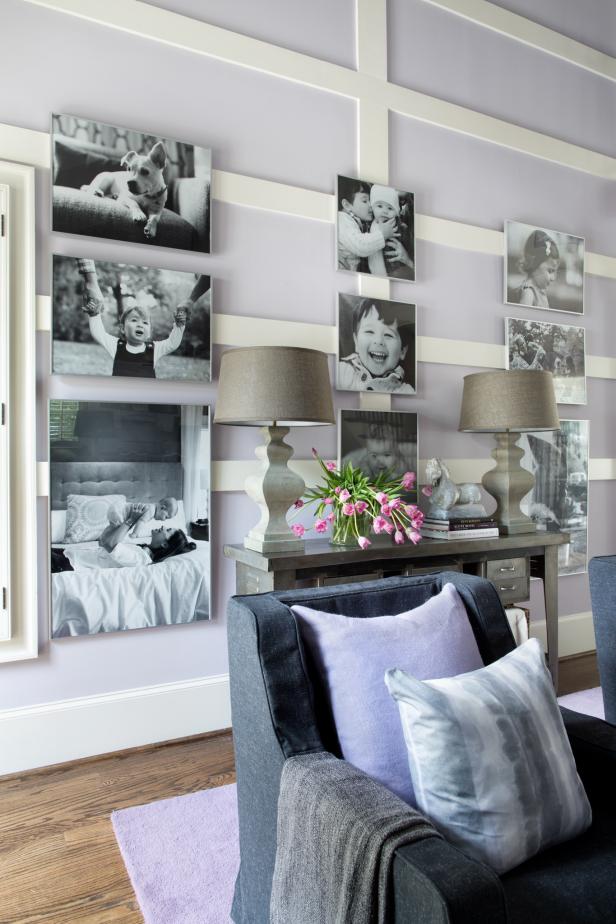 Gallery Wall With Black-and-White Photos
In a living room where space is at a premium, there may not be enough tabletop surface to add framed photos or treasured objects. To inject personality into a living room without taking up valuable tabletop space, consider a gallery wall grouping. Here, a tall wall features nine oversized black-and-white prints of the family with a steel console placed below to anchor the space. When adding a console table to a living room, stick with a maximum depth of 18 inches to keep from impeding traffic flow.
Flynnside Out Productions
Decorating your home with images of the people you care about is one of the easiest ways to feel loved on a daily basis. There's a reason you'll find family photos on so many walls and mantles.
2: They can feel like a free vacation.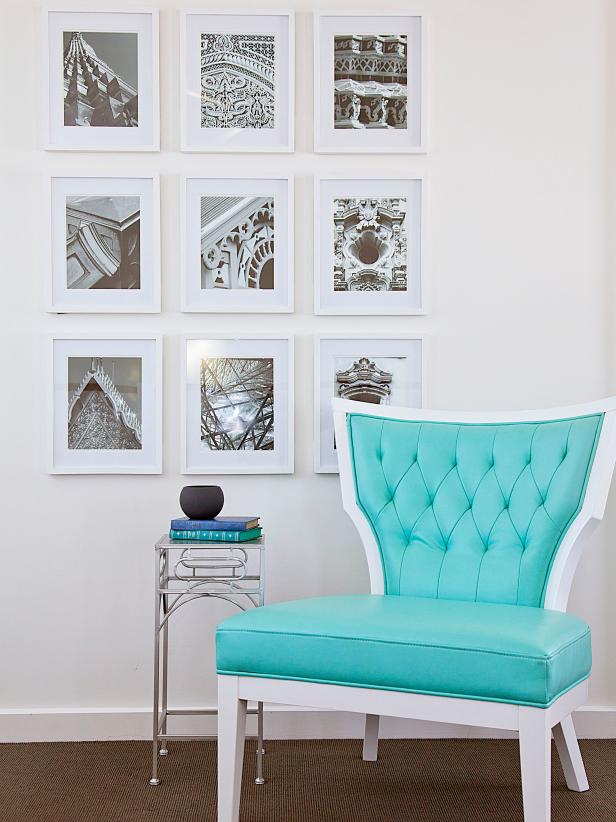 Master Bedroom Sitting Area With a Gallery Wall and Turquoise Chair
For a simple and affordable gallery wall, a series of photos from the homeowner's travels were cropped to show just the graphic details. When the black-and-white photos are paired with affordable white frames, the result is striking. The turquoise chair was a splurge, but it is paired with an antique silver plant stand for a budget-friendly side table.
Filling your walls with beautiful images from your travels instantly adds worldly flair to your home and can help you escape the daily grind if you need a quick daydream.
3: They're a perfect mood booster.
If you're feeling down in the dumps or under the weather, reliving some of your favorite happy memories can help put a smile back on your face (especially if you don't have to search through your computer to find a few photos).
4: There are endless ways to display them.
Printing out photos doesn't mean you have to frame them and hang them all in a straight row; there are plenty of other fun ways to show off your favorites. You can turn them into coasters or even arrange them into a stylish shape, like an ampersand or arrow.
5: The lifespan of your favorite images will greatly improve.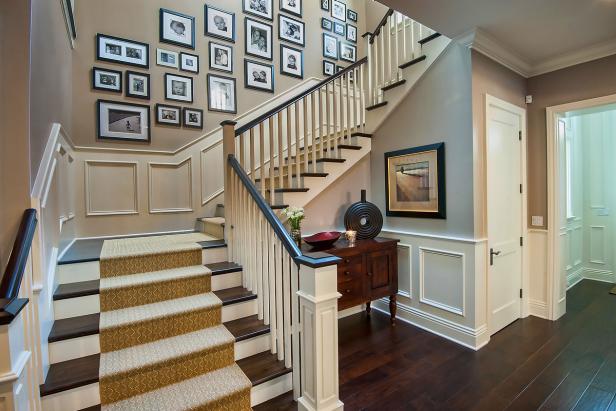 Traditional Stairway Features Black and White Gallery Wall
A gallery wall of black and white family photos enhances this traditional stairwell. White wainscoting against gray walls creates a neutral background while the geometric pattern on the stair runner keeps the space feeling warm and inviting.

These days, the lifespan of digital photos is pretty minuscule; you take a picture and share it on social media where your connections spend a day or two liking it and commenting on it, then it all but disappears into your phone's camera roll. Having physical copies, especially ones that are displayed around your house, means those images can live on for years and maybe even generations if you pass them down to your kids or grandkids.