The Cool, Boho Look You're Going to See Everywhere This Summer
Prepare to be swept off your feet.
Summer is the season of off-duty style, when we collectively agree to put up our feet and take it easy. In the past, this meant kicking back on swan floats and palm-printed thrones, but this year, we're drawn to an enticing newcomer: the rattan swing chair.
Effortlessly cool and comfortable, these boho-chic jewels were made for lounging on summer afternoons. And as it turns out, our designers think so, too. Here are five of the best, laid-back looks you'll be seeing everywhere soon.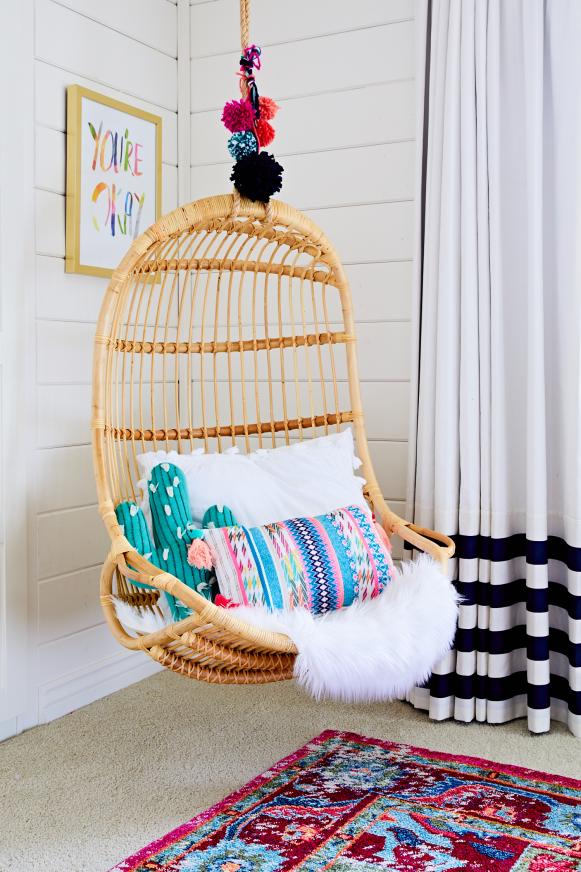 Swing Chair With Southwestern-Style Flair
A swing chair is a fun addition to the room, with plenty of pillows for comfy reading. The cactus design and geometric prints give the corner southwestern flair, nodding to the landscape just outside the little girl's window.
John Woodcock Photography
Settle into those lazy days ahead with a swing chair inspired by the southwest. For her own daughter's room, Arizona designer Joanna Gick of J&J Design Group drew on pom-poms, cactus-shaped pillows and southwestern prints to channel the chill vibes of the desert.
Bring this boho look home with layers of soft textures in saturated colors. Brilliant pinks, violets and blues are a great way to capture the landscape at sunset.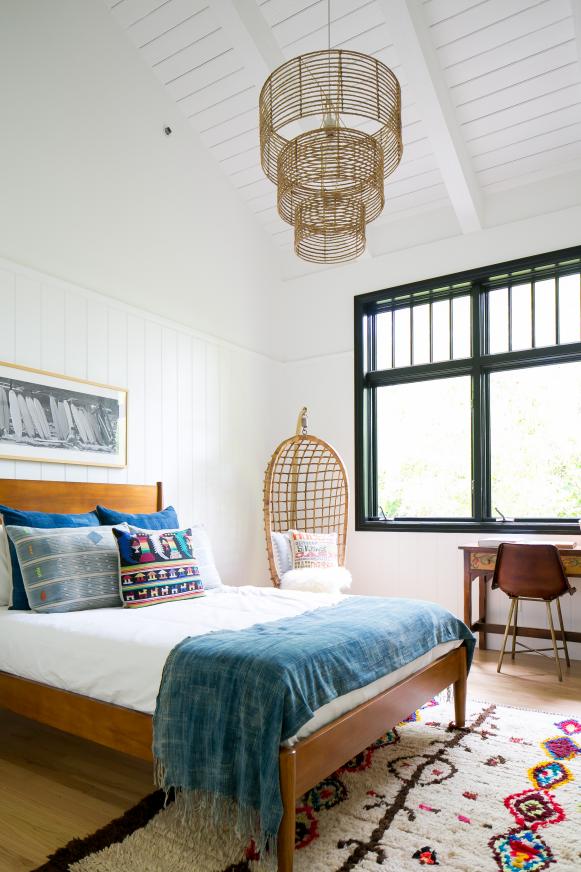 White Southwestern Bedroom With Colorful Rug
Vibrant colors jump out from the bed and the floor in this light-filled bedroom. The furnishings are kept simple, clean lines and pretty wood.
If you'd rather be somewhere dangling your feet over the water, then you're in luck. Designer Shannon Wilkins of PRAIRIE shows us how to give rattan chairs a coastal touch by pairing their sandy hues with sea-blue bed linens.
With the same colors in your space, you'll feel that much more in tune with the ocean. All you need now is sand between your toes and the sound of seagulls to bring it home.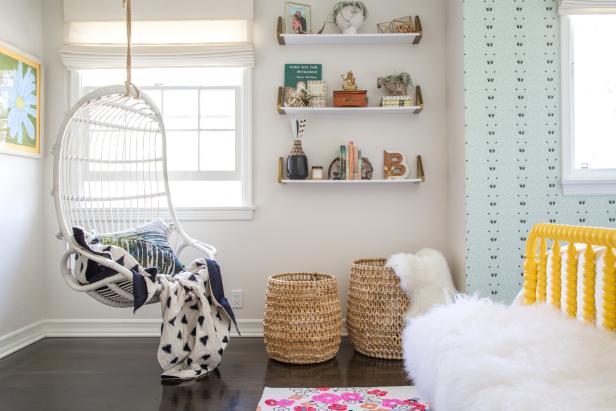 Eclectic Tween Bedroom is Fun, Relaxing
Adding a whimsical touch, the white hanging chair is the ideal spot for reading or relaxing in this tween bedroom. White floating shelves are defined by cool brass hardware and display the tween's collection of vintage books. Two big woven bins make organization quick and easy.
Ready to throw caution to the wind and head straight for the surf? Give your swing chair a splash of white paint that only frothy waves could pull off. Designer Dee Murphy chose a cool coat of white for this rattan beaut, resulting in a refreshing spot for swaying to and fro.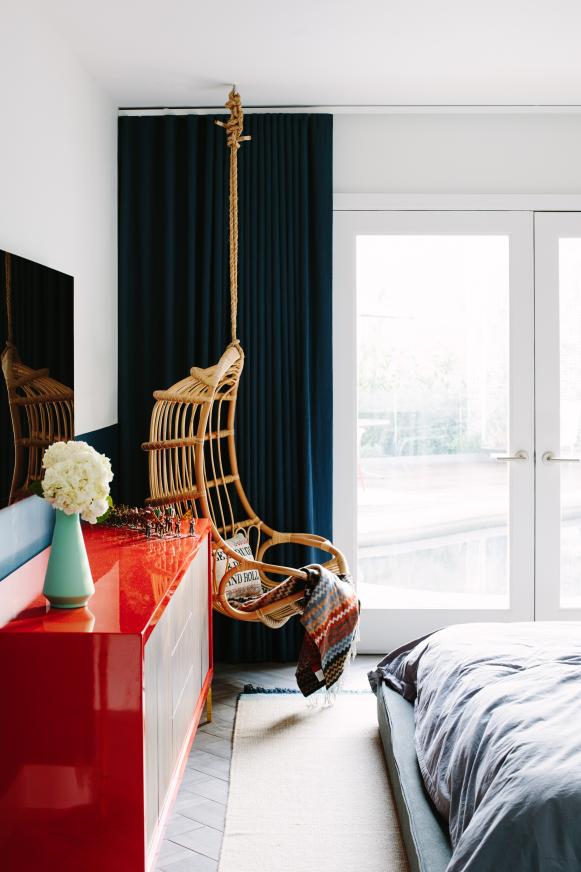 Light and Bright Contemporary Bedroom With Hanging Rattan Chair
This contemporary bedroom features a fun hanging rattan chair with a colorful throw. A glossy red and white dresser is positioned next to the chair, while a pair of glass front French doors allow natural light to illuminate the space.
Sometimes the best way to survive a long, hot summer is to strip down to the bare essentials. Instead of decking your swing with heavy throws and tassel pillows, opt for a lightweight look, like designer Caitlin McCarthy did here.
Once you ease into this breezy, minimalist gem, your troubles will never weigh you down again.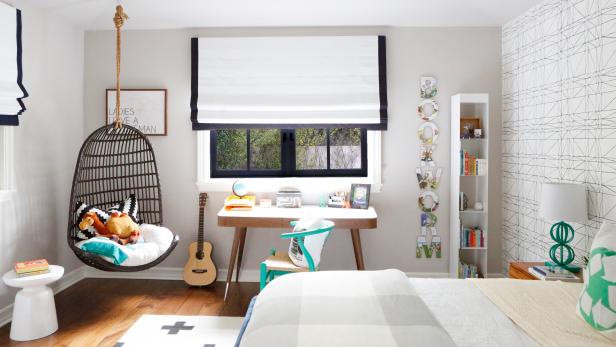 Contemporary Black and White Boy's Bedroom
Black and white can serve as a stylish neutral, as seen in this chic boy's bedroom, where graphic prints and crisp roman shades are a backdrop for vibrant pops of green and turquoise.
And when you really need time to cool down? Make for the shade and paint your swing chair a dark, earthy brown. Set against crisp, white walls, this rattan chair from J&J Design Group takes the whole room to a chill new level.