Punch Up Your Decor With Burnt Coral
It's classic peach, with the volume turned up.
This kicky color takes the classic peachy pink coral and turns up the color value a few notches — think something a little more cinnabar or vermillion. This darker, orange-red coral is au courant and looks great with other warm colors. Take a look: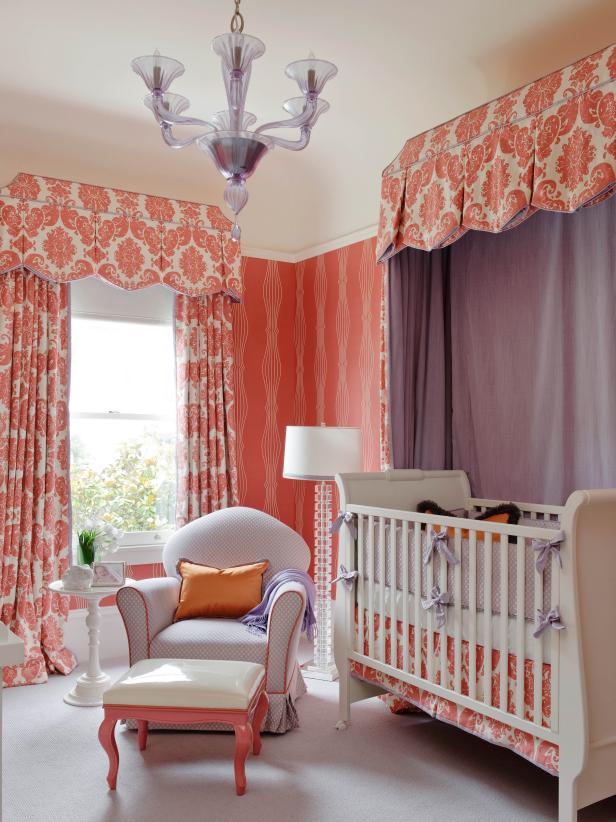 Whimsical Girl's Nursery in Coral and Purple
This colorful girl's nursery is saturated in coral and purple. A damask canopy lined in lavender highlights the white sleigh crib, while the pattern is echoed in the custom drapes and valance.
Photography by Aaron Leitz
Fixer Upper host Joanna Gaines is also a big fan. "Burnt coral is a nice accent color that is fresh and fun, yet still sophisticated," she says. "I love to incorporate this color with pillows, vases and other small accents. I tend to blend white with burnt coral, because it offers a really nice contrast that is easy on the eye."
Eclectic, Red Sitting Room
Polished with tons of character and fun, this sitting room offers a unique style. Red walls with mirror accents set the stage for this creative space. The color story is spread to the floor by red and black chairs that accompany a zebra print rug. Large white vases flank a versatile dresser that provides storage and charm, making this room perfect for just about anything.
Burnt coral also plays well with light, airy blues, soft grays and dusty lavender. It can be surprisingly soothing when paired with cooler hues, as seen in this retro dining room:
This color lends itself to both eclectic…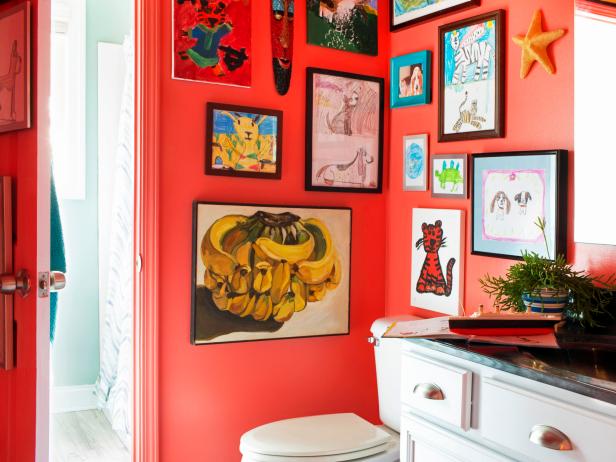 Red Kids' Bathroom With Framed Hand-Drawn Artwork
This transitional kids' bathroom features multiple framed pieces of children's drawings hung against vibrant red walls. A simple white vanity with a gray countertop provides the perfect contrast to the otherwise lively space.
…and more traditional spaces, from this bold boy's bathroom to the classic beachy style featured at HGTV Smart Home 2013.