Feeling Gray? #PlantsOnPink Will Brighten Your Day
We love this Instagram feed that showcases beautiful plants and a powerfully cheerful color combo: pink and green.
Gray may be the hot neutral of the decade, but gray skies are a total bummer, and winter is full of them. You know what cheers me up when I'm feeling gray? The PlantsOnPink Instagram feed. It's like a margarita for your eyes.
I caught up with the feed's curator, Lotte van Baalen of The Netherlands, who says she has always been drawn to the prints and patterns, but became especially drawn to pink and green sometime last year. "I studied it and I saw it more often," she says. "One day I rode my bike and saw plants against a pink wall and then I knew: PlantsOnPink."
And thus, an Instagram feed that now has nearly 20,000 followers worldwide, was born. Devoted fans send photos from all over the world to Lotte for consideration.
While most of the photos are from tropical locations, Lotte does feature images from her local surroundings in The Netherlands, though mostly from indoors, where "tropical house plants are trending," she says. "I see a lot of cacti, succulents and other sultry greens in Dutch living rooms."
Why do green plants look so darn good on pink? "I do get that question a lot! There's just something magical about it," Lotte says. Easy enough.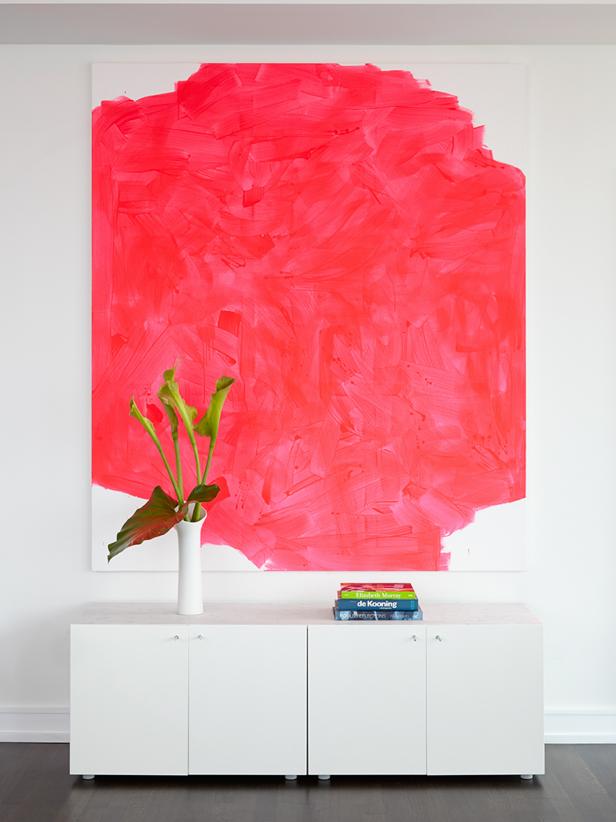 White Living Room With Pink Contemporary Art
Simply placed against a coral-pink backdrop, a white vase of green foliage completes the styling in this contemporary space. 
Simply placed against a coral-pink backdrop, a white vase of green foliage completes the styling in this contemporary space. 
Many of the photos have a decidedly painterly feel, so it's no surprise that followers have been inspired to recreate plants on pink as works of art as well. "There are a lot of followers who actually paint a PlantsOnPink and send me the results," Lotte says. "It's great to see how my project inspires people. PlantsOnPink changed my approach to art and design in the way that I'm more visually focused: I see green on pink everywhere. What you focus upon expands!"
Courtney Ortiz
In this clever take on "PlantsOnPink," pink-colored gravel surrounds a small succulent. These pretty pots were party gifts for HGTV blogger Mallory Ziglar's bridal shower.  
It's not just about the color palette though. Lotte thinks it's about the simplicity of images she chooses as well. "Nowadays we get bombarded with images; there are over a billion photos uploaded everyday. It's really soothing to have an organized and clear, curated feed. PlantsOnPink is very rich in all its straightforwardness and simplicity. That's what makes it so popular."
Take note, Instagrammers.
Lotte's commitment to abundant simplicity expands to her own home. "I love to spend time on decorating my house. I have one rule when it comes to styling: if it's not useful or if I don't find it absolutely beautiful, I don't buy it."
Now that's a sustainable motto to live by.
Thanks to Lotte for the chat. Now, go check out PlantsOnPink, submit your own photos for curation, and have a happy, pink-and-green day!
It's National Pink Day — incorporate this lighthearted hue into your home's design.