Our 5 Favorite Indoor Herb Garden Ideas
Keep it inside! Your herbs can fit into any container and any room in your house.
The winter season most likely means your outdoor garden is past the point of no return. The good news is there are several plants that thrive indoors, including herbs! Growing herbs will save you money and will flavor your dishes in a way that put those grocery-store herbs to shame. Keep reading to see our favorite indoor herb garden ideas.
Display Them on the Window
Plant herbs in antique containers and tins, and place them on the windowsill in the kitchen. They'll get plenty of sunlight and you're more likely to use them if you keep them near your cooking space.
Grow your herbs vertically. Display them in cute ceramic pots and hang by knotting or macraméing.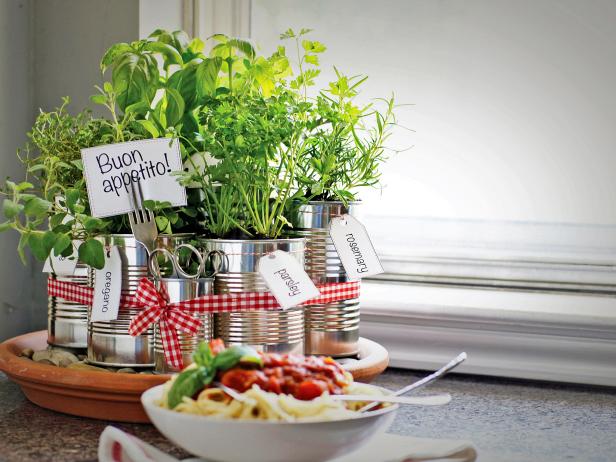 DIY Kitchen Countertop Herb Garden
This compact kitchen herb garden ensures that all the fresh seasonings you need for a savory Italian dinner are just a snip away. Six hours of sunlight a day and minimal care are all these hardy plants require to provide tasty herbs year round.
If you love Italian food, create a small herb garden using tin cans and a terra cotta pot saucer that can sit in any nook in your home. Fresh herbs are just a snip away!
Spruce up your kitchen's design by upcycling antique tea tins as containers. Attach magnets to them, and hang on the fridge for easy access.
Imagine cooking and simply reaching down to grab the herbs you need. Put your potted herbs on any extra kitchen shelf so fresh seasoning is right where you need it. Take care of the herbs by watering and placing in sunlight periodically and putting them back on the shelf when it comes time for cooking.