8 Innovative Ways Your Dining Space Can Do Double-Duty
Revive your dining room with these nontraditional takes on a classic space.
Dining rooms are great for entertaining and celebrating special occasions, but what should you do with that space when no one's visiting? You might be surprised by all of your options. Here are 8 nontraditional ways to make the most of your space.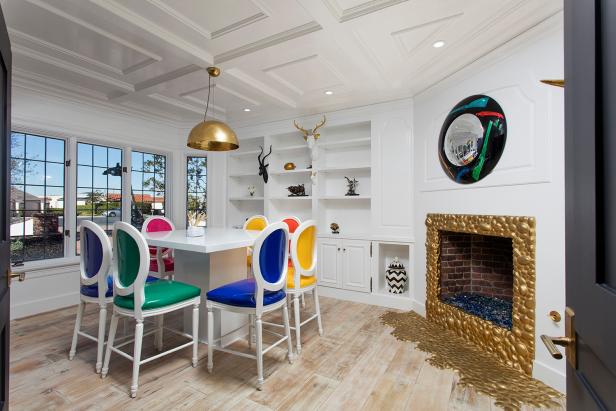 Eclectic Dining Room With High-Top Dining Table
Coffered ceilings and built-in bookshelves get a coat of fresh, white paint to match the contemporary feel of this dining room. The bubbling, gold fireplace surround spills onto the natural hardwood floors, creating a tactile, artistic effect. Colorful counter height dining chairs bring a cheery element to the space.
First Team Estates, a member of Luxury Portfolio International
There's a lot to love about this eclectic dining room: the high-top table, the brightly-colored chairs and especially those built-in shelves. While cabinets and cupboards add elegance to a room, they can sometimes consume valuable space in a smaller setting. With built-in shelves, though, you can display your prized possessions without compromising square footage.
If you need a quiet workspace but don't have a room to spare, consider transforming your dining room into a dual-purpose office. In this transitional dining room, an elongated desk creates a clear workspace that coordinates with the table and chairs.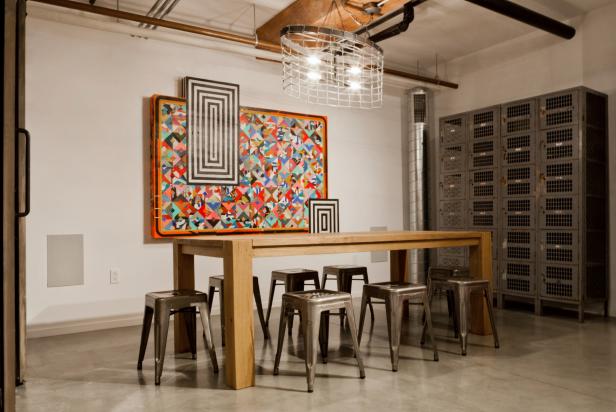 Dining Room With Modern Art Piece and Antique Lockers
A large piece of modern art defines this dining room. Its array of colors and unique shape are a perfect complement to the simple, clean-lined dining table and stools. The antique lockers to the side of the table provide storage space and also act as a decorative element.
Alternatively, your dining room can easily double as a craft room. In this industrial space by Kelly Sutton, the clean table and stools not only allow for entertaining guests, but they also make a great spot for crafting. You can even store all of your supplies in an antique locker.
4: Show Off Your Sportsmanship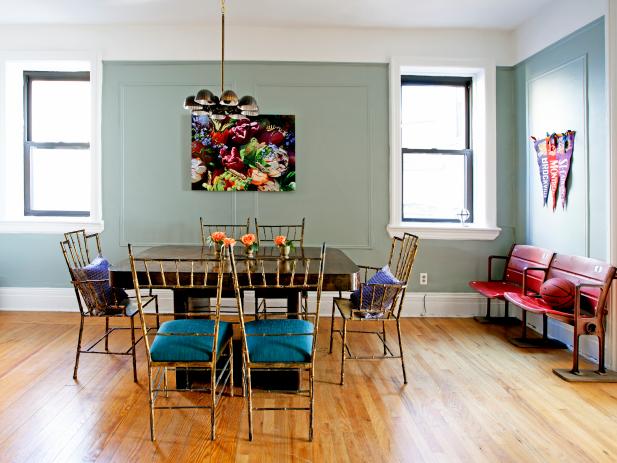 Eclectic Dining Room With Vintage Stadium Seating
Pale green walls are the backdrop in this dining room featured on HGTV's Home by Novogratz. A set of red stadium chairs pairs with gold Chiavari chairs for an eclectic mix of seating, while hanging pennants, bold artwork and wall trim molding adorn the walls.
If you've been searching for a tasteful way to showcase your fandom, look no further. In this eclectic space, stadium-style seats and pennants add vintage color and charm to an otherwise quiet dining room. Bonus? You can use the stadium seats to accomodate more guests in one area.
5: Live It Up With a Library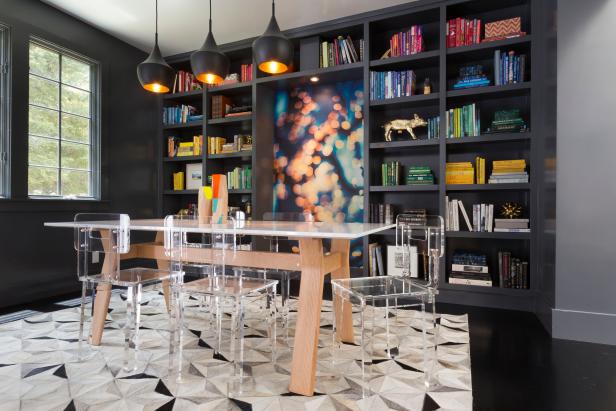 Sleek Modern Dining Room With Multicolored Book Display
A modern dining room turns its book collection into an eye-catching design statement by organizing them by color in the space-saving built-in bookshelf. A simple picnic table and ghost chairs let the striking dark walls and rainbow colors do the talking.
As someone with way too many books (or not enough space to store them, anyway), I love this colorful display. Paired with a simple picnic table and chairs, these built-in bookshelves by Ann Lowengart can be used to store all of your cookbooks and create a cozy library.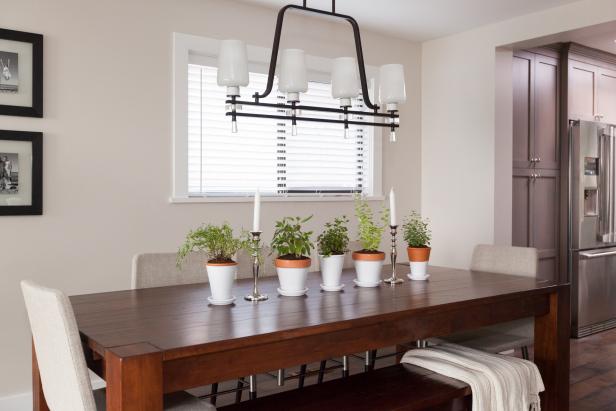 Neutral Dining Room with Dark Modern Accents
As seen on HGTV's Love It Or List It, Too, designer Jillian Harris gave the homeowners a modern dining space. With a table that seats up to six, there is plenty of space for the family to enjoy or to entertain their friends. She then added a modern chandelier to help bring light to the room. The walls are painted a neutral color and are accented by the dark picture frames and the metal of the chandelier.
From:
Love It or List It, Too
David Owen Strongman / Getty Images
When not hosting Friday night dinners for family and friends, try transforming your dining room into a low-maintenance home garden. Designer Jillian Harris used potted plants to freshen this modern dining room and accentuate its earthy tones.
7: Celebrate With a Wine Cellar
Industrial Chic Dining Room
Suspended from exposed steel beams, a heavy-duty chandelier works the room.
Doesn't living on a vineyard sound like a dream? Now you can make it a budget-friendly reality. In this industrial chic dining space by Harmony Weihs, two floor-to-ceiling cabinets become the perfect spot for storing wine, which makes celebrating special occasions all the more fun.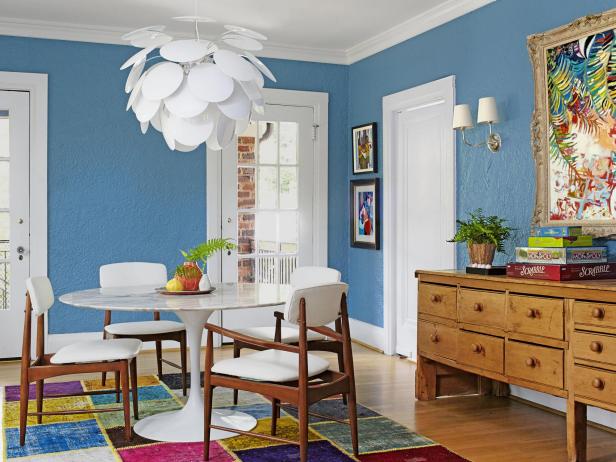 Eclectic Dining Room
Electric-blue walls were a risky pick, but Hampton and Bart knew the splashy color (California Blue by Benjamin Moore) would set off the white table, pleather chairs and the wood buffet from a local antiques shop. Plus the blue helps carry the palette through the home. All those colors make the patchwork rug versatile: Switch rooms, repaint the walls and it still works.
Dining rooms were designed for gathering with family and friends, so why not throw a little competition into the mix? With a wooden buffet for storing board games and card decks, this eclectic dining room encourages plenty of family-friendly activities and bonding.