6 Fresh Spring Colors That Aren't Pastels
When it comes to spring colors, pale hues tend to get all the attention, but they're far from your only choices.
Now that the weather is finally starting to heat up — hopefully for good — we're ready to tuck away our winter wares and make our homes a little more spring-friendly. But instead of gravitating towards pastels like we usually do, this year, we're thinking outside of the box.
Sure, pastels are a tried-and-true spring staple (not to mention Pantone's colors of the year), but not everyone wants their home to resemble a bucket of cotton candy. So instead of pale pinks and soft yellows, these are the shades we're dying to try.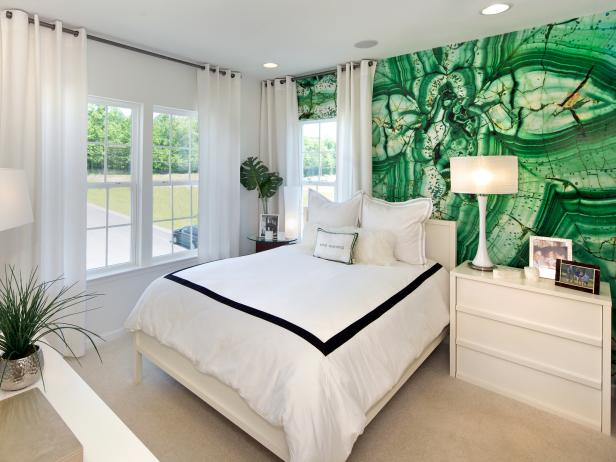 Captivating Emerald Green Accent Wall in Bedroom
Black and white bedding and sleek furniture are offset by a striking accent wall in this bedroom. Both daring and sophisticated, the emerald green agate motif adds a splash of color behind the platform bed. Small houseplants add a hint of color in the corners of the otherwise neutral room.
One of the best parts of spring is the return of bright green grass, and fresh leaves on every tree. The bold hue doesn't have to stay outside though. Decorating with a bit of bold green is a beautiful way to make a nature-inspired statement right in your home, whether you choose a high-impact statement wall or a few simple throw pillows.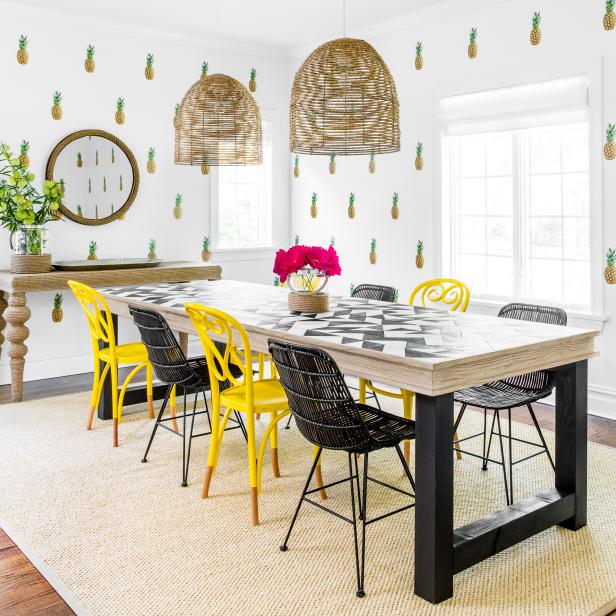 Pineapple Wallpaper, Yellow-and-Black Chairs Make This a Dining Room for Fun
Pineapple print wallpaper and a bold yellow-and-black color scheme ensure dinner conversation never gets too serious in this playful beach house dining room. Oversized basket pendant lights add to the relaxed nature of the home.
Sean Litchfield Photography
We're always thrilled when the sun starts sticking around a lot longer during spring days, so what better way to celebrate the season than with a bright sunny yellow? Just remember a little yellow goes a long way, so it's best used in small doses, like the chairs in this pineapple-adorned dining room.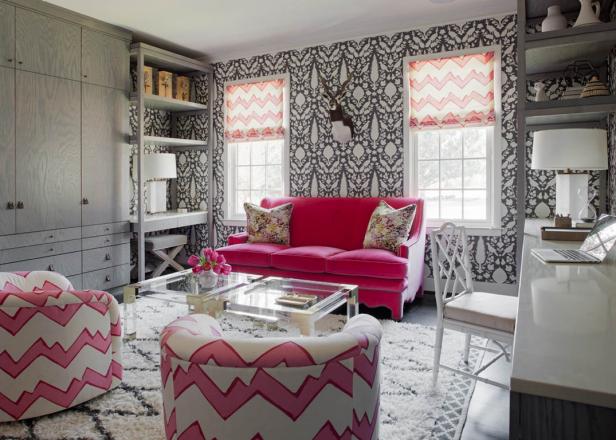 Gray Contemporary Sitting Room With Pink Sofa
This sitting room gets a big, bold personality thanks to a mix of striking patterns and pops of hot pink. The white rug and clear coffee tables help anchor the flights of fancy around them.
This neutral hue is seemingly always in style, but it does tend to be associated more with fall and winter than the warmer months. Not anymore. We love how fresh gray can make a room feel, and when it's paired with pink and white, it really screams spring.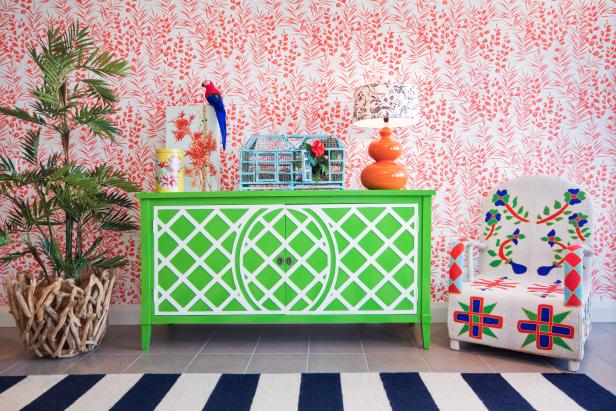 Painted Sideboard & Tropical Wallpaper
Telling the story with this tropical wallpaper and painted sideboard, accompanied by the striking hand beaded chair.
Incorporating orange into your home may seem daunting at first, as it is one of the most eye-catching shades out there, but it does wonders for your interiors. A little orange instantly brightens a room and adds a friendly, welcoming vibe, which basically makes it the color equivalent of a perfect spring day.
If you're looking to add a little vibrancy to your home this spring, look no further than turquoise. It's the perfect combination of blue and green, so decorating with turquoise gives you the chance to pay homage to the season's blue skies and green grass, without being too literal.
Eric Perry, 2014, Scripps Networks, LLC. All Rights Reserved
Brown may not seem super spring-friendly at first glance, but it's actually an ideal choice for the season. The earthy shade goes with absolutely everything — feel free to go a little crazy with your accessories — and has a subtle quality that mirrors the softness of spring.