9 Ways to Give Your Farmhouse Design a Modern Twist
Same style; tiny refresh.
Farmhouse design can sometimes feel a bit "been there, done that" since it has been around for a while. But the truth is, farmhouse style has grown up a lot.
Now, modern farmhouse is the new offshoot, which includes unique updates to the more traditional farmhouse style. While the overall look is still rustic and cozy, there are some new design tweaks that you can make to allow your home to feel more up to date. Think: unexpected hues, accent walls and gray wood.
Try these nine spins on farmhouse style for a fresher look:
1: Add Modern Light Fixtures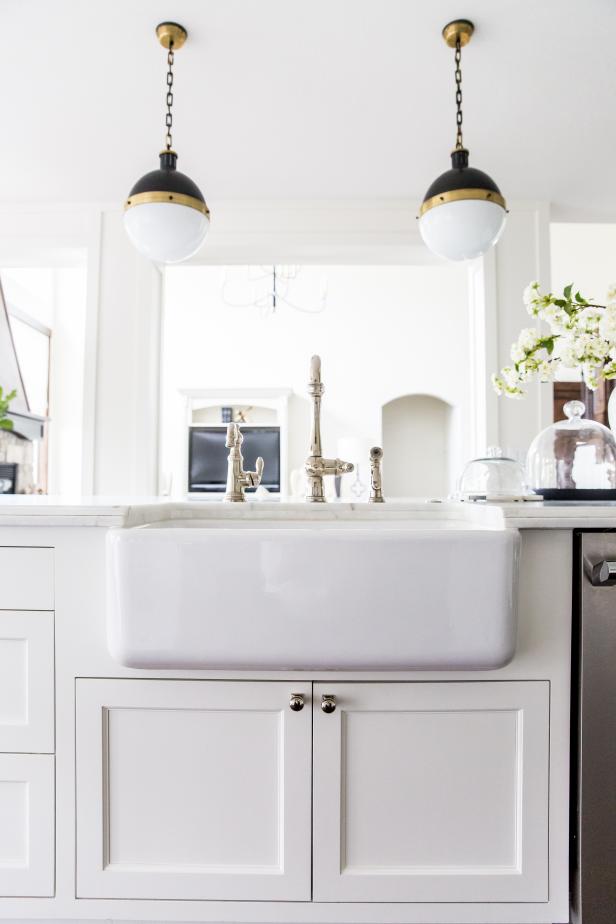 White Farmhouse Kitchen Sink
This white farmhouse kitchen sink gets a modern makeover with chrome fixtures and a large, matching black and metal pendant lights above.
Lindsay Salazar Photography
This traditional farmhouse-style kitchen feels completely different with the addition of two modern pendants. Mixed metals, like the chrome cabinet pulls and brass light fixtures, also bring a fresh take on the space.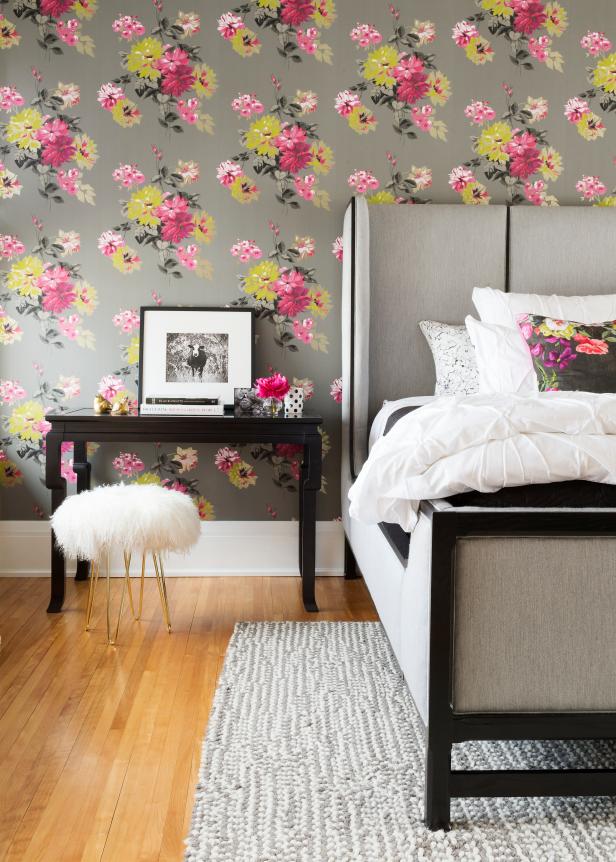 Feminine Bedroom Boasts Fun, Floral Wallpaper
Gray wallpaper with a fun floral print in pink and green sets the tone for this chic, feminine bedroom. Black, white and gray furnishings add lovely contrast and keep the space from appearing too busy.
Susan Gilmore Photography
Try using a bright wallpaper to create an accent wall in your home. Bedrooms are perfect for this, as you can quickly upgrade your space by dressing up the wall behind your bed.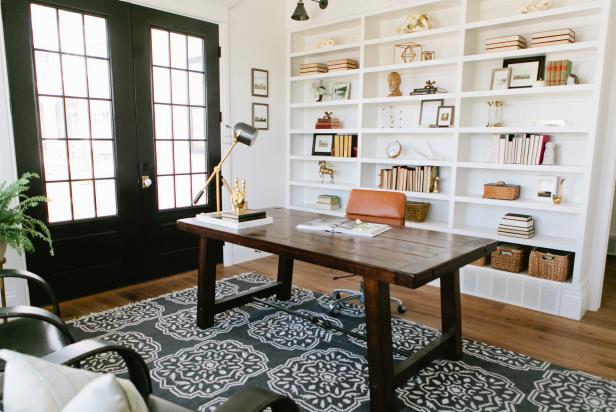 Home Office With Updated Farmhouse Style
This bright, transitional home office in a modern farmhouse features beautiful white built-in bookshelves, black French doors for lovely contrast and a dark-stained farmhouse style desk. A burnt orange rolling desk chair and gold accessories add to the stylish space.
You can instantly add some modern style to your space by painting your interior doors a dark color. Black is always a great pick; however, other colors, such as a charcoal gray or an inky blue, would also work well.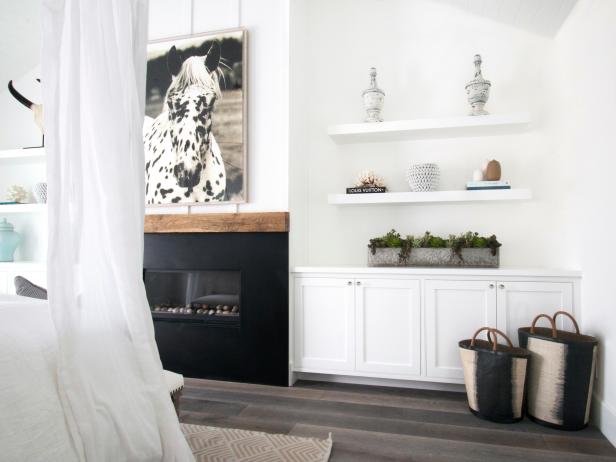 Modern Cottage Bedroom With Black Fireplace
Floating white shelves serve as a modern interpretation of traditional built-in bookshelves for an airy feel. The contemporary black fireplace creates a nice juxtaposition with the white walls.
Modern farmhouse style often includes updated artwork. Gone are the whimsical painted signs, which are slowly but surely getting replaced with sleek, black-and-white photography or graphic abstracts. In fact, switching out your artwork is actually one of the easiest ways to kickstart your modern farmhouse upgrade.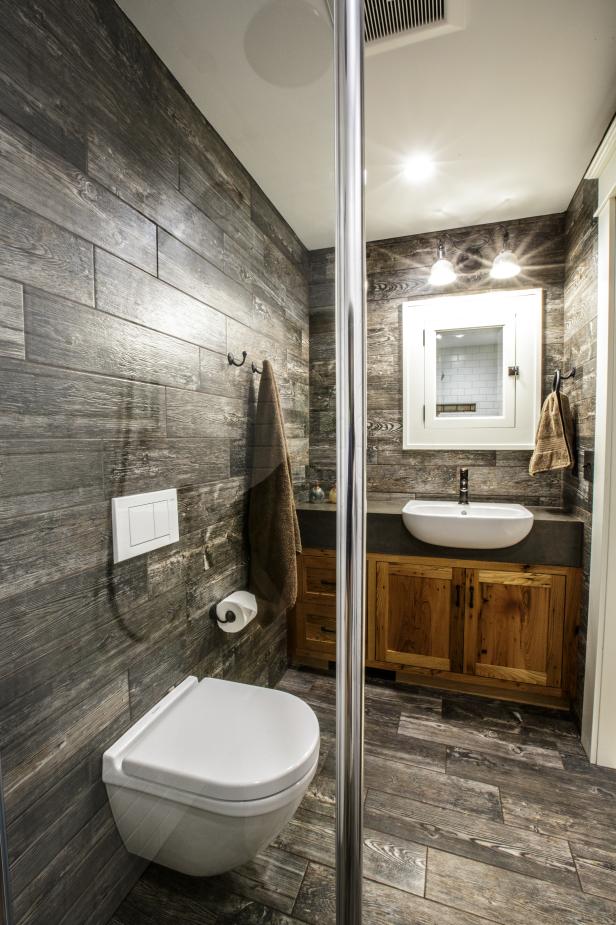 Black and White Modern Farmhouse Bathroom
The homeowners preferred a more space-efficient bathroom that would flow with their rustic yet modern farmhouse. The white wall-mounted toilet, sink and medicine cabinet pop against the dark tile, and the white subway tile in the shower balances the white fixtures in the room.
Wood has always been a part of farmhouse style, but even traditional wood is getting a makeover. Gray wood is currently trending in all sorts of modern farmhouse spaces. It manages to keep the same rustic quality as more traditional wood hues, but it offers a fresh and unique look. You can try gray wood in a smaller spot in your home first, such as a bathroom, if you want to see how it will fit in with your space.
6: Opt for Unexpected Colors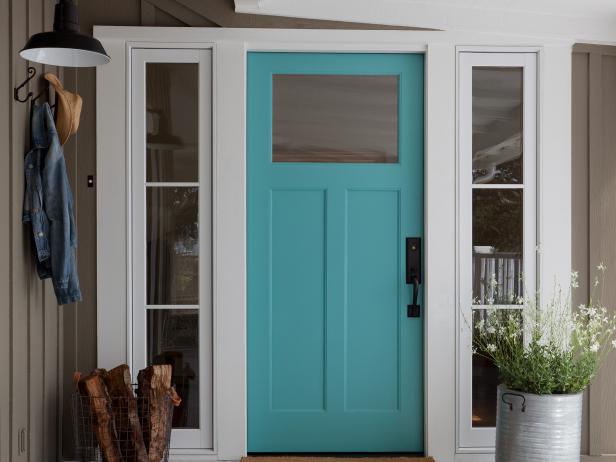 Turquoise Door on Remodeled California Farmhouse
Beth Dana Design took on an extensive remodel with this early 1900s Santa Barbara farmhouse. The turquoise front door provides a jolt of color on the porch, which has barn-style lighting, a metal bin overflowing with firewood and a galvanized planter. Architectural elements include board and batten siding and a bead board ceiling.
You can really modernize a space by using an unexpected color. This turquoise front door adds a completely different spin to the front porch of this more traditional home. Your front door is a great spot to set the tone for your home, and using a bright hue outside can really set the stage for your unique space inside.
Open shelving is a great option for modernizing your space. Using rustic wood for your shelves keeps you squarely in the farmhouse style, but the openness of the shelves makes for a fresh take.
8: Paint a Pretty Pattern
Painted floors are another common choice for farmhouse-style homes. A fun way to update this farmhouse go-to is to paint a pattern on your floor, like this back porch. The black-and-white pattern helps the porch feel completely unique.
9: Add Industrial Touches
If you're unsure what other styles you can mix in your farmhouse home, industrial is a great place to start. Industrial pieces tend to have a vintage look, but they also tend to be less trendy. These industrial stools, for example, pair perfectly with the more traditional farmhouse-style space. Industrial chairs at a traditional farmhouse dining table is an easy place to start.