Effortlessly Mix Patterns and Prints Using These Expert Tips
Want to pair florals and stripes like a pro? Designer Brooke Wagner reveals how to mix patterns to create chic, cohesive spaces. 
Mixing patterns can be tricky business. Although you want to create a space that's modern and full of visual interest, you also don't want your home to seem haphazardly thrown together. So how do you achieve an interior that's more fashion-forward than faux-pas?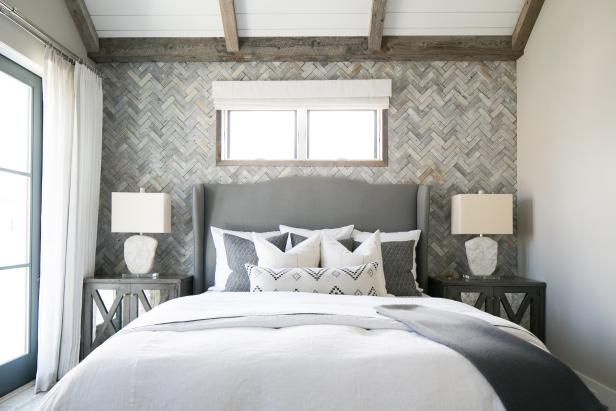 Master Bedroom Features Herringbone Textured Accent Wall
Shades of gray and white create a calm and stylish look in this master bedroom. A herringbone accent wall brings texture to the design behind a gray upholstered headboard and layered throw pillows. Two stone-based lamps add a unique touch, and light from the window and French doors creates a natural brightness.
Designer Brooke Wagner of Newport, Calif. has a few suggestions. The master of mixing patterns and prints, Brooke knows that the right combination can create a space that feels calm and cohesive. To that end, she uses patterns to add subtle color, contrast and movement to solid pieces. The secret, she reveals, is to be strategic.
Establish Your Color Palette
Before introducing patterns into a room, Brooke works with her clients to choose a unifying color scheme for the whole house. "We'll generally pick two or three colors or tones," she explains. "We use those same colors throughout the house and try to really layer them."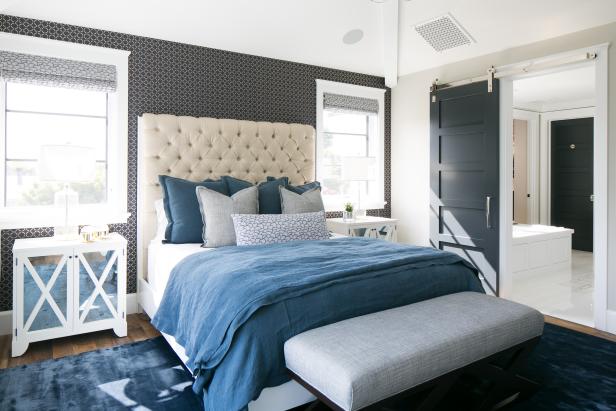 Dark Accent Wall Adds Graphic Punch to Chic Bedroom
Deep, rich shades of blue adorn the bed and floor in this transitional bedroom, making the space feel like a serene oasis. A graphic accent wall behind the bed adds movement and interest to the space.
Having a consistent color palette not only encourages fluidity between rooms, but it also creates cohesion among different prints. Each piece will echo similar tones – and so seem less chaotic when mixed.
Because bigger pieces tend to draw more visual interest, two large prints in the same space can seem loud and overwhelming. That's why Brooke suggests keeping most of the furniture neutral and limiting patterns to accents. Not only are accents easier to mix and match, but they also adapt to changing tastes.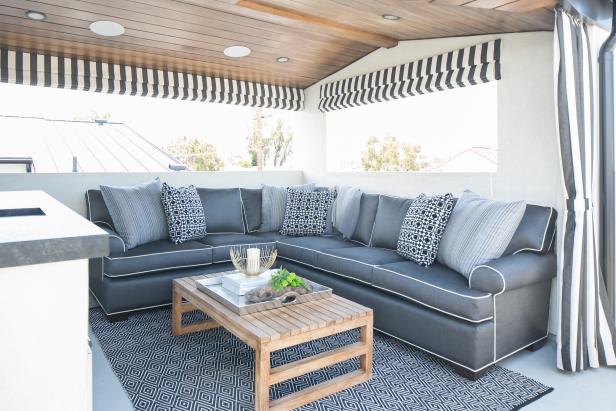 Sunny Rooftop Patio With Cozy Gray Sofa and Graphic Accents
A covered patio creates a more intimate space while still being outdoors. This rooftop patio features a gray sofa decorated with patterned throw pillows, striped window treatments and a graphic rug. A wood coffee table adds a light element against the rich gray tones.
"Patterns change, trends change, your personal style changes," she says. "You might get sick of a pattern that you've had for a couple of years, and it's obviously a lot easier to switch out a pillow versus a whole sofa."
Mix + Build Visual Interest
With that said, consider accents an opportunity to build visual interest. If you have speckled pillows, pair them with a large striped rug or chevron throw to really achieve that chic, modern look.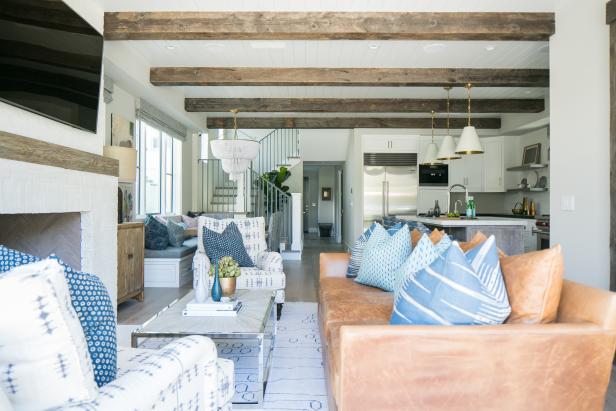 Open Plan Living Room With Exposed Wood Beams
Space is maximized in this home by opening the kitchen and dining area to the living room. Indigo throw pillows boasting mixed patterns adorn the brown leather sofa and white armchairs. Reclaimed wood beams add texture and warmth overhead.
"When we mix patterns, we'll do different sizes and shapes," Brooke says. "We'd do a geometric and a floral or a stripe and a floral to mix the patterns, so they're not too close."
Once you have all of your patterns in play, don't be afraid to match them. Pair the pattern of the shades with the pattern of the pillows, or bring a similar print in through rugs and curtains. In doing so, you'll make your space seem thoughtfully tied together.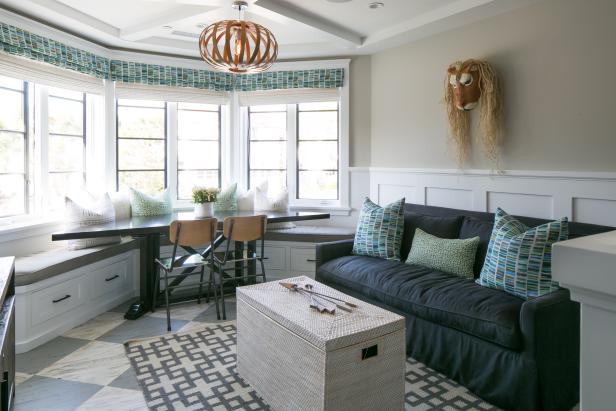 Transitional Family Room Is Fun, Playful
Mixed patterns help cultivate a lively, playful energy in this multipurpose family room. Blue accents bring cool color to the room, and a lion's head art piece adds an unexpected touch of fun and fierceness.
Architect and designer Jeff Troyer offers important tips on how to account for budget-busting remodeling problems.