Meet Our 2014 Fresh Faces of Design Winner
Meet the rising star who beat out a crop of talented designers.
After an extensive selection process involving 100+ submissions from talented designers across the US and weeks of online voting where HGTV fans cast hundreds of thousands of votes, we have a winner. Drumroll, please. Everyone join us in congratulating Caitlin McCarthy, the winner of our Fresh Faces of Design competition!
Caitlin's genius small-space solutions and approachable high-meets-low design style wowed HGTV fans who voted her design tops in the small space category, then won over the judges who crowned her the winner overall. Here are a few photos of Caitlin's award-winning downtown Los Angeles loft plus the judges' POV on why she swept the competition:
Artistic Details
Personal touches -- like knick-knacks, books and art pieces -- make a home feel really personal.
Jillian St. Charles, Vice President of HGTV.com adds, "You don't see many luxe-looking galley kitchens. This very functional space combines materials and judicious use of color in a way that's really engaging."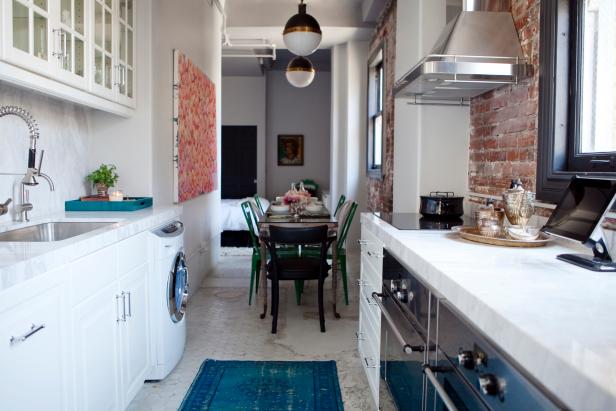 Galley Kitchen With Pendant Lights and Exposed Brick
This galley kitchen connects two ends of the apartment, and in doing so, remains flawlessly neutral and unadorned. A small patch of exposed brick adds character and texture to the small space.
Brian Patrick Flynn, Interior Designer and Founder of FlynnsideOut Productions was impressed with Caitlin's mastery of scale and the way she incorporated the loft's century-old architectural elements, like the exposed brick and original hexagonal tile floor: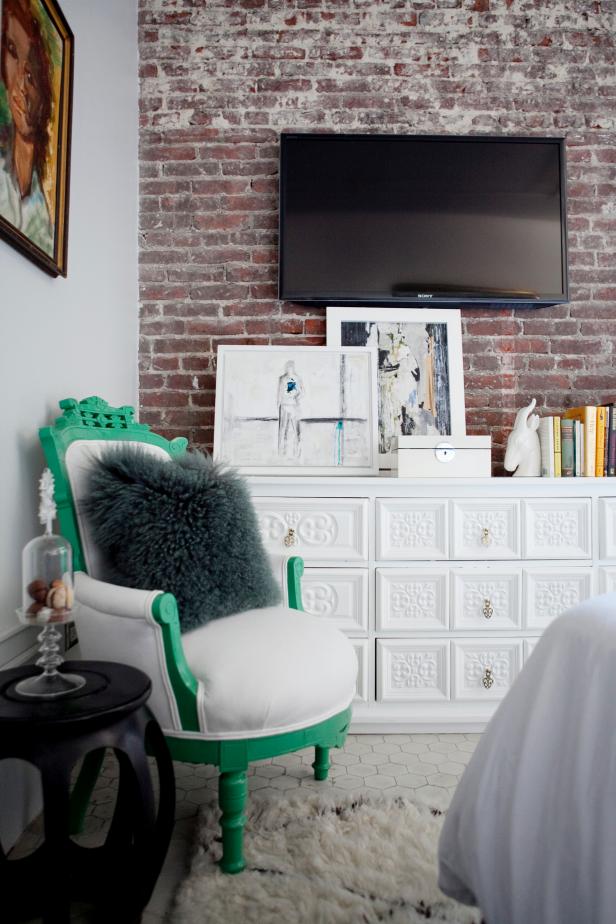 Vibrant Green Trim on Upholstered Armchair
Kelly green trim on the armchair brings a refreshing pop of color to this bedroom.
All the judges could agree that Caitlin's design is approachable and deftly combines bargain finds with glamorous touches, like these Thomas O'Brien Hicks pendants that illuminate the hallway-turned-dining room: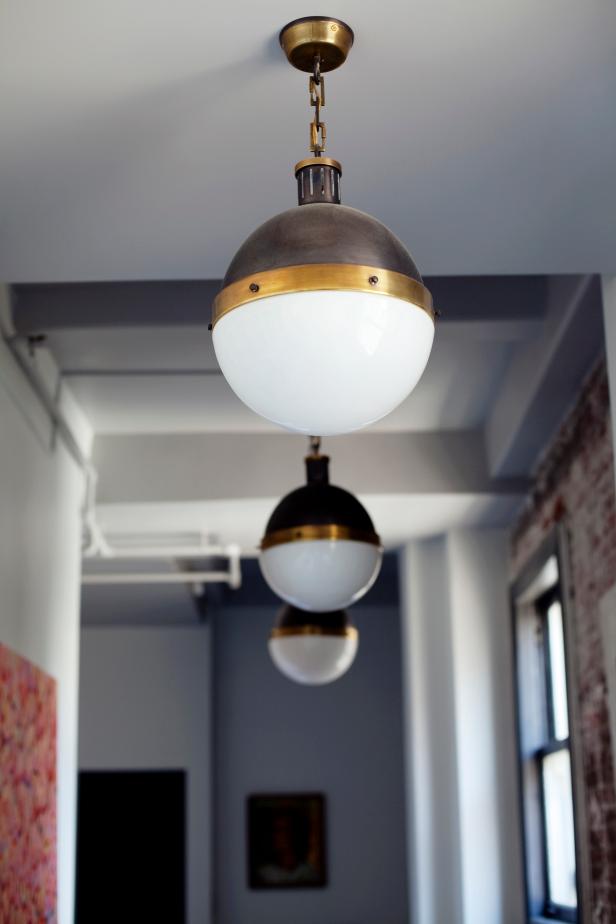 Nautical-Inspired Brass Pendant Lights
Large globe light fixtures are a great way to make a big impact in a small space. The brass trim on these have warm nautical feel.
Off the dining room is the loft's main bedroom. Doorless white walls give the loft a cohesive feel that helps the small spaces flow one into the next: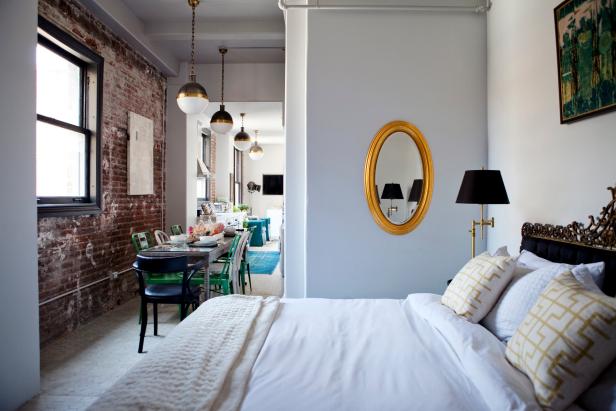 Small White Bedroom Features Gold Mirror, Ornate Headboard
Breakfast in bed takes on a new meaning when the dining room is right around the corner from your bed. Thanks to a gold-framed mirror and an unadorned window, the tiny bedroom feels a bit larger and brighter.
The jewelbox of a bedroom conceals a real gem: a boutique-worthy glass-doored closet: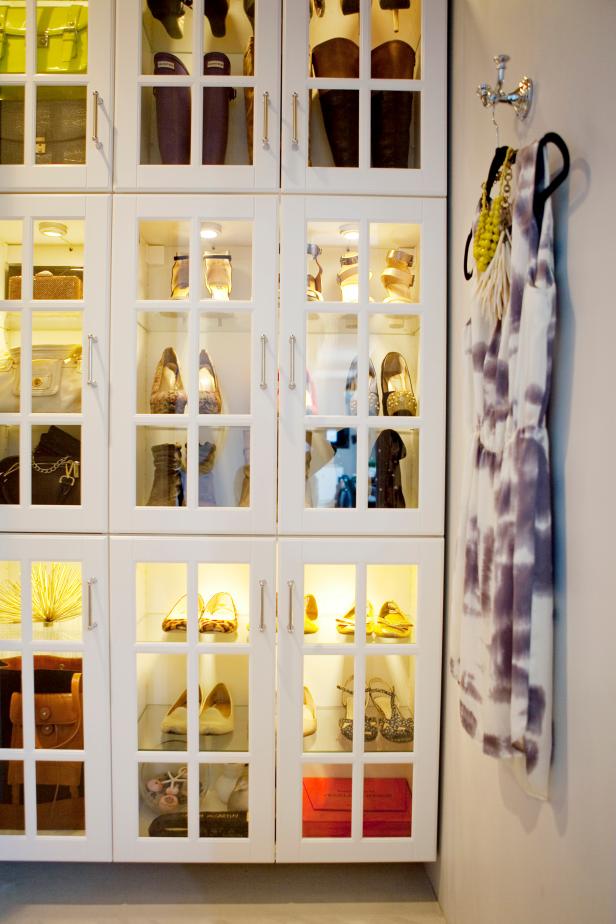 Closet With Cabinet-Style Shoe and Accessory Storage
This closet is the dream of all well-heeled homeowners. Cabinets with glass doors and interior lighting showcase the shoes and accessories like artwork.
But that isn't the loft's only surprise — what looks like a built-in in the living room is actually…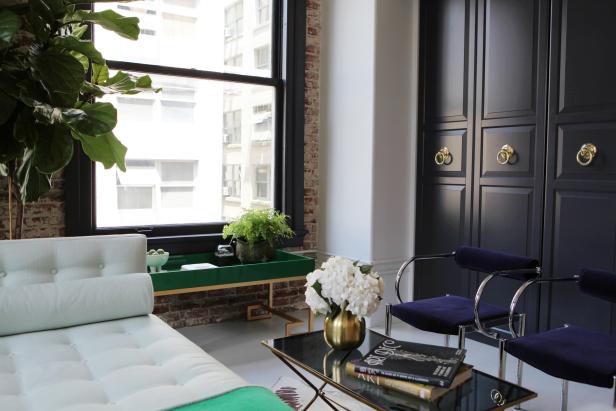 Loft Living Room With Contemporary Seating
Built-in cabinets provide both extra space and style in this sophisticated contemporary living area.
a Murphy bed that cleverly tucks away when not in use. Genius!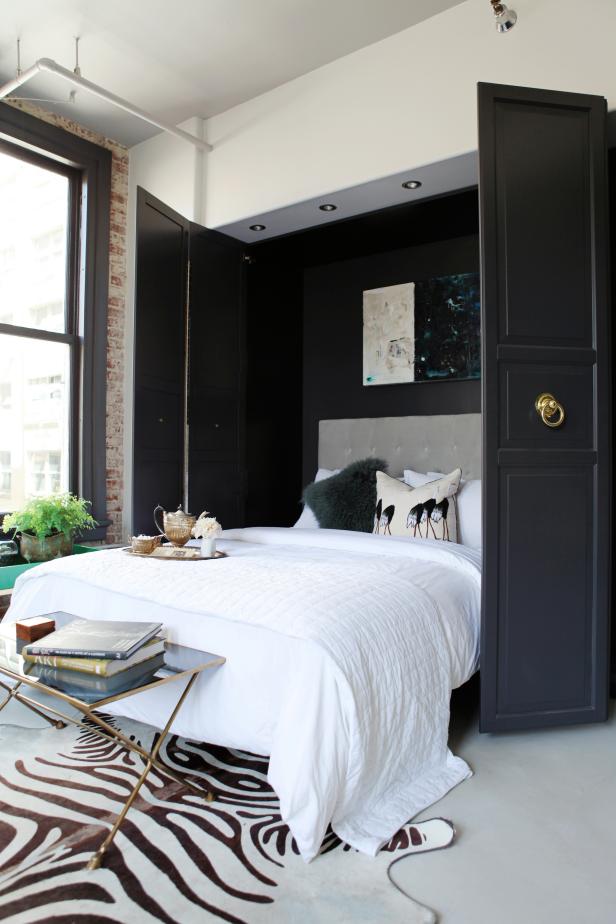 Murphy Bed in Chic, Urban Living Space
The hideaway Murphy bed in this urban living space is both practical and stylish. A custom closet with recessed lighting creates a dramatic feel, and clean lines give the sleeping nook a boutique hotel vibe.
Judge Becky LaFranchi summed up this petite pied a terre best, "Caitlin's design proves that small-space living can be both stylish and comfortable. It also feels very individualized, and not at all cookie-cutter, like you might expect a tiny space to be." Brava, Caitlin, congrats on your win!