6 Designer Tricks to Make Your Small Apartment Feel Big
Short on square footage? Try these designer-approved ways to stretch your space.
Often short on space and storage, small apartments can present a long list of challenges. Chicago-based interior designers Shea Soucie and Martin Horner of Soucie Horner, Ltd. know even cramped spaces can live larger than they really are. "To us, timelessness, elegance and luxury are musts — regardless of square footage," Martin says. "The greatest luxury of all is to feel embraced by your surroundings, which is easier to accomplish in a small space anyway," Shea says.
Read on for Shea's and Martin's space-stretching ideas:
Use Mirrors to Visually Increase Space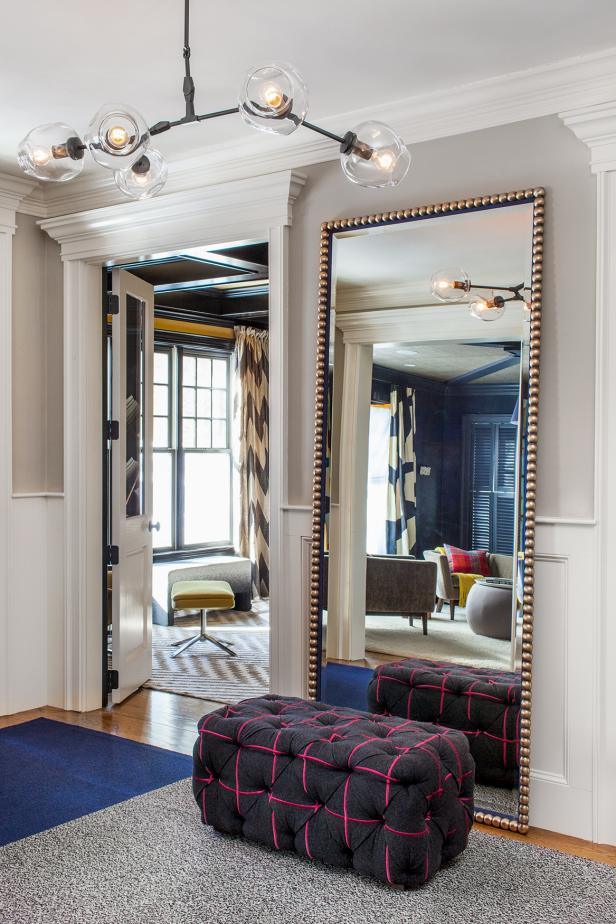 Foyer Features Full Length Mirror & Tufted Ottoman
The floor mirror was specifically designed to reflect the study and to make the space feel larger. The tufted ottoman provides seating in addition to being a sculptural element.
Utilize mirrors to bounce light, reflect views and instantly enlarge the feel of any space. Lean an oversize mirror against the wall opposite your front door to create drama and visually expand your entryway. Boost your kitchen's glamour quotient by installing a mirrored backsplash, or line the insides of glass-front kitchen cabinets with mirror.
Opt for Sleek Furnishings
Steer clear of skirted sofas and bulky coffee tables in the living room. Instead, opt for sleek furnishings with open bottoms and slender legs to create an airy mood.
Install drapery rods closer to the ceiling rather than the tops of windows. It's a simple way to fool the eye upward and create an elegant illusion of height.
Choose furnishings that are multipurpose and boost functionality: nightstands with drawers; bookshelves that feature a combination of open display space and closed storage; and upholstered ottomans that can act as both coffee tables and extra seating.
Too often, vertical wall space is underutilized. Line walls with picture rail molding to add instant architecture and display. Mimic a headboard and conserve precious floor space by affixing wood or leather panels directly to the wall behind the bed.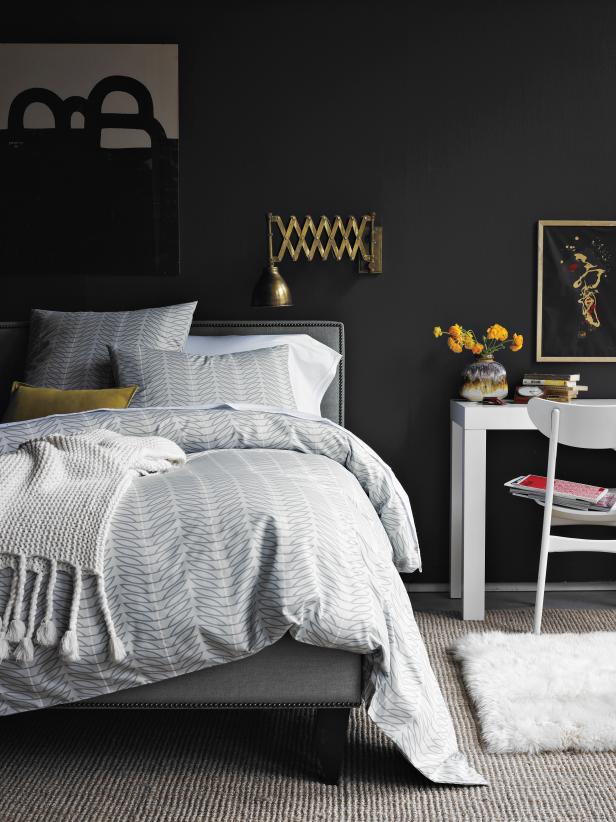 Winter Bedroom Sheepskin Rug and Linens in Black Bedroom
Textile designer, Khristian A. Howell, says, "Put your feet first. A dramatic and easy way to change things up in a room is by bringing in a great rug. Sheepskin rugs are so wonderful for the winter months. They feel wonderful under foot, and bring lots of warmth into the room, while keeping a light airy feeling."
Embrace the idea of deep, dark walls. Chocolate, navy and inky green tones will make corners recede, creating the impression of more space.