6 Bright Bathrooms Where a Single Color Is the Star
Get rid of all those paint swatches. Sometimes the best way to make a statement is with just one color.
Deciding on a bathroom color scheme can be daunting. What color looks good with this color? Where do I even put color? Walls, tiles, countertops, backsplash — the combination of color placement is endless. Before you know it, your entire house is covered in paint samples. Here's some good news that should clear up that color palette confusion. Color can be easy when it's just one making the statement.
Check out these six bold bathrooms that creatively use one color to make all the difference.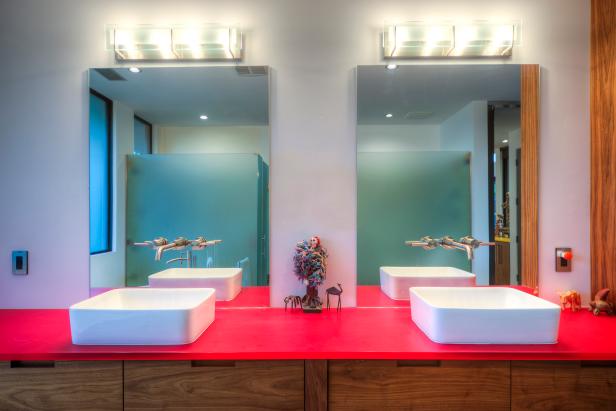 Master Bath Features Red Countertop & Vessel Sinks
A vibrant red countertop catches the eye in this modern master bath. Two vessel sinks with matching mirrors and sconces finish off the symmetrical design.
No need to worry about a paint color for your walls when your countertop is the attention grabber. This bathroom by Eric Spry went big by selecting a vibrant red for the countertop and pairing it with simple white vessel sinks. If you're planning your own bathroom reno, consider making the counters the focal piece.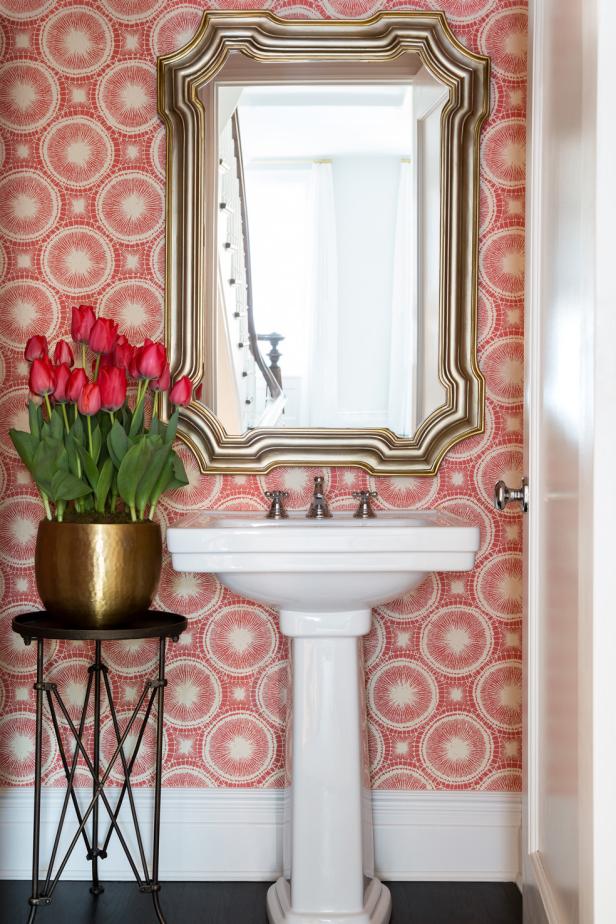 Powder Room With Graphic Pink Wallpaper
Graphic wallpaper and an elegant mirror create a stylish powder room with a vibrant personality.
I'm all about painting walls with colors that stray from the neutral color palette. This powder room designed by Chango and Co. steps it up a notch by adding a floor-to-ceiling graphic wallpaper in salmon pink. Save a Saturday and give your bathroom an affordable makeover with fun wallpaper.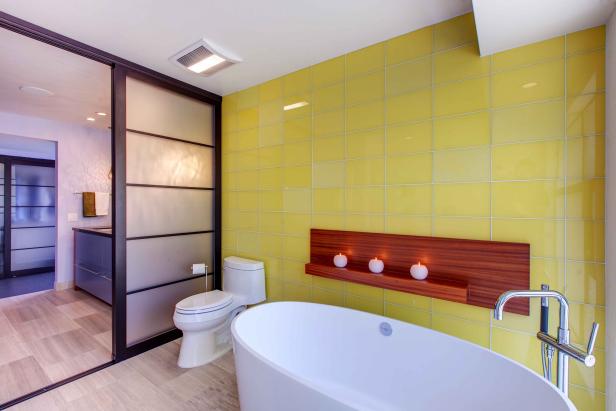 Yellow and White Asian Bathroom With Soaking Tub
Simple and sophisticated, this lovely bathroom gets a sunny shot of energy from its yellow tile accent wall. Light the candles and soak your worries away in the huge soaking tub.
Jackson Design and Remodeling
Instead of relying on a paint job to add some color, this Asian inspired Zen bathroom by Jackson Design and Remodeling dedicated an entire wall to bright yellow tile. Not only does it brighten things up, the sunny glass tile wall adds visual interest to the overall simplicity of space.
Green and Neutral Bathroom with Mirrors, Patterned Wallpaper and Blue-and-White Rug
This gorgeous green-and-white bathroom features two mirrors and a double vanity to make it easy for a pair of people to prepare for their day. Farmhouse-style fixtures light up the space, while a blue-and-white throw rug provides a bright contrast to the kelly green cabinets and accents.
Allison Corona Photography, Let It Shine Photography, Doug Petersen Photography
Matching cabinetry and mirror trim in an eccentric color? Sign my bathroom up. This bathroom designed by Judith Balis uses bold green in an unexpected way by painting the cabinets and mirror trim with the same rich color. If you have that wow-factor color you're dyeing to use (no pun intended), spice things up and make your cabinets the statement piece.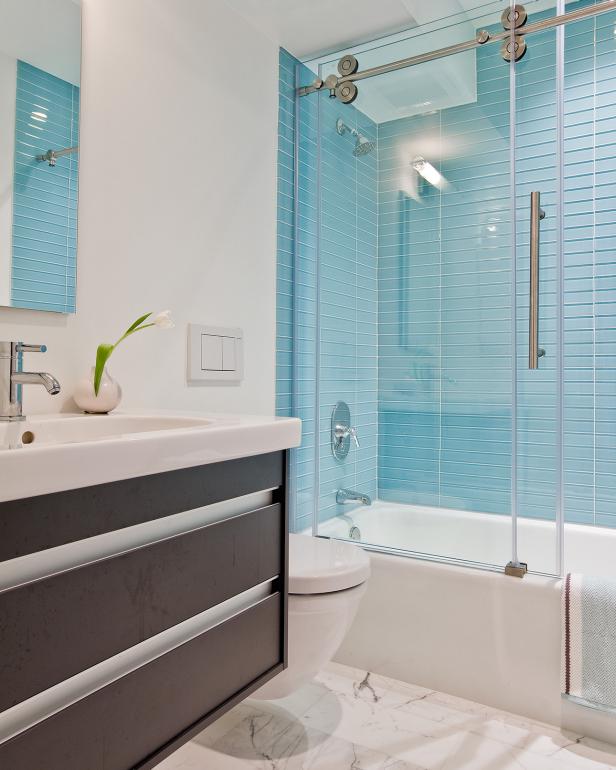 White Bathroom With Blue Glass Tile Backsplash
Blue glass tiles bring Caribbean calm to this bathroom. White marble flooring adds a luxe note.
There's nothing better than a hot shower after a long day. This clean and simple bathroom by Ana Donohue made the shower the center piece by tiling the walls with a blue backsplash. The industrial sliding glass door is a fun industrial twist, but leaves all the attention to the tub and shower.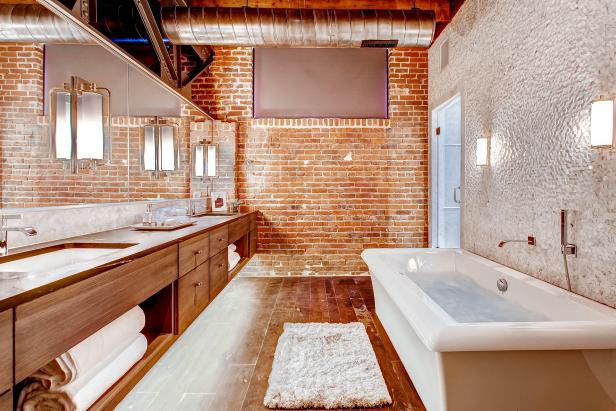 Industrial Master Bathroom Balanced with Contemporary White Accents
The brick accent wall and exposed steel pipe draw attention to the back of this industrial master bathroom. Contemporary white accents evoke a sense of harmony along the way, gently balancing the sleek silver fixtures and dark wood floating vanity.
Studio 10 Interior Design
I'll admit, using wood for the floors and cabinetry combined with a brown brick wall sounds like a lot. But I am loving that the monochromatic palette of this urban bathroom is established through natural materials. Rich wood flooring and cabinets contrast beautifully with the white tub making this spa bathroom a relaxing getaway.
We can't get enough of Taylor's color-blocked Grammys outfit.
Interior designer Alison Kandler colored her own Santa Monica home from hue-less to happy with vibrant, well-conceived combinations and charming country character.
These takeaways from designers' spring 2018 collections can easily translate to home design now.