The Little Black Dress(er) + More Investment-Worthy Pieces
You've got the staple in your closet, but what about the rest of your home?
Thanks to Coco Chanel, (fashion-designer, lifestyle expert, and diva extraordinaire), the "little black dress" has been the closet staple for fashionistas around the world since the late 1920's.
So, why is a black frock such a pivotal purchase for the style-savvy shopper? Simply put, the LBD is irrefutably and universally flattering. What's more, LBDs are appropriate for almost every occasion. (Save your bridal moment, but who am I to stop you? I digress.)
The versatility and timeless quality of these garbs stirred my curiosity and I couldn't help but wonder: What is the interior design equivalent to the fashion industry's acclaimed LBD? What pieces can we purchase for our homes that are simultaneously flattering, versatile and stand the test of time? What should we feel comfortable draining our direct deposits for?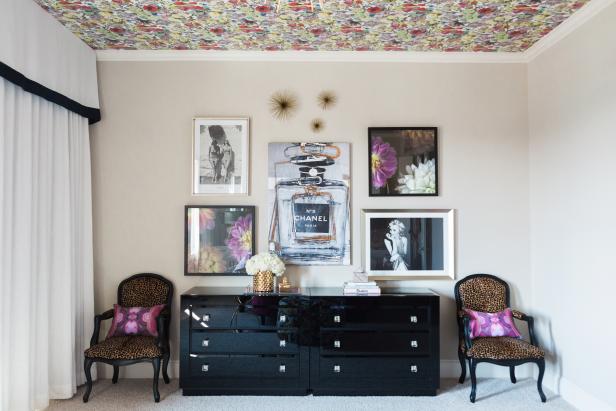 Multicolored Master Bedroom With Black Dresser
The shining star in the master bedroom is the ceiling covered in floral wallpaper. The gallery wall and accent pillows pull the colors down into the room.
Equipped with a BA* and the answers to all of these questions, I am here to serve as your financial advisor and interior guru. I've outlined the design elements to throw your hard-earned dough at, each of which guarantee an optimum return on your decor-based investment.
*Bachelor of Arts, English. So, I would recommend thinking of me as more of a "source of design encouragement and ultimate interior inspiration" and less so as the key to your financial health.
(The Little Black) Dresser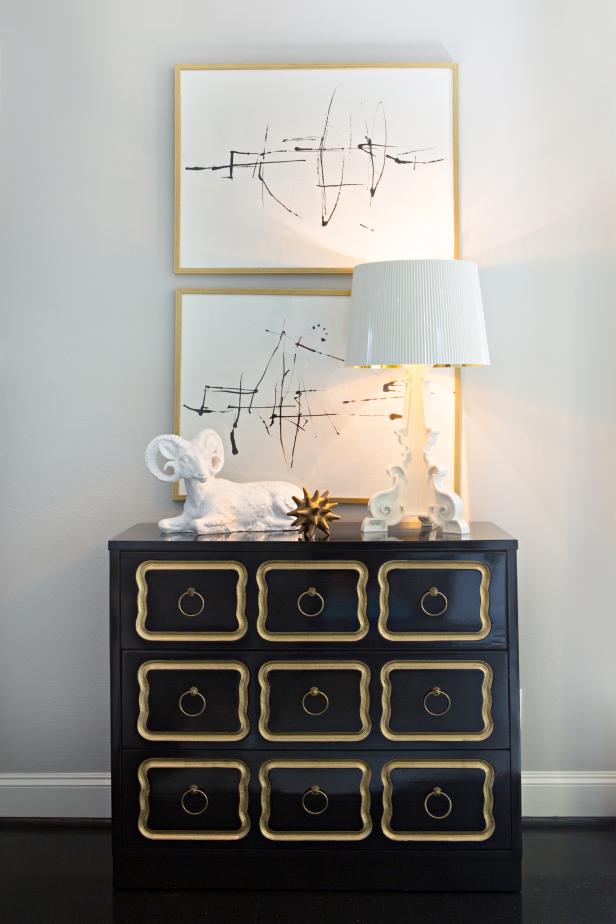 Stylish, Black and Gold Dresser
This painted black and dresser serves as extra storage space for the family room. A white lamp, ram sculpture and spiky gold ball complete the chic, modernized design.
I mean, you knew this was coming, right? Dressers aren't the first thing you'd think of when thinking about spending big bucks on a piece, I get that. Just stick with me for a second.
Spending money on a high-grade dresser will work to your advantage, because no matter where you find yourself in 10 years, you will always have enough "stuff" to be in need of a nice dresser.
Which leads to my next point: dressers are extremely versatile. They work in every room imaginable, in every way possible. Sure, you can store your clothes or linens in a dresser but what about using it as a statement piece in your foyer? Using it to store books, toys or crafting supplies? You can even utilize part of your dresser for a good, old-fashioned (yet ultra-stylish) junk drawer.
While I am partial to the versatility and boldness of a jet-black dresser (I need this one styled by designer Sally Wheat in my life immediately), there are so many gorgeous variations and colors available to fit any space. When spending on a piece like this, I always suggest searching for a traditional shape and style that will not easily date over time. You can always change out the hardware or throw a stain on there to keep it up to speed with the rest of your interiors.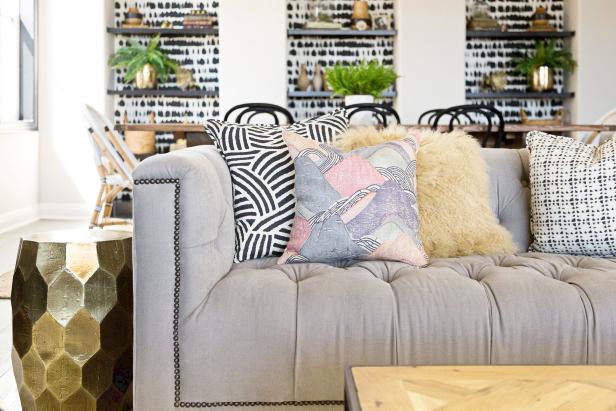 Detail of Tufted Sofa With Colorful Pillows
A comfy place to relax, this gray, tufted sofa in the family room features an array of pillows in different patterns and textures. A hexagonal end table in gold finishes the details of the chic space.
One of the first pieces to pinch pennies for: a proper sofa for your living space. Sofas are great investments because they are one of the pieces that will get the most use in your home. Not only that, they are mobile pieces that can evolve with you as you move into new spaces or as you refresh your interior over time.
When considering the style of sofa you're looking for, I say take note of this gorgeous tufted sofa that 4 Corners used in an eclectic living space. Mirroring this piece's simple, classic silhouette would gives you the ability to reupholster over the years while still maintaining that same sense of timelessness and effortlessness that LBD's are so renowned for.
Gorgeous Kitchen in White
All-white cabinets paired with stainless steel appliances creates a clean, classic look for this kitchen. Gray wood floors and a colorful rug complete the design.
Okay, I'll be the first to admit it. The price tags on a pretty Persian rugs make my palms sweat. Rugs are one of the more expensive pieces that you can splurge on for your home, but for good reason.
The LBD of the rug world is both eye-catching and durable, with colors and patterns that aren't over-the-top trendy. I'm currently crushing on the beauty-of-a-rug that 4 Corners used to bring warmth into this bright, white kitchen. Search for a rug that is a seamless complement for each and every large piece of furniture in your home. This allows you to utilize your rug in any space in your home, thus ensuring a handsome return on your purchase for years to come.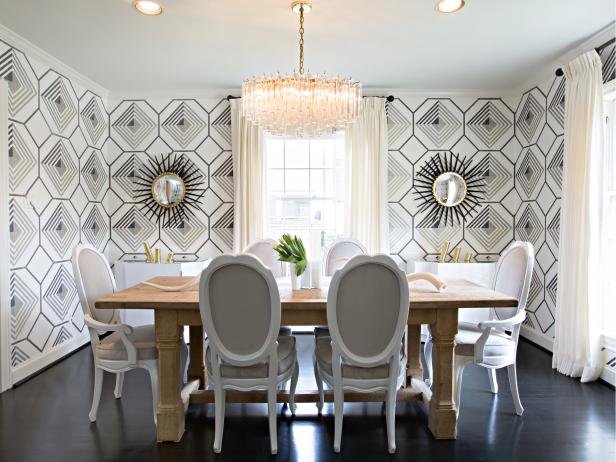 Fashionable Dining Room With Graphic Black & White Wallpaper
The dining room oozes style with a graphic black and white wallpaper that updates the space and adds interest. Upholstered, neutral dining chairs with white trim provide comfy seating around the chunky, traditional wood table.
Investing in a quality table for your dining space is a respectable financial move, because we all spend an exorbitant amount of our time eating in our home. I know I'm not alone on this one, don't even try to deny it.
When looking to throw some money at a table, I recommend considering where you want to be in your life in upcoming years. Do you envision starting or growing a family? Do you foresee yourself downsizing or moving up in square footage?
Take all these factors into consideration when deciding on the size and shape of your table. For a growing family, I would advise against purchasing a table that is anything less than 6-feet long. (Now you have an excuse to splurge on a show-stopper table like the one styled by designer Sally Wheat. You're welcome!) Apartment dweller? Consider a round or oval table and arrange it flush to a corner in your space. Voila! A functional, eat-in nook.
Above all, invest in a quality table that will be able to take a beating from both you and your sloppy loved ones over the years. Any table that stands to lose a fight against spilled merlot or spaghetti is a huge no-go for me (i.e. it should be for you, as well).
Nick O'Neill for Laurel & Wolf; Designer: Lucinda Pace
Artwork rounds out a space in a unique way that reflects true, personal style. That said, not all of us were gifted with artistic abilities and sometimes outsourcing your artwork is a good idea. Not only does this save your space from another failed DIY abstract (that looks like it was made by someone under the age of four), it also allows you to cultivate a space that speaks to your style each and every day. I don't know about you, but I want to pluck this gorgeous graphic used by Laurel & Wolf right off that wall and stick it in my own home ASAP.
My rule of thumb? Set aside a little from each of your paychecks until you're able to buy that piece you've been lusting over for so long. You'll be investing in a piece that is genuinely special to you and supporting a talented artist all at the same time. That's a financial win-win in my book. And hey, if you decide to move later down the road, these pieces will maintain a sense of style and stability wherever the world takes you.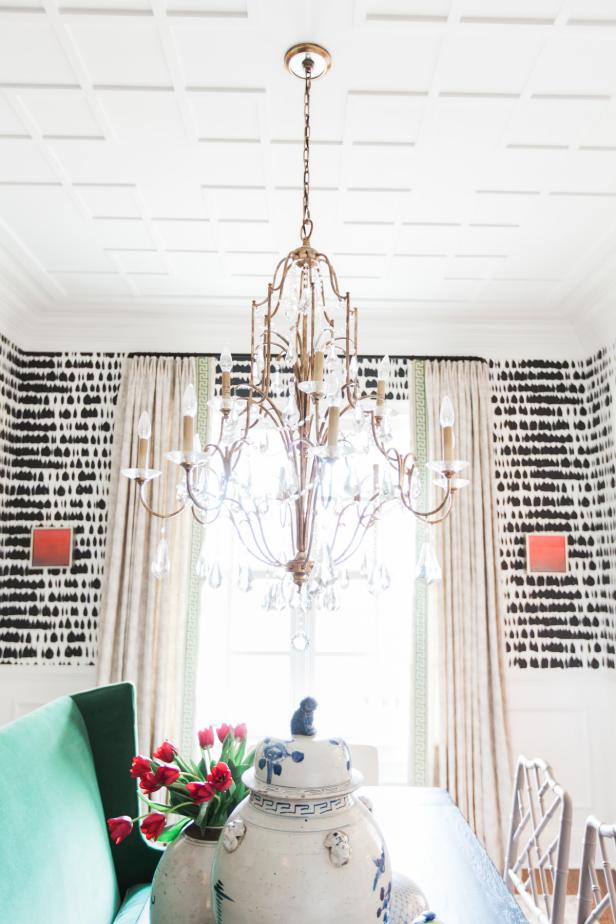 White Eclectic Dining Room With Chandelier
A white ceiling and wainscoting frame in the dining room's bold wallpaper which helps both to set it off and keep it from feeling too overwhelming for the space. A gold and crystal chandelier layers a delicate note on top of the strong colors and patterns.
You can never go wrong by investing in some ultra-chic, high quality lighting. Lighting is a delicate design touch that many of us tend to overlook and underestimate. Spending your savings on lighting makes sense because, similar to the aforementioned pieces, lighting fixtures are portable. Regardless of where you find yourself twenty years from now, you will always be able to appreciate the value of some really spectacular lighting.
So, what light fixtures are worthy candidates for your investment? Coco Chanel once said, "A girl should be two things: classy and fabulous." I believe those rules apply to light bulbs, as well. Crystal or beaded chandeliers, much like the LBD, are appropriate for any occasion or location. You can follow tradition and throw these sparkly wonders in a dining room, but they look just as amazing strung in a kitchen, bathroom or boudoir.
"But what about my ceiling fan? I can't imagine my life without it."
Whip out your credit card, crank the AC and crack a window. I mean, have you seen a proper chandelier? Just look at this drool-worthy piece used by designer Kendall Simmons. There are literally illuminated, light-catching crystals descending from the ceiling. Dangling, sparkling and looking unbelievably beautiful. I think we can all agree, ceiling fans have nothing on that sparkling beauty.