11 Home Libraries Worth Swooning Over
To all my fellow book nerds, romantics and fairy-tale lovers, today is a magical day. Not only is it World Book Day, but it's also only 15 days until the live-action Beauty and the Beast hits theaters. And I don't know about you, but for me, one of the most enchanting scenes in the animated version was always the first library scene.
When Belle effortlessly flew across the room via charming rolling ladder, that was it for me. I suddenly knew that one day, I also wanted to slide across my own library, admiring a carefully-curated collection of gorgeous hardbacks. But until that day, I'm more than happy to live vicariously through Belle and these incredible home libraries that keep the dream alive.
There's just something about a library with dark walls that's the ultimate in sophistication. This stunning design swaps out classic mahogany for a classy blue alternative.
Blue and Pink Transitional Library With Striped Curtains
Blue and pink are a surprisingly grown-up combination in this handsome library, in part because of the room's sophisticated details: a plush Oriental rug, tailored armchairs, a delicate coffee table. Stripes on the curtains are a hint of a jaunty nautical touch.
John Woodcock Photography
This colorful space by J & J Design Group couldn't be cuter with a playful Oriental rug, deep blue bookshelves and striped curtains. Add a platter of tea sandwiches and a pitcher of iced tea, and you've got yourself the makings of the perfect book club.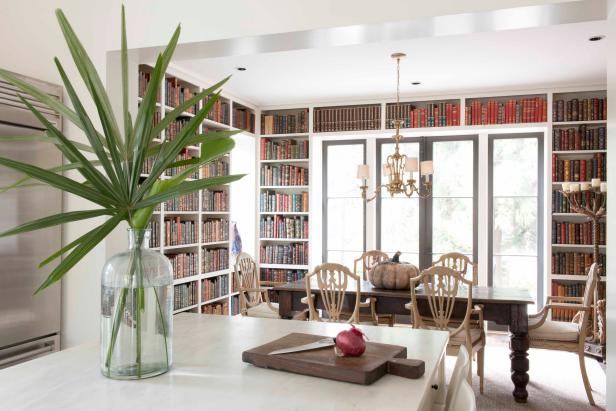 Warm Open Kitchen with Built-in Bookcases
If you have a dining room, letting it serve double duty as a library is a great use of space -- plus your dining area will benefit from the style and warmth that comes with books. Susan Sully, author of "Past Present: Living with Heirlooms and Antiques" says you could also put shelves in a dining area of an eat-in kitchen, even if they only came up halfway, which would be much more budget friendly.
Who needs wallpaper when your entire kitchen is covered in gorgeous, colorful books? It's breakfast with a side of books.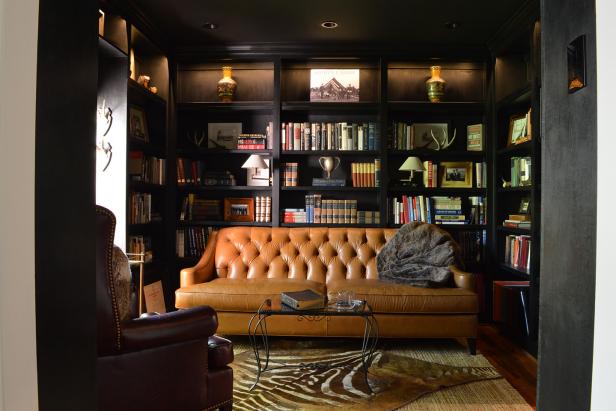 Rich Toned Woods and Fabrics in Luxurious Library
To give this space an extravagant feel, designers chose dark wood for the bookshelves and filled those shelves with first additions and other collectors' items. For the furnishings, a leather couch and chair sit just below the shelves, and creating an exotic vibe, a zebra-skin rug, completing the lavish library.
Hello, luxury! Could this possibly be Ron Burgundy's apartment? If the stylish leather seating wasn't enough, the exotic zebra-skin rug definitely takes this space up a notch. Design by Kathe Baker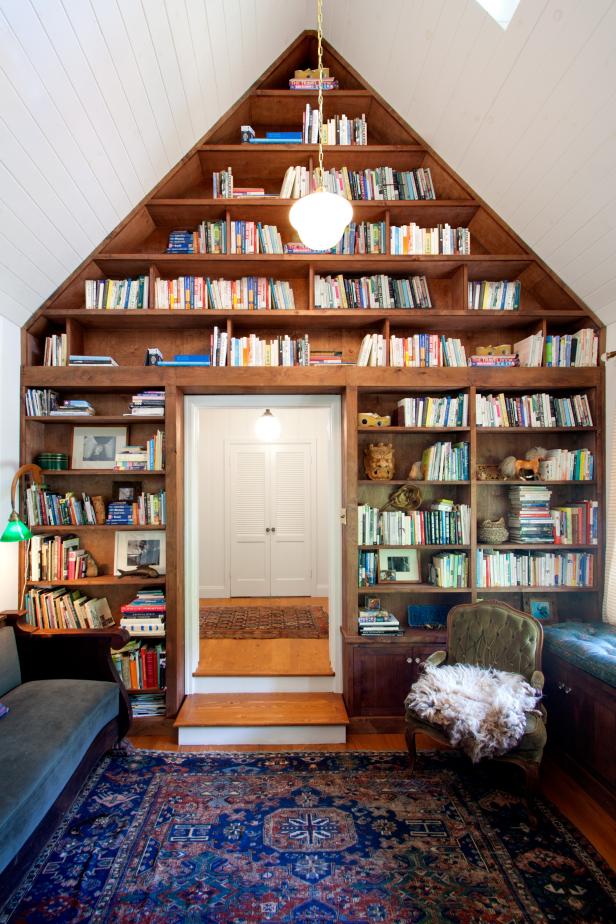 Antique Furniture Meets Boho Accents in Eclectic Library
Located just off the hall, this eclectic library boasts an impressive floor-to-ceiling bookshelf that's perfect for storing books and displaying prized possessions. Beneath a single pendant light, an antique sofa and armchair are adorned with bohemian accents, giving the room a collected feeling.
This room by Jeff Troyer may be the most inspirational in the bunch. All it takes to recreate the look is a wall with a doorway and perhaps a friend with some woodworking skills. And boom, you have yourself an incredible library. Add cozy seating, and you could most certainly lose track of time in this sweet space.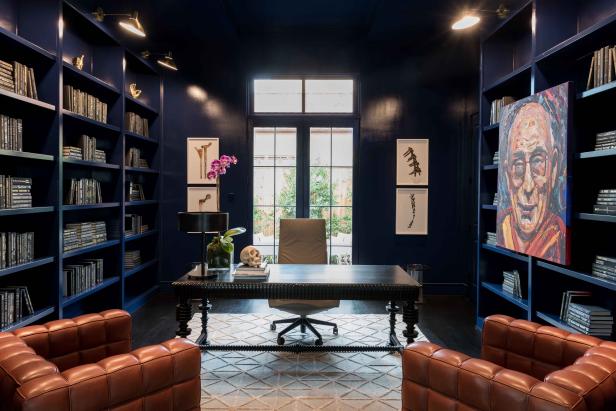 Contemporary yet Masculine Library
Deep blue walls and built-in bookshelves create a rich, inviting atmosphere in this library. A pair of leather armchairs combine with a classic desk and neutral desk chair.
Contemporary with a hint of intimidation, this moody room features unique artwork, sultry accents and just a touch of macabre. I certainly wouldn't mind a spin in that power seat. Design by Mirador Group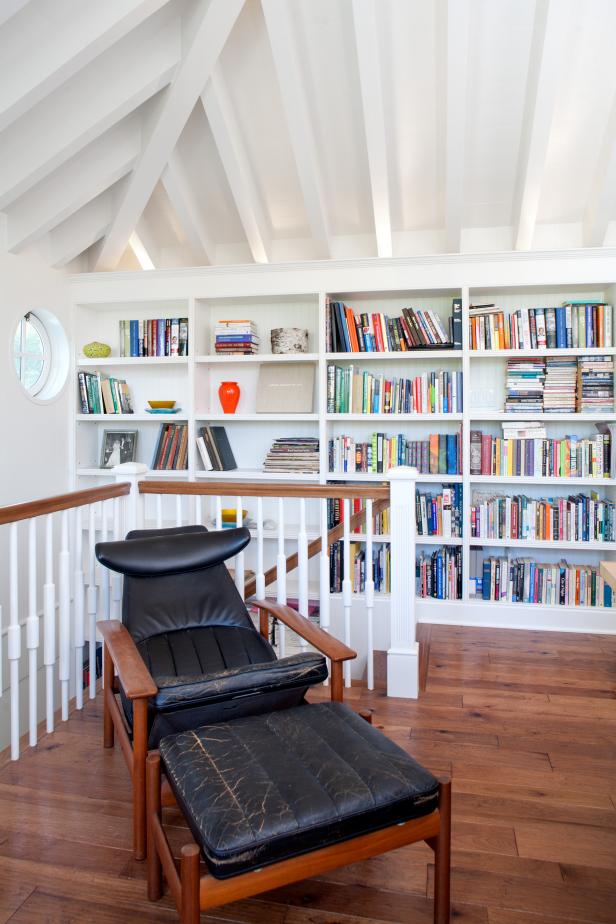 Hideaway Library With Built-In Shelves
The home office is lined with custom bookshelves that have uplighting hidden behind the crown. Complete with a vintage leather armchair, the space is a hideaway for book lovers.
What's a worn leather chair if not a sign of a really great library? Design by Jeff Troyer Associates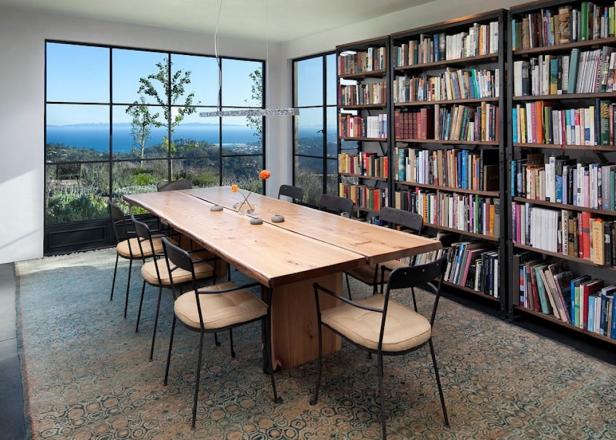 Dining Room With Large Windows, Row of Bookshelves & Wood Table
A place both to study and gather, this dining area/library is simple, functional and beautiful. Favorite books line one wall, while a view of the shore shines through the windows on the other. The simple table is made from a single piece of wood custom-made for the space.
If you ever get tired of gazing at the ocean, just turn to your right for an even better view. Design by Becker Studios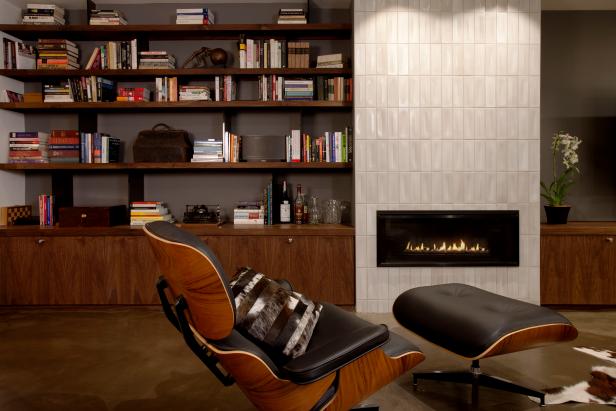 Custom Shelves in Man Cave
Custom shelves line the wall of this man cave and creates a personal library for the owner while also adding style to the space.
Add one comfy chair, one roaring fire and the perfect book. Congratulations, you've just created the perfect day.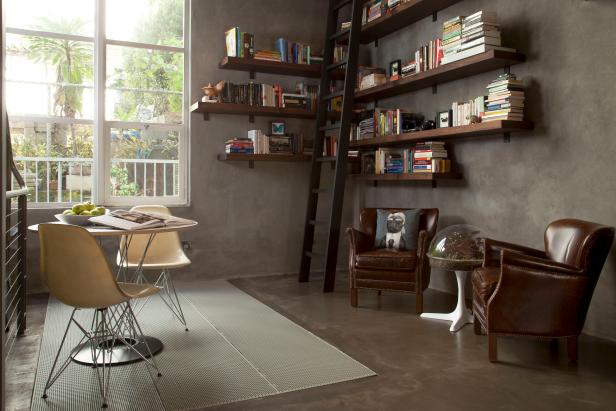 Custom Library With Floating Shelves and Seating Area
Custom shelves were built to create a library space in this urban loft. Two leather armchairs create a reading nook alongside the library.
Think you don't have space for an impressive library? Just check out this setup by Loczi Design. Custom shelves turn a blank corner into a literary dream — ladder included.
Home Library Hits the Right Note
In need of a home for their beautiful bass and extensive collection of books and records, the homeowners turned to designer Harmony Weihs to transform an unused corner into functional storage space.
This formerly unused corner became a petite version of one of my all-time favorite libraries when designer Harmony Weihs worked her transformative magic. Now a pretty, blue showstopper (with a gorgeous rolling ladder), it's reminiscent of another blue beauty.