Keep Your Eyes Peeled for These 10 Details in the 2017 HGTV Dream Home
It's the little things about this big prize that make it so special.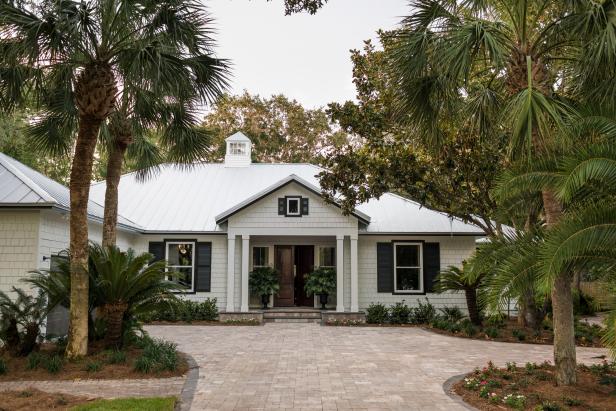 Strong Style
Crisp white shake siding with contrasting black trim gives this approximately 3,200-square-foot three-bedroom, three-bath home in St. Simons Island, Georgia a strong presence and pleasing curb appeal.
Robert Peterson, Rustic White Photography
Some things hold true no matter where or how HGTV builds and gives away its annual HGTV Dream Home. The spaces are always stunning; the responses are always overwhelming; and the HGTV team always wishes they were eligible to enter the sweepstakes themselves (cough). That said, designer Brian Patrick Flynn has left his fingerprints all over the twenty-first annual grand prize — a sprawling, reimagined-from-floor-to-ceiling southern transitional home on St. Simons Island, Ga. How did he make this giveaway a showstopper? Well...
Nothing is quite what it seems.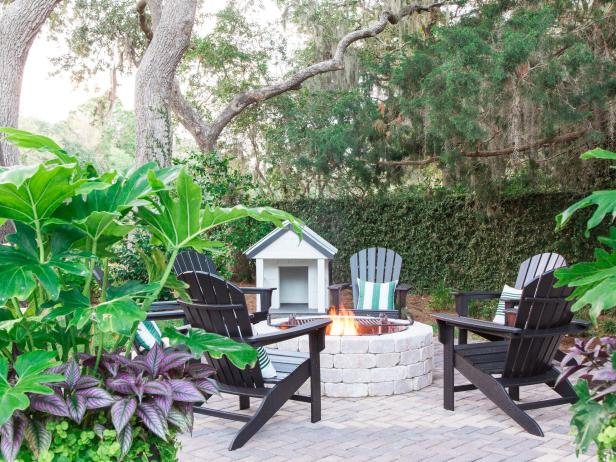 The Ultimate Gathering Spot
The updated backyard with water views includes an inviting seating area that offers an ideal spot to gather and watch the sunset and local birds who visit the property.
The Adirondack chairs around the fire pit won't be begging for TLC in a year or two, thanks to polyethylene recycled-lumber construction. (Translation: They're virtually immortal.) That goes for the high-definition porcelain flooring throughout the home's bathrooms, too. (Though it's every bit as lovely as hardwood, it's 10-times as tough.) Speaking of appearances and deception...
Seriously, nothing is quite what it seems.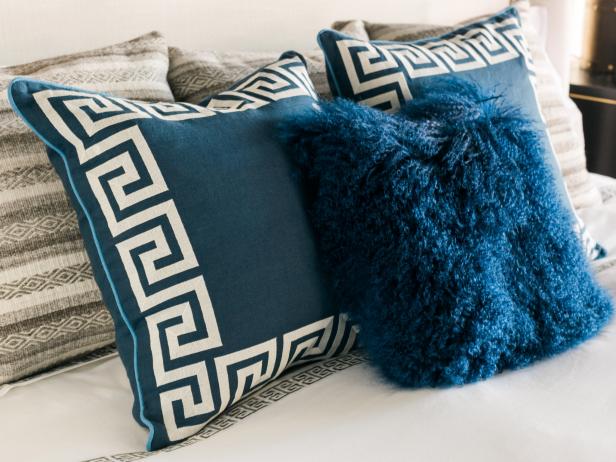 Decorative Pillows
The upholstered wingback king-sized bed includes a beautiful selection of throw pillows for color and texture, including tribal-inspired striped pillows, navy linen pillows with a Greek key decorative border and cobalt-blue Mongolian lamb fur wool pillows.
Robert Peterson, Rustic White Photography
The bed in the master bedroom not only looks homespun-comfy, it has individual temperature controls, it tracks your sleep and it connects to health and wellness apps. It's kind of the U.S.S. Enterprise in disguise.
Midcentury design sneaks in all over the place.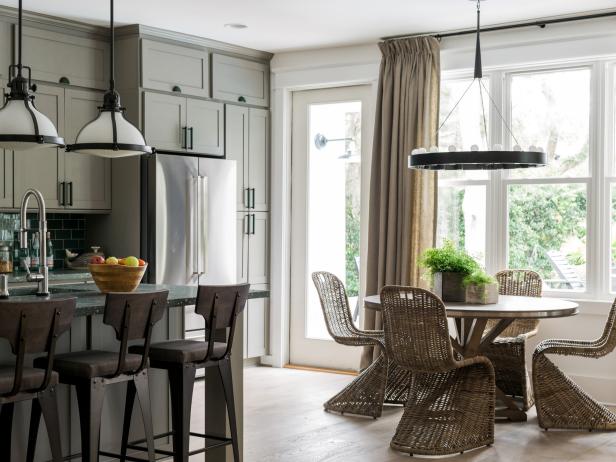 Integrated Breakfast Nook
A generously sized and integrated breakfast nook that can seat up to six provides a comfortable and stylish spot for a casual meal.
Robert Peterson, Rustic White Photography
Laid-back southern materials meet the greatest hits of the 20th century all over this house. Consider, if you will, the city-cool shape of the Panton S chair, reimagined for the breakfast nook in rustic wicker. (Ditto for the Saarinen table base in the pool lounge and the subtly chic stool in the master bath.)
Every space that faces a view reflects its hues.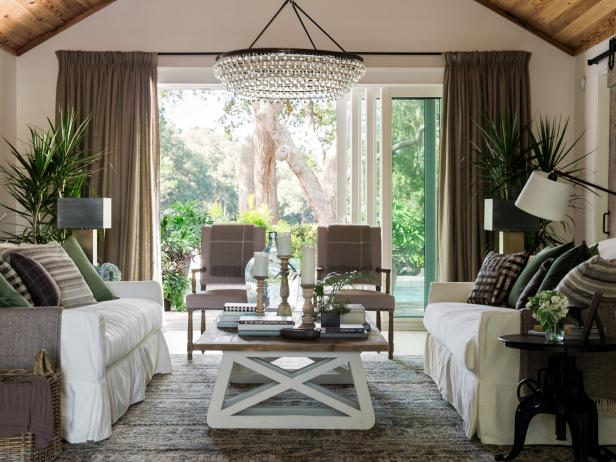 Ultimate Lounge Area
Located right off the front entry of the home, the serene living room with beautiful views of the pool and backyard is packed with layers of texture and neutral colors that were inspired by the stunning landscape outside.
Robert Peterson, Rustic White Photography
Brian loved the grey live oaks and beautiful mossy greens on the HGTV Dream Home property so much that he decided to reflect them in every room in which they play a role. The kitchen gets a deep green backsplash and cabinet hardware even though he's a self-professed "black-or-white kitchen" guy.
The spectacular exception to the house's palette? The terrace suite bedroom.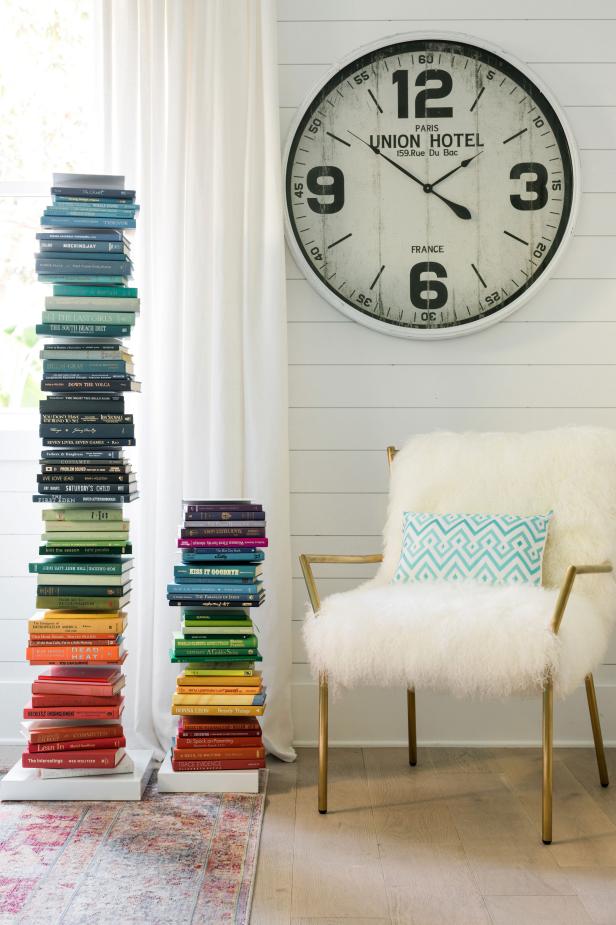 The Perfect Reading Spot
Book towers filled with vintage books in really bright hues add personality and layers of color to this light-filled space, paired with a huge graphic metal wall clock with white finish and a funky, fuzzy chair to create a reading spot with personality.
Robert Peterson/Rustic White Photography
Brian had a "no brights" rule that applied to every other space. In every home he designs, he likes to have one room that's a glorious riot of color. "Nobody's ever against a light and bright room," he says.
Pop quiz: Which room is in process here?
If you guessed "the gym," please invite us over, for you probably have an amazing home. Brian covered the home gym's walls with grasscloth and used southerner-approved antique mirrors in lieu of the '80s-tastic, floor-to-ceiling variety to make it congruent with the rest of the home. Unfortunately, when your exercise area is this lovely, you have no excuse to avoid it.
The kitchen counters echo the home's traditional exterior materials.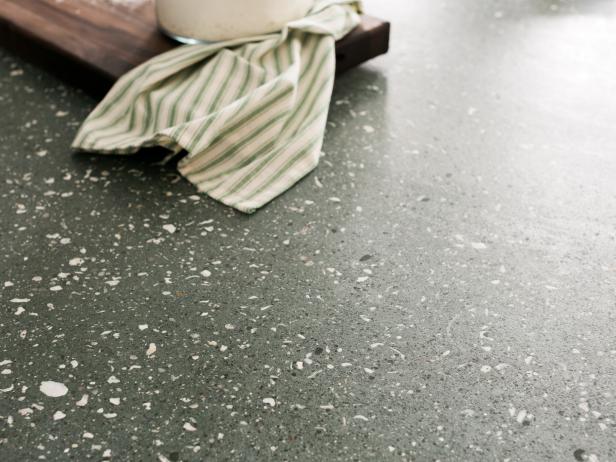 Distinctive Counters
The kitchen's eye-catching countertops combine concrete, earth and crushed oyster shells for a distinctive look inspired by the enduring tabby material used for local buildings in coastal Georgia.
Robert Peterson, Rustic White Photography
Because tabby—that is, concrete mixed with oyster shells—is used for buildings all over the Georgia coast, it's not much more expensive than entry-level countertop material for the HGTV team on St. Simons Island. Bonus: It can be custom-dyed to match the deep green Brian used on the backsplash and the cabinet hardware. So much for black-or-white kitchens.
The foyer doesn't take itself too seriously, thanks to high-impact custom art.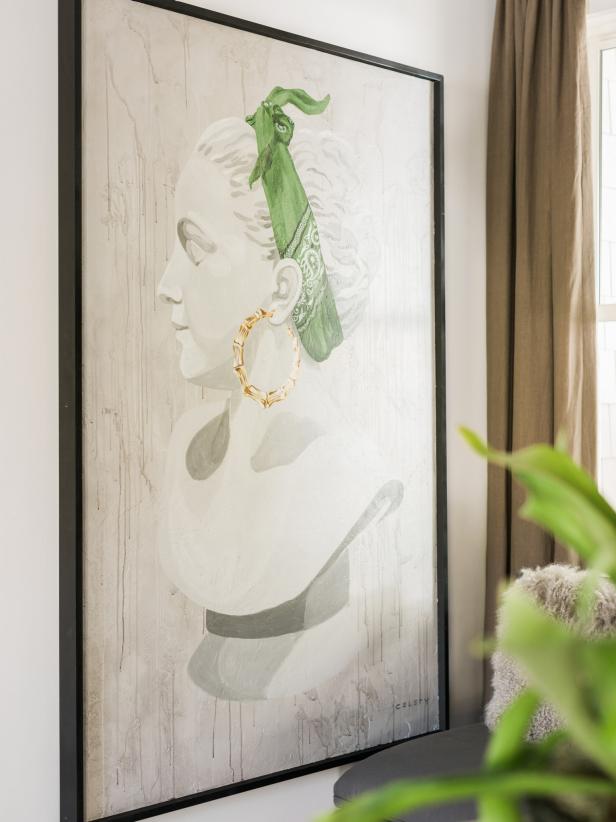 Custom Wall Art
Large custom wall art by Celery Jones depicts an oversized classic bust with gold earring that adds personality and distinctive style to the foyer.
Robert Peterson, Rustic White Photography
Brian turned to his friend and collaborator Celery "CC" Jones for this classic subject with oh-so-modern accessories. When you walk into the home, you meet a brutalist table and a worldly wooden chandelier—and then, as you turn to your right, you meet "Venus From the Block."
CC created half a dozen custom pieces for the house, in fact.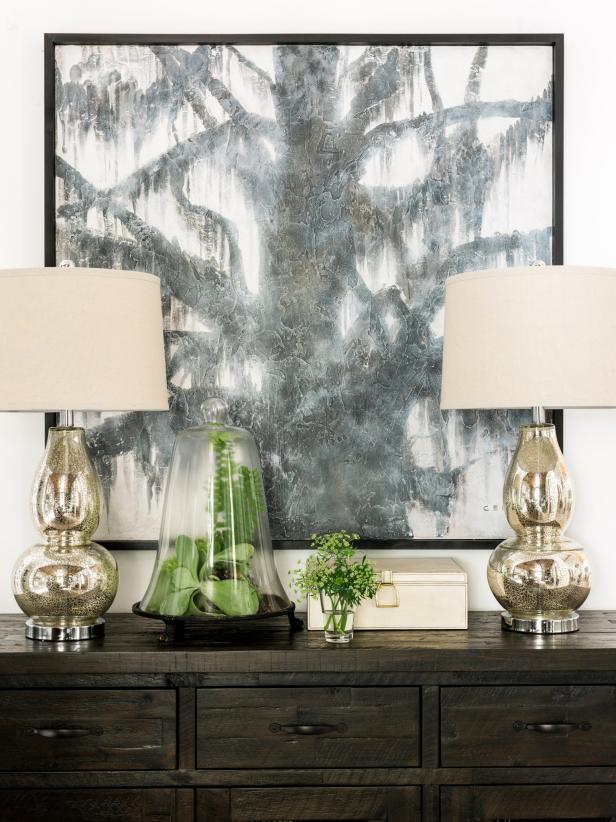 Locally Inspired Art
The lamps flank oversized custom black and white framed art by Celery Jones that depicts a live oak tree with moss, inspired by the trees outside the home that gently frame the property.
Robert Peterson, Rustic White Photography
In the dining room, she celebrates the gorgeous, moss-draped live oaks that inspired Brian. The best part? You can follow Brian's budget-friendly lead (he used licensed art, which is less expensive because it's produced in large print runs, in the rest of the home) with CC's work for HGTV. All of her paintings will be available as prints at Wayfair.com.
Almost all of Brian's furnishing picks are available online.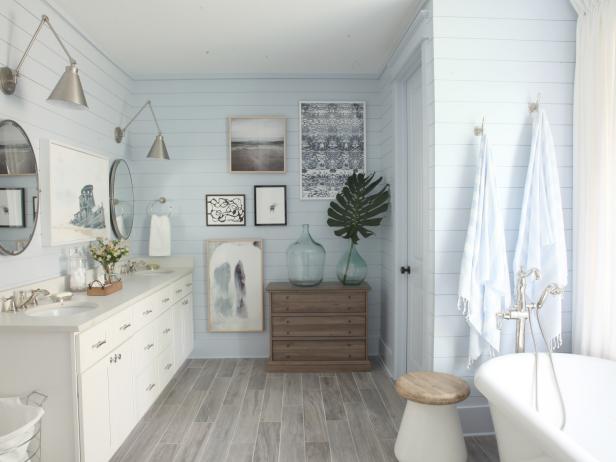 Extra Storage
This wide view from the shower shows the weathered wood three-drawer chest with large glass jugs on top for a touch of greenery surrounded by framed art located to the left of the toilet closet.
Photographer: Christina Wedge
Last year's HGTV Dream Home broke ground, as it were, by being the first renovated (rather than constructed) space. This year's home, in turn, pays tribute to the internet's role in contemporary designers' work (and modern consumers' projects). Translation: If you can't live without one of the pieces on the gallery wall in the master bathroom, it can be yours with a few clicks. Or one click, really, if you're HGTV Dream Home 2017's grand-prize winner.