Ka-Pow! This Superhero-Themed Room Will Knock Your Socks Off
Even protectors of the planet need sound spots to rest.
The comic book industry is celebrating its annual Free Comic Book Day on Saturday with the goal of introducing the universes of superheroes and villains (and hundreds of other characters) to new audiences. But for one small future crime fighter, favorite comic book storylines have already come to life.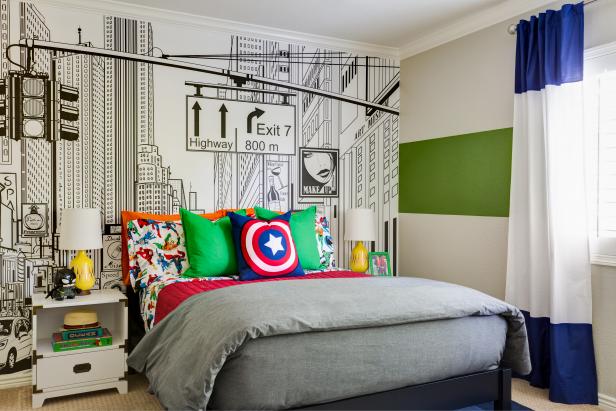 Multicolored Contemporary Boy's Bedroom With Mural
Super-hero style gets graphic and way cool in this boy's bedroom that mixes crisp, comic book-style drawings with bright, bold colors.
John Woodcock Photography
Scottsdale, Ariz., superhero superfan Riley had found a nemesis in his bland bedroom and its hand-me-down furniture. Riley disliked his room so much, he opted to sleep in his family's guest room instead.
Riley's parents phoned in Jennifer O'Dowd and Joanna Gick of J&J Design Group to rescue his room. Their mission? Transform the tired bedroom along with a bathroom and playroom into colorful, engaging spaces appropriate for an aspiring protector of the planet.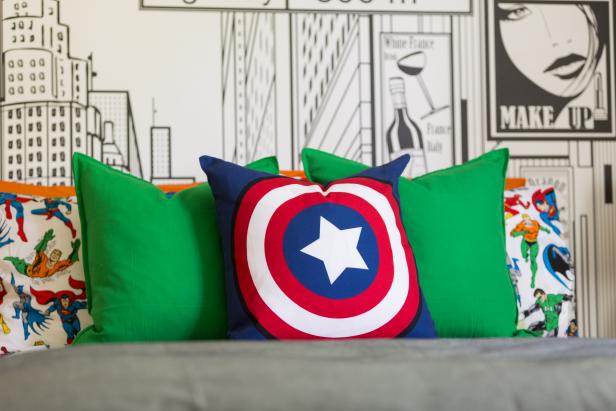 Boy's Bedroom With Super Hero Pillows
In this fun kid's room, Captain America and his super hero friends make a colorful explosion (Pow! Bam!) against the comic book-esque mural.
John Woodcock Photography
The team was up to the challenge, packing the design with details that honor the beloved characters as well as two other loves of Riley's, New York City and drawing. A set of Justice League bedsheets provided the inspiration for the color palette and accessories.
Central to the plot of the design is the eye-catching NYC streetscape mural on the wall behind Riley's bed. The mural looks as if it's jumped off the page of a comic book and promises to remain hip as Riley ages.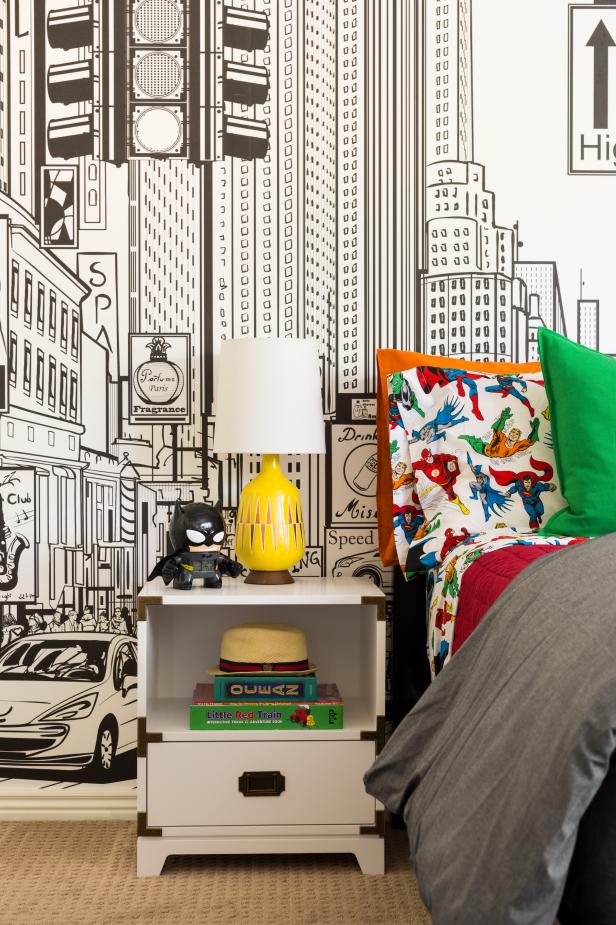 Contemporary Boy's Bedroom and Nightstand
A black-and-white backdrop—here, a mural with graphic comic book illustrations—becomes a neutral canvas on which to layer bright colors and prints.
John Woodcock Photography
"Jo found that fun mural when she was looking for another client," Jennifer says. "When I told her I was working on a superhero-themed room, she showed it to me and it was the perfect fit!"
Superhero characters make guest appearances throughout. There's a Batman alarm clock and Captain America shield throw pillow in the bedroom and superhero artwork in each of the three spaces.
The blue-and-green color scheme is carried into the bathroom and new play space. The playroom includes a desk where Riley can work on his own creations and fun, vintage marquee lights from Etsy.com vendor SawandSteel.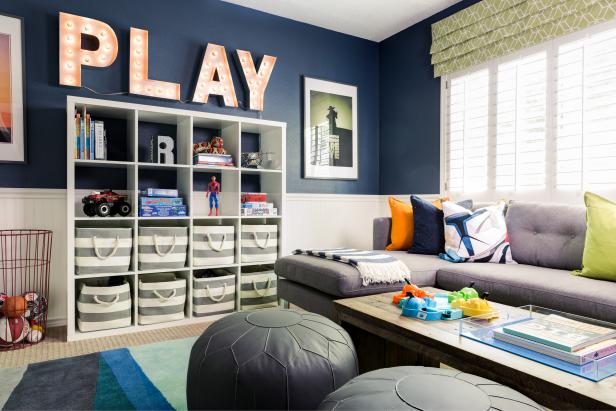 Blue Contemporary Boy's Bedroom With Sectional
Easy storage plus comfy seating make the young owner of this chic bedroom a very happy boy. Dark blue walls are a compelling neutral for the spirited prints and word play.
John Woodcock Photography
We can all rest easier now knowing our hero has the perfect spot to play, draw and rest his head. Thanks for a job well done, J&J. And Riley, see you at the comic book store on Saturday?