Journey Into The Jungle Book With These Swoon-Worthy Spaces
Before you see Disney's latest adaption of the time-honored tale, reminisce about your favorite characters from the film. 
I may be a grown-up, but I haven't outgrown the fun of Disney's The Jungle Book. With majestic jungle cats, spellbinding pythons and free-spirited sloth bears, the live-action remake promises to delight viewers of all ages. To prepare you for the film's debut, here are eight spaces dedicated to some of your favorite characters.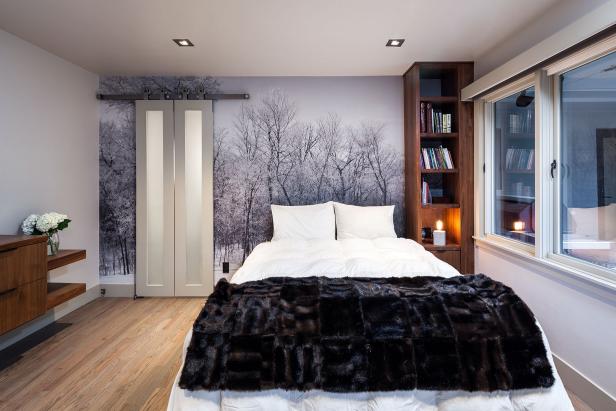 Neutral Master Bedroom With Tree Mural
The homeowner wanted this photo she had taken at her previous home to be made into a mural for her bedroom wall. Murals Your Way printed the image on vinyl so she could transfer the image bringing a piece of her old home into the new space.
KuDa Photography - Darius Kuzmickas
With a tree-covered mural and faux fur throw, this bedroom by Iverson Signature Homes is the perfect den for Mowgli's wolf parents, Akela and Raksha. The gray walls keep the space neutral and sophisticated, while the fur throw adds a cozy touch that any (man-)cub would love.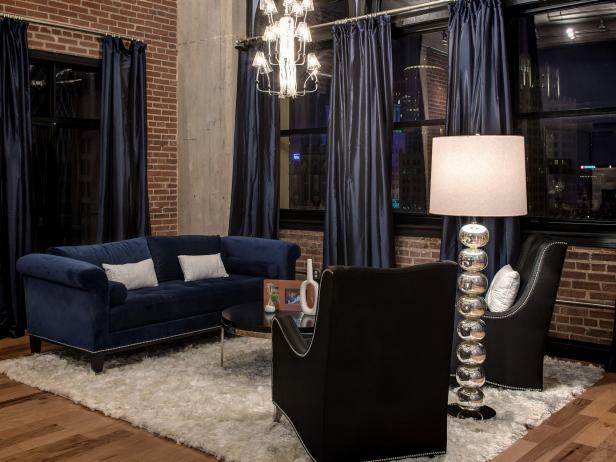 Contemporary Sitting Area in Master Bedroom
Navy blue curtains and sofa combine with black leather chairs to create an elegant feel in this contemporary master bedroom sitting area. Contemporary light fixtures juxtapose against the exposed brick walls of the space.
S&K INTERIORS, Scripps Networks
When I think of Mowgli's mentor and protector, Bagheera, I imagine black velvet fabrics reminiscent of his stunning pelt. With a smooth, navy blue sofa and a pair of black leather chairs, this luxurious sitting area by S&K Interiors does the panther justice.
In this transitional living room, faux snakeskin pillows paired with a black leather couch easily evoke thoughts of Kaa, the seductive python. The starburst accents are a nice touch, as hypnotic as the snake's deadly stare.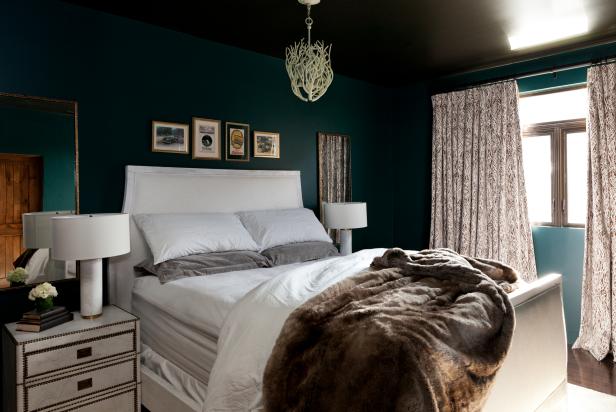 Contemporary Hunter-Green Bedroom
White furniture shines against the dark green wall coloring in this contemporary bedroom. A large white bed frame is upholstered with velvet at the head and foot of the bed for a softened feel. Nightstands with nail-head trim support matching table lamps to finish the room.
If my "cave" looked like this room by Kelly Sutton, I'd be as slow as a sloth bear in the morning. (No offense, Baloo.) The combination of hunter green walls and a faux fur throw brings just enough of the jungle inside without getting too wild.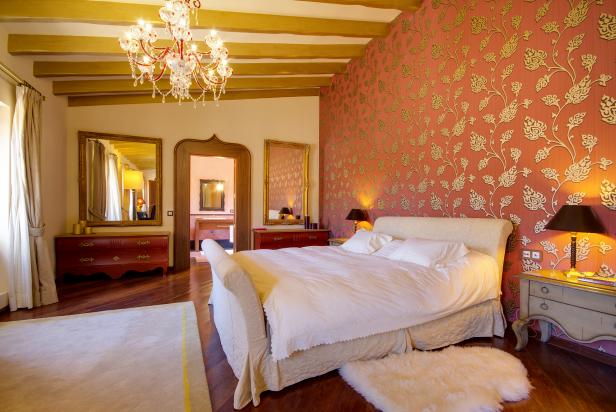 Mediterranean Bedroom With Wallpaper
In this bedroom, one of six in the home, the furnishings were wisely kept neutral so as to direct attention to the beautiful wallpaper. Golden vines climb up a dusty rose background and lend warmth and sophistication to the room.
Von Poll Immobilien, a member of Luxury Portfolio International
The self-proclaimed King of the Jungle deserves a master suite seeped in gold, don't you think? Featuring a crystal chandelier and vine-covered wallpaper, this charming room from Von Poll Immobilien would be perfect for King Louie.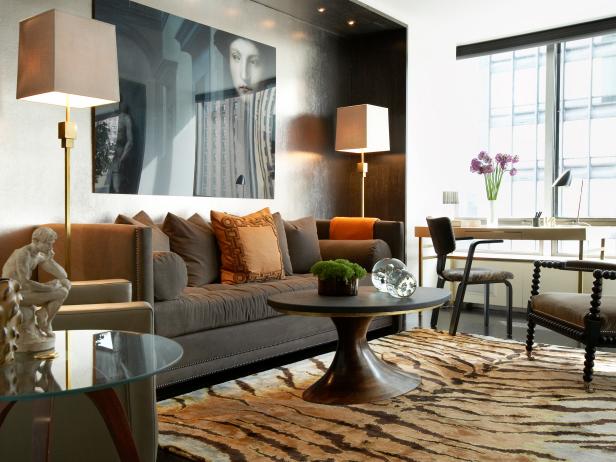 Light-Filled Sitting Area With Tiger-Striped Rug
In one side of this library, a cozy nook houses a large painting of a woman looking over her shoulder. In front of this painting is a gray sofa with coordinating pillows, an oval coffee table, two gold floor lamps and a tiger-striped pillow. Natural light floods the room, providing the perfect spot for a bouquet of fresh flowers.
Even wrathful Shere Khan would find something to purr about in this sophisticated sitting room. Set against a backdrop of neutral furniture, the tiger-striped rug becomes a lively centerpiece and point of interest.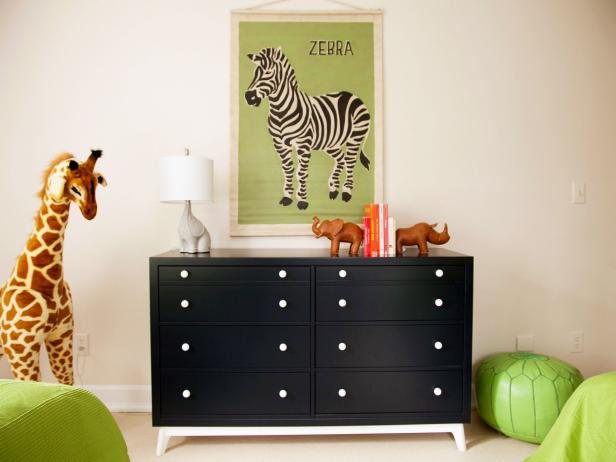 Gender-Neutral Jungle-Themed Nursery
A jungle theme and neutral color palette with punches of bright green give this gender-neutral nursery a happy vibe.
I imagine that Mowgli would be quite happy in this space by Liz Carroll. The green accents and animal-inspired toys keep the room's theme close to the jungle, while the white walls ensure that the room matures with the man-cub.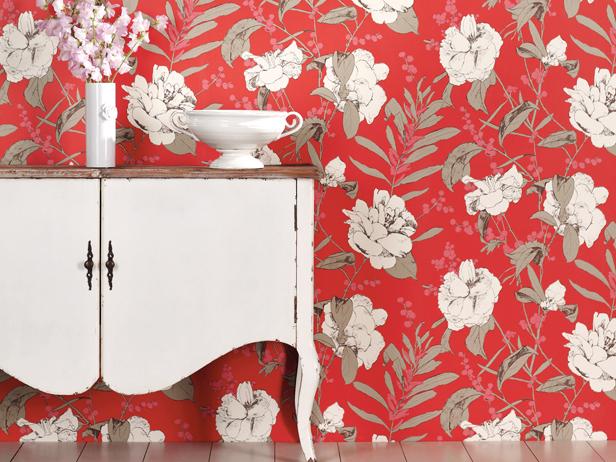 Bold Floral Wallpaper
"I'm seeing more and more florals inspired by historic botanical books, especially in cotton prints and wallpapers," says interior designer Lori Dennis. "It's like chintz in a new way." This isn't Grandma's floral wallpaper: Think large-scale patterns, vibrant blooms and big, bold hues. Photo courtesy of Romo.
The deadly "red flower" is a pivotal element of the film, desired by both monkey and man. Though more elegant than intimidating, this bold floral wallpaper by Lori Dennis will brighten your home and make your friends just as envious.
If your mantra is 'more is more,' these tips are for you.